Graduation Rate for Cobb Students Keeps Climbing, Bests State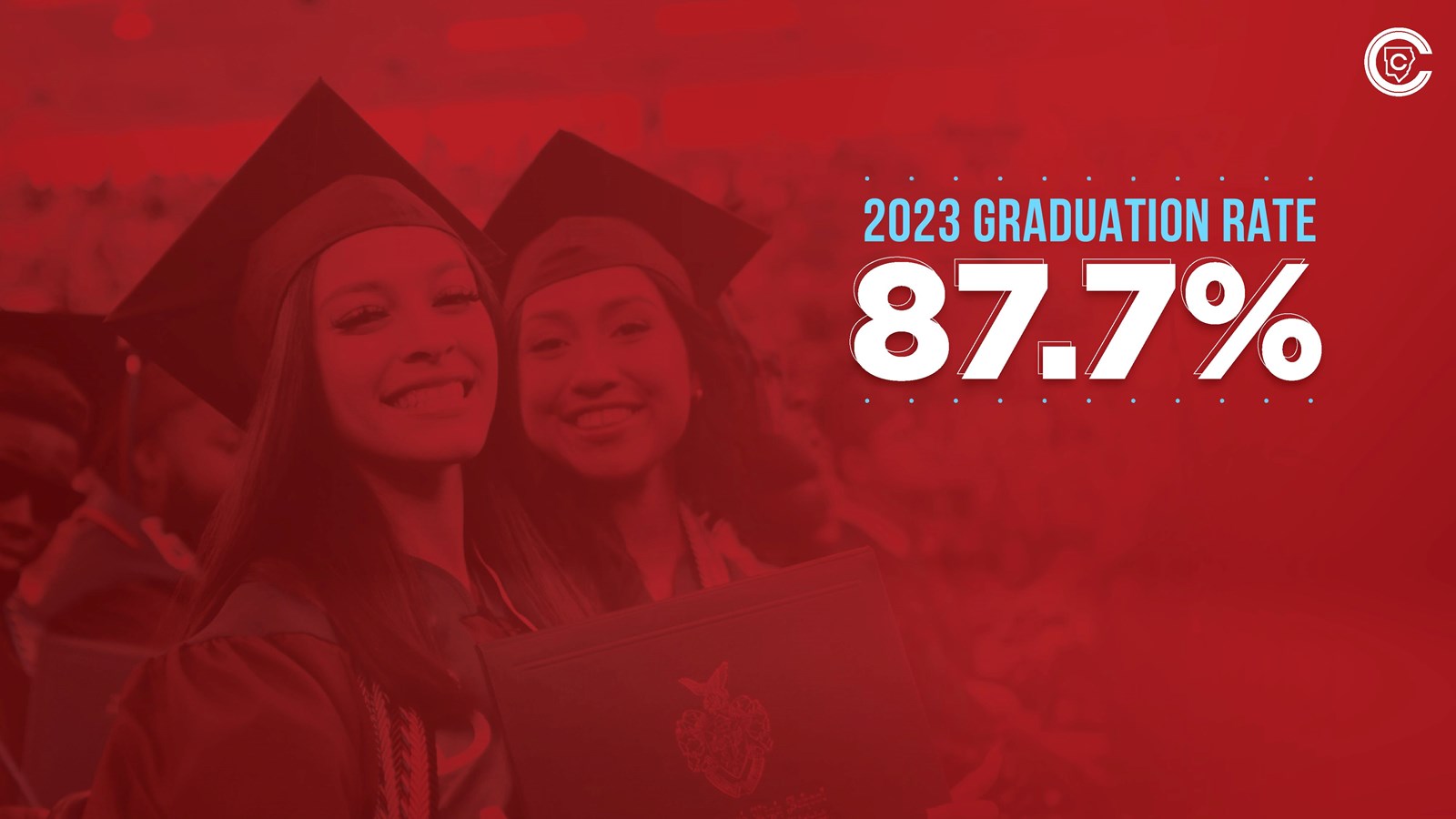 Once again, Cobb students graduated at a higher rate than the prior graduating class and their peers across the state. In 2023, the Cobb County School District graduation rate increased to 87.7%, topping Georgia's graduation rate of 84.4 by 3.3 percentage points. Both Cobb and the state graduation rates rose 0.3 percentage points higher than in 2022. Looking back at the District's 2015 graduation rate, the Cobb graduation rate is 6.3 percentage points higher in 2023.
Cobb students also graduated at the second highest rate of students in large metro districts.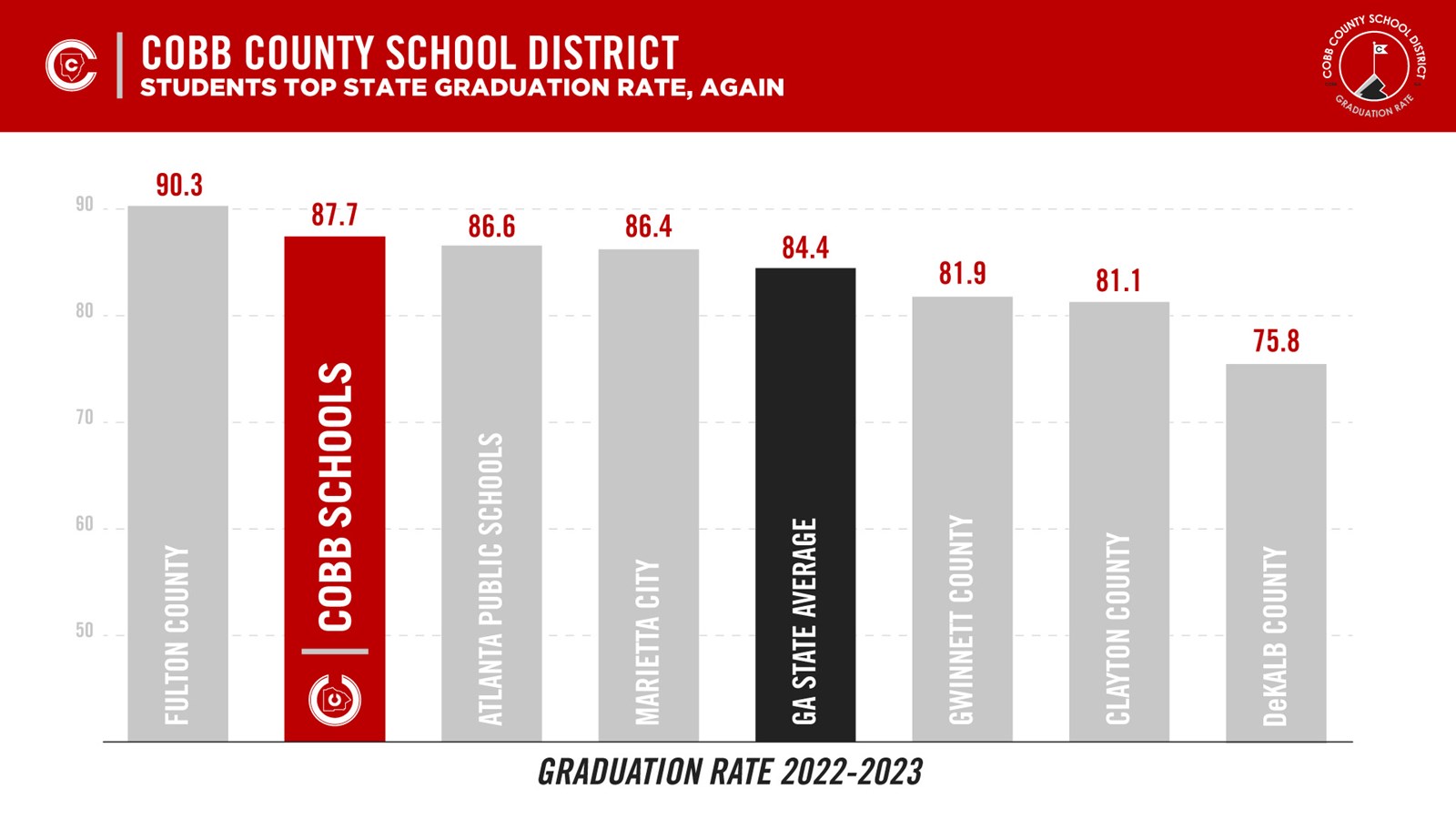 "The success of Cobb students never surprises me. Their success is built on a foundation of support from their teachers, parents, and community. When you look at graduation rates of Cobb students who are with us for all four years (98% or better), it is clear: Cobb is the best place to raise your family," said Cobb Schools Board Chair Brad Wheeler.
Thirteen Cobb schools posted graduation rates above 85%, including ten of those schools with graduation rates above 90%. With a graduation rate of 98.4%, Lassiter High School leads the group of Cobb high schools with the highest graduation rates. Harrison High School and Hillgrove High School tie for second with a rate of 97%. Walton High School wraps up the top three highest rates with 96.8%.
"Every year, our teachers take it to heart for our students to strengthen their chances to have productive, engaged, and meaningful lives by graduating from high school. Every day, our staff embrace and support our students to help them reach the finish line. The support our parents and community provide is exceptional, and ultimately, we are thankful that our students come to school each day prepared to engage in the process of learning. It's that collective collaboration between our faculty, students, parents, and the Lassiter community that allows everyone to embrace our vision of reaching excellence and climbing higher," said Lassiter Principal Dr. Chris Richie.
Graduation rates for 3 Cobb schools increased by more than 2 percentage points: Osborne High School (+6.3), Wheeler High School (+3.9), and Kell High School (+2.5). This is not the first substantial increase for Osborne High School. Since 2015, Osborne's graduation rate has risen by 12.9 percentage points.
"This achievement is a testament to the collective dedication of our teachers, our community, and the relentless determination of our hardworking students," said Osborne Principal Troy Jones. "Together, we have proven that when teachers, community, and students work as one, there is no limit to what we can achieve on the journey to graduation and beyond."
The federally mandated method for calculating the 4-year graduation rate includes all students expected to graduate in 2023, including those enrolled for a single day. When looking at the graduation rate for students enrolled in Cobb Schools for at least 2 years, the District graduation rate leaps up by 5.4 percentage points to 93.1%. For students enrolled all 4 years of high school, Cobb's graduation rate leaps another 5.8 percentage points reflecting the District's real graduation rate of 98.9%.
Even though Lassiter's federally mandated graduation rate was the highest in Cobb, the school's graduation rate was even higher when using the 4-year graduation rate. In fact, for students who attended all 4 years, Lassiter had a 100% graduation rate in 2023. Jumping to 98.4%, Osborne also has a near perfect graduation rate for students who attended all 4 years. In total, 9 Cobb Schools have a "real" graduation rate of at least 99%.