New Principal Profile Q&A: Troy Jones, Osborne High School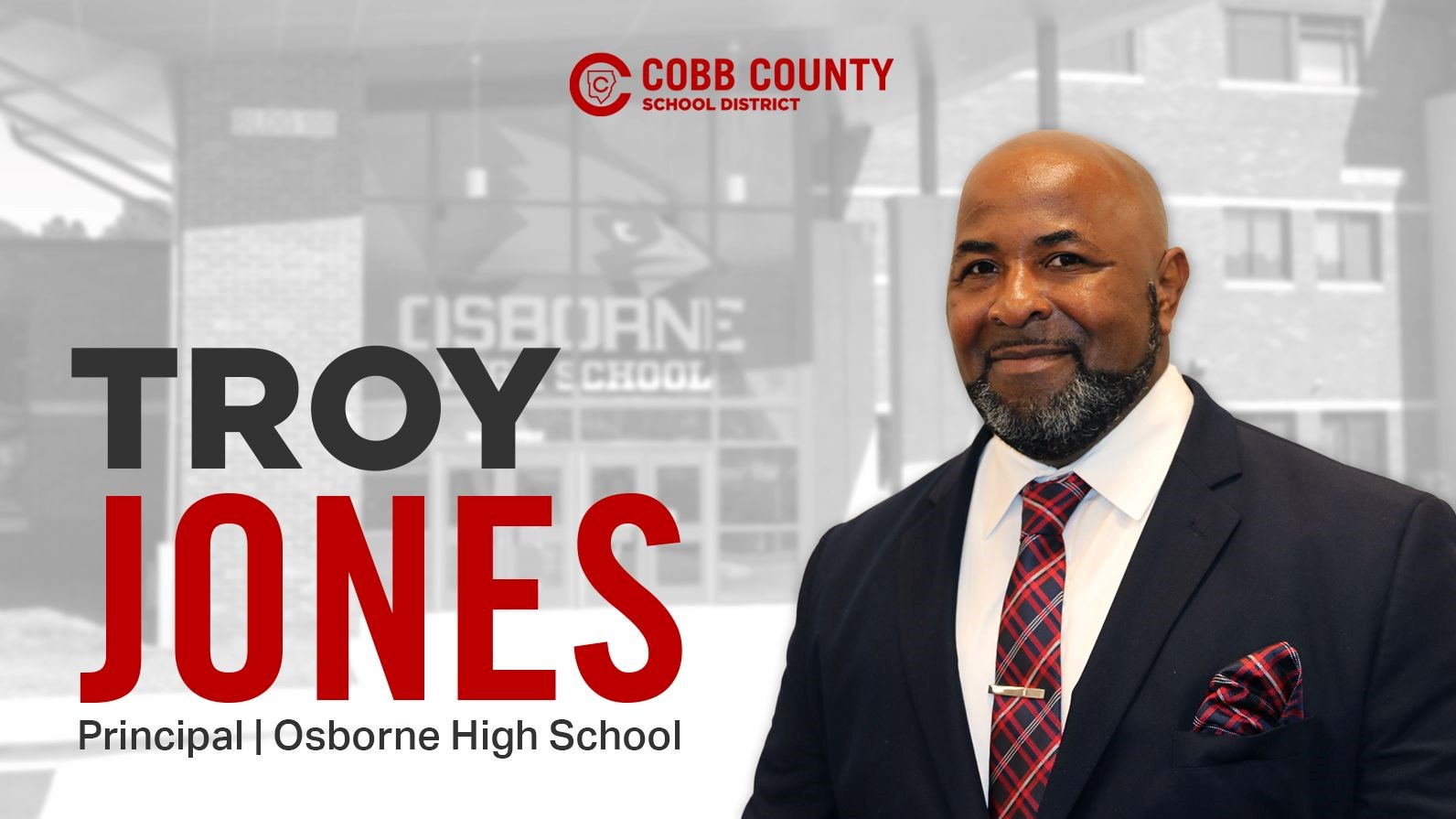 Starting this week, a new veteran Cobb educator will lead Osborne High School as principal. Principal Troy Jones is not new to Osborne High School and the surrounding community. In fact, Osborne is where he started his education journey in Georgia 17 years ago. Of his years serving Cobb students, he dedicated seven of those years to teaching Osborne students.
"I have always been impressed by the resilience, commitment, and love students and community members have for Osborne High School. It is the oldest high school in Cobb County School District, and the alumni base is loyal and full of pride in the school. Osborne continues to improve academically, athletically, and within its arts programs to compete on the local and state levels," praised Principal Jones.
Across his 21 years as an educator, Principal Jones has served as a head football coach, special education teacher, school leadership intern, and assistant principal. He plans to use his new position to continue building relationships to strengthen the support for students so they can learn and grow to their full potential. In the Question-and-Answer section, Principal Jones explains what the community can expect under his leadership and why he is excited to serve Osborne as principal.
Question: Why are you excited to serve the Osborne High School community as principal, and what impresses you the most?
Answer: "I am very excited to serve as the principal of Osborne High School because I love the community. Over the years, I have worked to build meaningful relationships with all stakeholders. The opportunity to join the Osborne community and support continued academic, fine arts, and athletic success is an honor. It is thrilling to see the diverse community, new buildings, facilities, and the overall growth in the student population at the school.
I am impressed with the Cobb Innovation and Technology Academy (CITA) housed on the Osborne campus. The opportunity CITA provides for Osborne students to develop hands-on skills and become industry certified before graduating is remarkable and creates a foundation for a lifetime of success."
Question: What can the school community expect to see under your leadership?
Answer: "I firmly believe that creating and cultivating positive relationships in a supportive environment is the foundation of success. As we develop a learning community, we will continue to improve academically, athletically, and in extra-curricular activities. I will also focus on promoting the accomplishments of Osborne High School within its cluster middle and elementary schools. The Osborne community will continue to see our emphasis on student learning, data-driven decisions, and doing what is best for students."
Question: What does student success look like to you?
Answer: "Student success for each student is different. Every student deserves the chance to learn and grow to their maximum potential in an environment that is supportive and conducive to learning. Our job is to develop an environment where students are confident and supported so they can reach their unique potential."
Question: What do you like most about being an educator?
Answer: "I love to interact with students and staff members. Leading teachers, guiding student achievement, and engaging all stakeholders in the success of Osborne High School is a rewarding role I look forward to doing again."
Question: Outside school, where might students, parents, or staff members run into you?
Answer: "I enjoy spending time with my wife and children at home and traveling. I love to cook, attend sporting events, and landscape my yard."