New Principal Profile Q&A: Matthew Bradford, Pope High School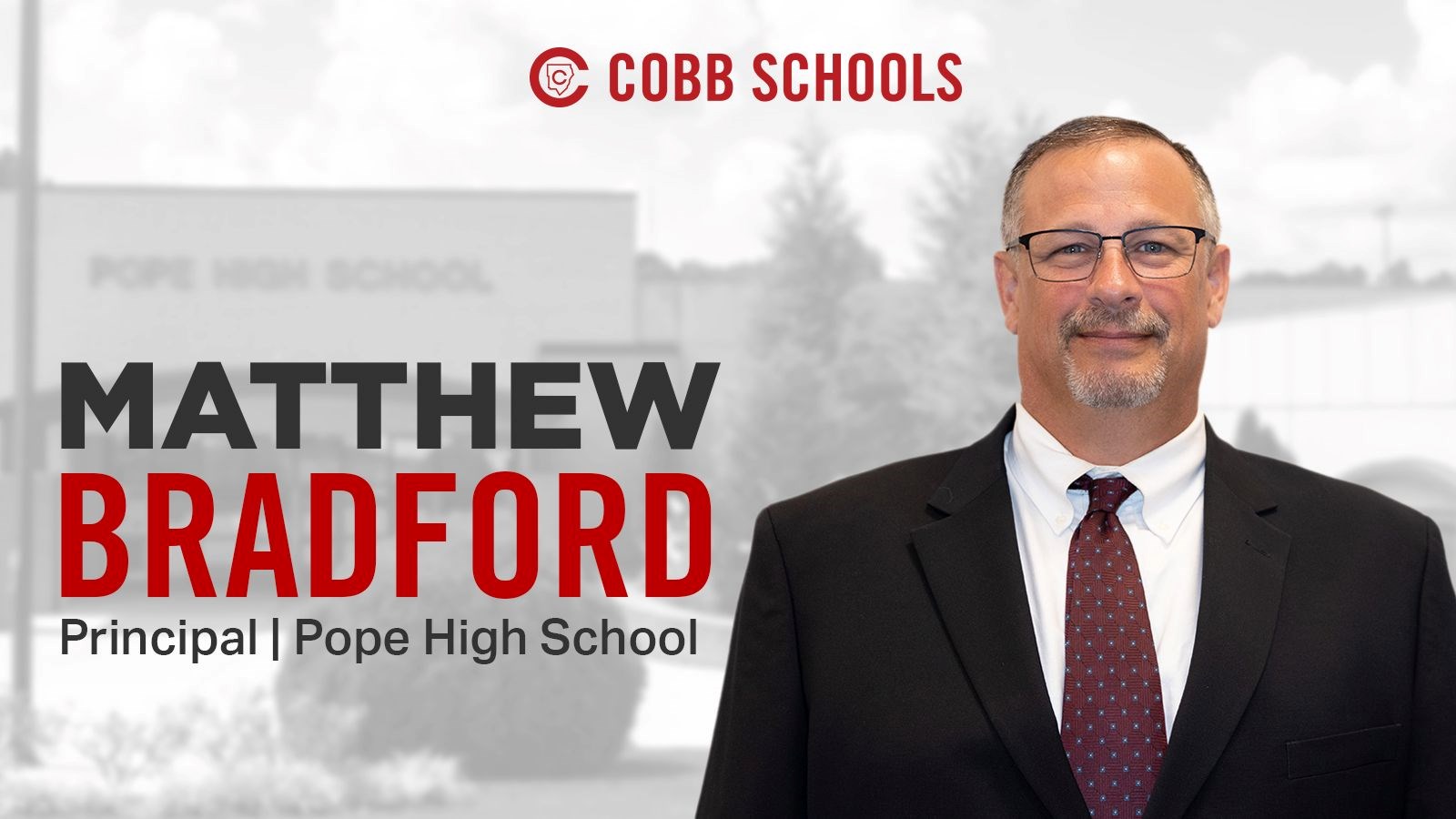 Principal Matthew Bradford is approaching his twentieth year in education—all of which he has spent serving students in the Cobb County School District.
The new principal of Pope High School started his education journey down the road at Kell High School and then stepped in as athletic director at South Cobb High School. Before arriving at Pope, Principal Bradford most recently served as assistant principal at Wheeler High School.
This area is more than just the place where he works. For Principal Bradford, it truly is the best place to teach, lead, and learn.
"On a personal note, our family has lived in the area my entire life. My parents are retired educators, and my wife has taught with the district for 25 years. We have two high school-aged children. As a family, we value the importance of education, hard work, and community involvement," Principal Bradford said.
In the Question-and-Answer section, learn more about what the community can expect under Principal Bradford's leadership, what impresses him the most about Pope, how he defines student success, and more.
Question: Why are you excited to serve the Pope High School community as principal?
Answer: "I am honored to have this opportunity to work with and lead such an amazing group of students, parents, faculty and staff members, administration, and community leaders. I am grateful and fortunate to become part of a school with a history of great traditions and academic and extracurricular success."
Question: What most impresses you about the students and school community?
Answer: "Pope High School and its students are known for the tradition of fantastic school spirit with a community that is involved and supportive of both the academic and extracurricular aspects of high school."
Question: What can the school community expect to see under your leadership?
Answer: "The school community can expect to see an administrative team and staff that is committed to success for all students while providing a safe and welcoming environment where positive relationships are formed between all stakeholders."
Question: What does student success look like to you?
Answer: "Student success is achieved by providing multiple opportunities and avenues to demonstrate success both in the classroom and through extracurricular activities."
Question: What do you like most about being an educator, or what is your favorite memory as an educator?
Answer: "I love seeing the lightbulbs go off and faces light up when students learn new things. My favorite memory as an educator re-occurs every spring in seeing the joy and sense of accomplishment on graduation day."
Question: Outside school, where might students, parents, or staff members run into you?
Answer: "During our free time, my wife and I enjoy attending our children's athletic events and spending time in the outdoors."