A Community Builder: Kell Career Fair Spotlights Job Opportunities for Students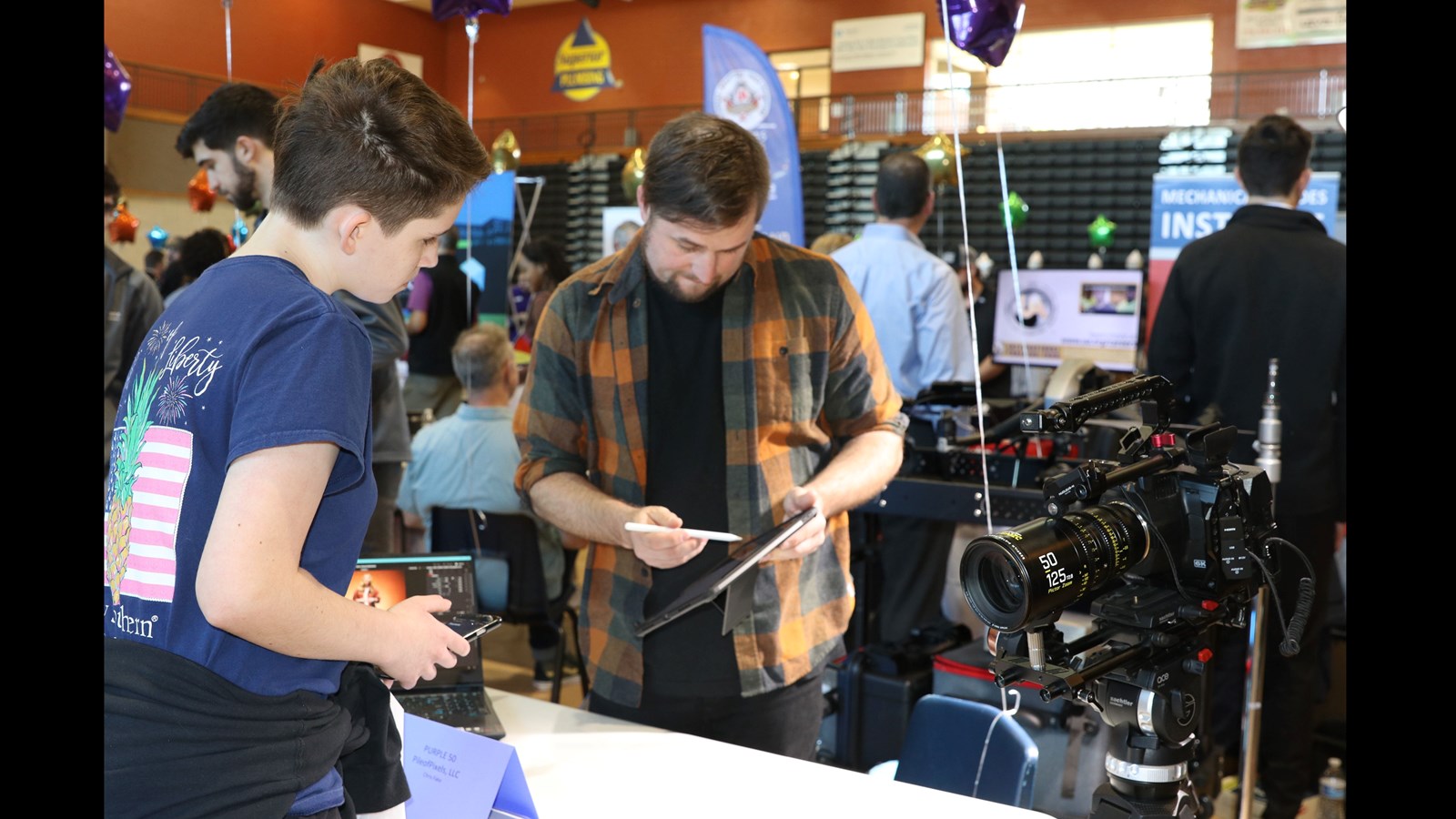 Students stepped up into the county fire truck to get a feel for what it's like to be a firefighter. Other students peered inside the large swat vehicle parked in their school parking lot. As they talked to the veteran police officers, they may have been thinking, "Is this the career for me?" Just a few spots over, students crowded around one of the top and more cuddly attractions of the day—dogs in training.
Inside the Kell High School gymnasium, students demonstrated their weightlifting skills to U.S. Army recruiters as their fellow students looked on.
Some students, dressed in suits, strolled confidently down the aisles of local businesses. They were attending Kell's first Career Fair for a purpose—to find a job—and the business vendors were ready to hire them.
"The Kell High School career fair is a community builder. It is reciprocal. Our students are getting a great opportunity to explore possible careers that they want in the future, to get to know the steps that will take to get there, or how to get a job next week or this summer," explained Kell Assistant Principal Amelia Sanders.
In turn, the businesses that attended the high school event had an opportunity to hire students that day. According to AP Sanders, the chance to hire drew in many businesses, especially during this time when there is an employee shortage across all industries.
At least one of the businesses in attendance already has Kell students on staff, and the career fair was an opportunity to find more. In fact, the person representing the business is a Kell senior.
"I describe what I do. I'm a guest services representative. It is a great opportunity. Just being in high school and being able to be [at the career fair], it makes me feel like I'm ahead and getting a head start," explained Kell senior Alissa, who works for Nothing Bundt Cakes.
Many of Alissa's classmates did not know she worked at Nothing Bundt Cakes and so were surprised to see her representing the business at the career fair. As a work-based learning student, Alissa was getting paid to help recruit her fellow students to get jobs at the company just like she did.
One of her co-workers at Nothing Bundt Cakes, Annie, helped plan the career fair with her Kell marketing teacher Susana Lopez. Just as Alissa was recruiting students to get a job, Annie helped recruit the 120 colleges and businesses that attended the Kell Career Fair.
"I think it is a very positive event for the students. They are excited about a bunch of the vendors who have come out and are excited for the opportunity to be hired," explained Ms. Lopez, who leads Kell's CTAE Department. "We are giving students the opportunity to see that [the companies] are actually doing what the students are learning about in the classroom."
Kell sophomore Kameron was drawn to a vendor who helps train dogs because she is interested in becoming a veterinarian. She also saw a few jobs that she was interested in pursuing this summer.
"I liked that it gave [us] many opportunities to see the jobs out there that can help me with college and what I want to do when I grow up," said Kameron. "It was a really cool experience."
Thanks to the school career fair, students bragged to AP Sanders about "having an in" with local places like Six Flags.
"At the end of the day, it is an opportunity for all involved—our community businesses and our students," added AP Sanders.