Superintendent Ragsdale Announces $2,000 Bonus for Permanent Cobb Schools Staff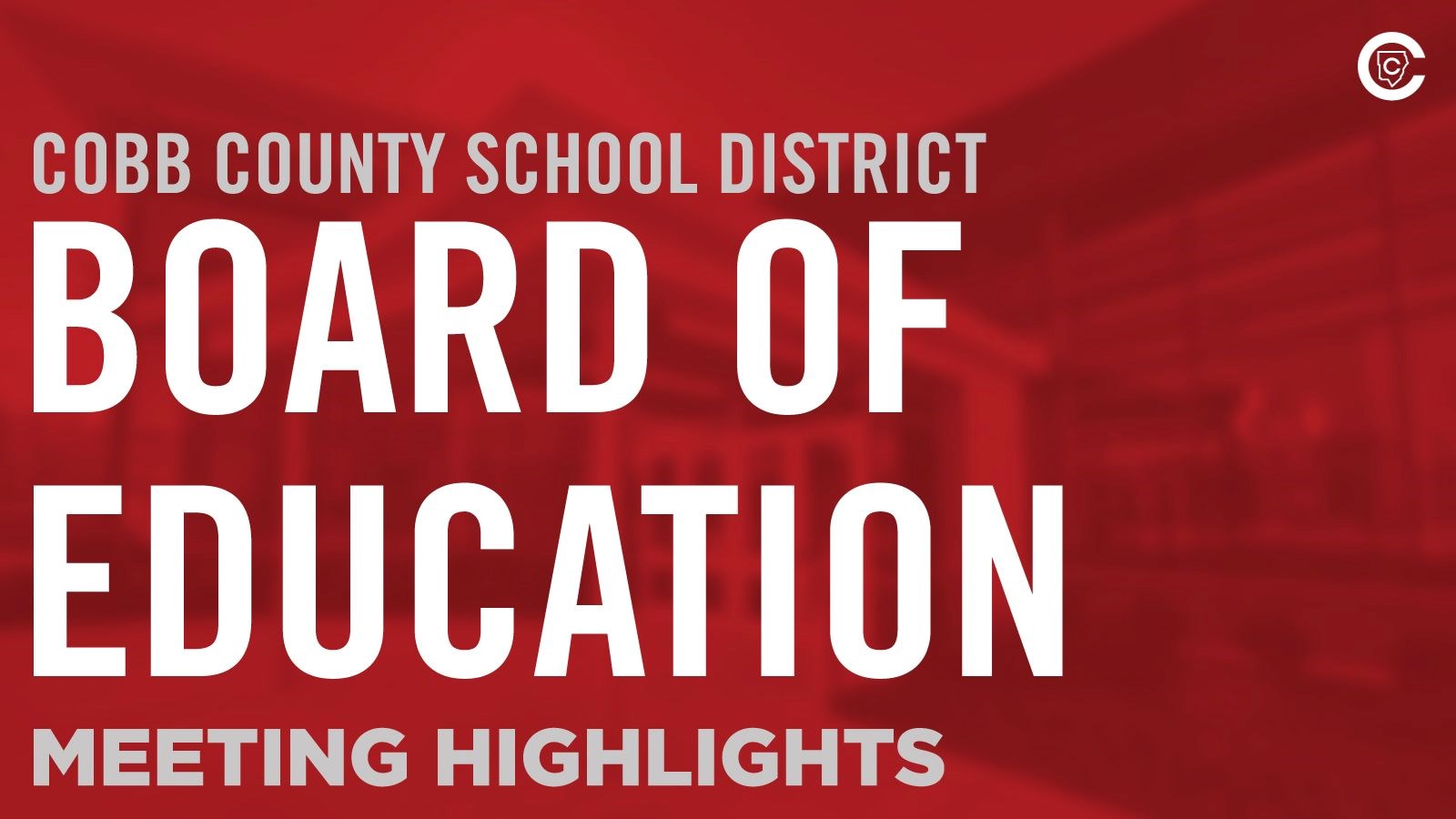 During the March Board of Education meeting, Superintendent Chris Ragsdale announced a $2,000 bonus supplement for all permanent full-time and part-time employees, which will be paid in the April payroll. The state of Georgia and Gov. Brian Kemp provided funds for specified groups of school staff, and Superintendent Ragsdale used CARES Act money to extend the bonus supplement to all Cobb Schools permanent full-time and part-time employees.
Following that announcement, the District's Chief Leadership Officer, Sherri Hill, outlined areas of school growth and achievement across Cobb Schools.
Some of the achievements highlighted included the District's 2021 AP Schools of Distinction, 2021 AP Access & Support Schools, 2021 AP Humanities & Humanities Achievement Schools, 2021 AP STEM & AP STEM Achievement Schools, and 2020-2021 Title I Reward Schools. Cobb students also topped metro peers on the SAT and outpaced the state and nation on the ACT.
The presentation also spotlighted Cobb's STEM and STEAM certified schools, Arts Integrated Schools, Positive Behavioral Interventions and Support (PBIS) schools, Early Literacy Framework Schools, and Math Fluency Initiative Schools, among others.
A few of the fine arts accomplishments include Best Communities for Music Education, Bands of America Regional Champions from Walton High School, First Place All-State Art Symposium from McEachern High School, and Kennesaw Mountain High School's GHSA Literary Region Champions.
Cobb's athletic accomplishments are just as numerous, including the 2022 GHSA individual and relay Championships in swimming and diving, 2022 GHSA team championships in swimming, 2021 Class 7A Flag Football State Champions from Hillgrove High School, 2021 Class 7A Volleyball State Champions from Walton High School, 2021 Class 6A Fast-Pitch Softball State Champions from Lassiter High School, and 2021 ROTC Female Raider State Champions from Campbell High School.
"I am so thankful to all our educators and support staff who have continued to help our students learn and grow. They are the reason that even during a worldwide pandemic, Cobb students are succeeding and earning state and national accomplishments," said Cobb Schools Board Chair David Chastain.
As the Superintendent announced during the meeting, Cobb families can again choose the learning environment that works for them by selecting online learning options for the 2022-2023 school year. More details will be released to families soon.
In addition to other Board business, the meeting also included the following personnel updates.
Principal Level and Higher Position Recommendation
Doe, Dr. Tracie, Assistant Superintendent, Teaching and Learning Support and Specialized Services, Retirement effective June 1, 2022.
Flugum, Dr. Thomas, Principal, Pope High School, Retirement effective June 1, 2022.
Kennedy, Cristin, Director, Instructional Technology, Retirement effective June 1, 2022.
The Board voted to approve the following Ed-SPLOST projects:
ACTION AGENDA ITEM #6 – Recommendation for Approval to Award Contracts for Due West Elementary School (Flooring & Windows), Garrett Middle School (Gym), LaBelle Elementary School, and Milford Elementary School Flooring Replacements
ACTION AGENDA ITEM #7 – Recommendation for Approval to Award a Contract for North Cobb High School Roofing Replacement
ACTION AGENDA ITEM #8 – Recommendation for Approval to Award a Contract for Walton High School Athletic Complex
ACTION AGENDA ITEM #9 – Recommendation for Approval to Award a Contract for Eastvalley Elementary School Replacement School
The Cobb Schools Board of Education recognized the following students and staff for their accomplishments:
2021-2022 GHSA Class 6A Girls 1 Meter Diving State Champion – Hannah Stumpf, Allatoona High School
2021-2022 GHSA Class 6A Boys Swimming 50 Yard Freestyle State Champion – Noah Smith, Allatoona High School
2021-2022 GHSA Class 6A Boys 1 Meter Diving State Champion – Carter Loftin, Lassiter High School
2021-2022 GHSA Class 6A Girls Swimming 100 Yard Butterfly & 200 Yard Individual Medley State Champion – Elizabeth Tilt, Lassiter High School
2021-2022 GHSA Class 6A Girls Swimming State Champions – Lassiter High School: 200 Yard Medley Relay: Elizabeth Tilt, Sophia Parker, Maggie O'Shaughnessy, Francie Carson; 200 Yard Freestyle Relay: Kate Bradley, Sophia Parker, Finnly Jollands, Allison Brown; 400 Yard Freestyle Relay: Allison Brown, Francie Carson, Bridget O'Shaughnessy, Elizabeth Tilt
2021-2022 GHSA Class 6A Swim & Dive Overall State Champions – Lassiter High School
2021-2022 GHSA Class 7A Girls Swimming 200 Yard Individual Medley & 100 Yard Breaststroke State Champion – Elizabeth Isakson, Walton High School
2021-2022 GHSA Class 7A Girls Swimming State Champions – Walton High School: 200 Yard Freestyle Relay: Annalia Jansons, Lily Alderman, Maia Alston, Elizabeth Isakson; 400 Yard Freestyle Relay: Sydney Starnes, Lily Alderman, Annalia Jansons, Elizabeth Isakson
2021-2022 GHSA Class 7A Swim & Dive Overall State Champions – Walton High School
2020 Georgia Art Education Association, Middle Level Art Educator of the Year -- Jamie Richardson, Cooper Middle School
2020 Georgia Art Education Association Supervision & Administration Art Educator of the Year and the 2020 National Art Education Association, Southeastern Region Art Educator of the Year – Laura LaQuaglia
2021 Georgia Music Educator of the Year Award – Dr. Craig Hurley, Ford Elementary School
2021 Lowell Mason House National Competition Recipient for Music Educators – Andrew Geocaris, Rocky Mount Elementary School
2021-2022 CCSD School Social Worker of the Year – Maggy Hoskins
2022 Presidential Award for Excellence in Mathematics and Science Teaching – Dyanna Motes, Kemp Elementary School