LHS Volleyball and DECA raise more than $2400 for Breast Cancer Awareness Month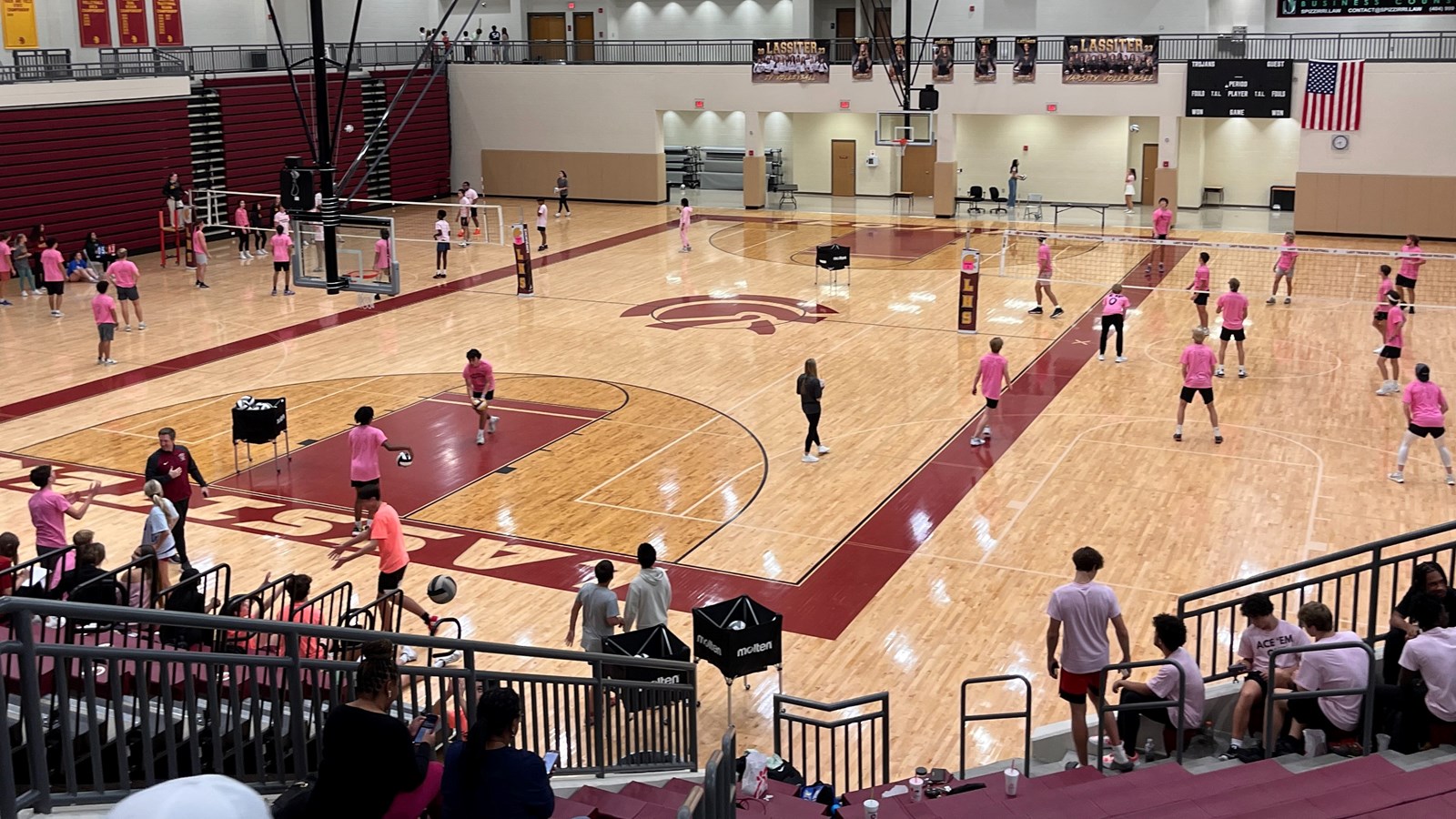 October is Breast Cancer Awareness Month, so the Lassiter Volleyball program and DECA set out to raise money for the cause.
On Wednesday, October 18, more than 75 Lassiter guys put on their pink gear and showed off their volleyball skills at the boys volleyball powderpuff tournament, hosted by Coach Darby Dunn, Coach Kristin Hunt, and Lassiter Volleyball players, with help from Lassiter DECA.
The double elimination tournament bracket started off strong when the first four of 11 teams took the court right after school. After hours of fierce competition and the elimination of Block Party, the fourth place finisher, and Ace Em Out, the third place team - EZ Pickens and Que Que were left standing for the finals. Despite undefeated Que Que having the momentum most of the tournament, EZ Pickens did not make it easy for them. This team, made up of mostly back-to-back state soccer championship players, put up a valiant fight. But in the end, Que Que took it all with a final score of 25-22. The games were officiated by DECA student Margaret Delaplane and Varsity volleyball player Jakaila Jones. The tournament was emceed by Aaron Cuppels.
Lassiter DECA, sponsored by Marketing teacher Katie Griffin-Sequin, also raised money by selling popular Trojans Barbie Pink sweatshirts to students and staff and hosting a Pink Out Puff Paint party.
Both initiatives together raised almost $2500 to be donated to Georgia 2-Day Walk for Breast Cancer
Thanks to everyone that participated and helped raise money for a good cause.
Champions - Team Que Que
Runner Up - Team EZ Pickens

Obi Cao
Luiz Gonzalez
Guillermo Joachin Reyna
Mario Marinov
Juan Orduz-Zuniga
Brendan Tkac
Kayla Wilson - Coach
Ja'Lah Hall - Coach


Marcelo Barres
Dylan Comai
Emiliano Gonzalez
Aiden McConnie
Chris Peixoto
Gabe Venegas
Kendall Hutto - Coach

Third Place - Team Ace Em Out
Fourth Place - Team Block Party

Aidyn Davis
Jaden Emmanuelli
Noah Grigsby
Jacob Levin
DJ McDowell
Davis Soto
Kyhir Torrence
Hollis Weber - Coach



Jackson Burkhart
Wilson Coombs
Jack Hansen
Easton Knudsen
Benjamin Morgan
Kiefer Morin
Preston Smith
William Wileman
Elaina Hoffecker - Coach
Caroline Young - Coach