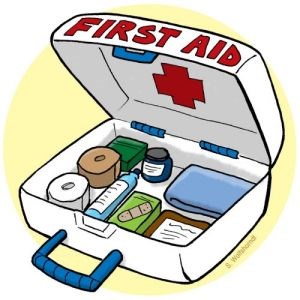 The clinic is located in Room 200. The school clinic is staffed by the school nurse, Kimberly Churchill, LPN. The clinic is open 7:30 to 2:30 daily. The purpose of the clinic is to provide appropriate health care services for students during school hours. The school nurse administers medications according to the applicable policies, assesses and treats minor illnesses and injuries and makes parent and emergency contacts as needed. The school nurse will notify parents of conditions that make a child unable to function in the school environment. Under such conditions the parent must pick up their child within 1 hour. The school nurse will handle all issues related to the health and wellness of the students and staff.
Guidelines for Illness:
When can my child return to school?
Fever - If a child has a temperature of over 100.0 the school nurse must notify the parents. If temperature is 99.6 - 100.9 and no other symptoms, the student may remain in school. If the temperature is 101 or higher the child must be sent home. The child may not return to school until free of fever for 24 hours, without the aid of fever reducing medications.
Diarrhea - Defined as watery stools that occur more than 2 times per school day. If the child has one episode of diarrhea and other symptoms are present (fever, abdominal discomfort, lethargy, etc.), it will be necessary for the child to be sent home. The child may not return until free of diarrhea for 24 hours from the last episode.
Vomiting - The child may not return to school until child is free of vomiting episodes for 24 hours from the last episode. Please remember that sending your child to school sick puts all the other students and staff at risk for becoming ill.
Helpful Links:
www.cobbk12.org - Look under Student Support then School Health Services for policies regarding healthcare at school and all necessary forms
www.choa.org - Valuable information regarding Children's Healthcare of Atlanta and illness and safety prevention
www.cdc.gov - Valuable information regarding H1N1 and other illness which affect our community and the World
We Welcome YOUR CHILD to KINDERGARTEN
In Cobb we take the education of our students very seriously and we know that HEALTHY children learn best! In order to keep your child healthy and safe at school, we provide a licensed nurse in every school building! We invite you to contact your school nurse to discuss any health needs or concerns for your child. While preparing for Kindergarten please also obtain documentation from your health care provider regarding ALLERGIES, ASTHMA, DIABETES, SEIZURES or other health conditions that may require our assistance during the school day. Documentation paperwork can be obtained on Cobb County School District website, then given to your doctor to complete.
Enjoy this very exciting time in your child's life!
Kim Churchill, LPN | School Nurse | Phone: 770-819-2513
Laura Jones BSN, RN | Consulting Nurse