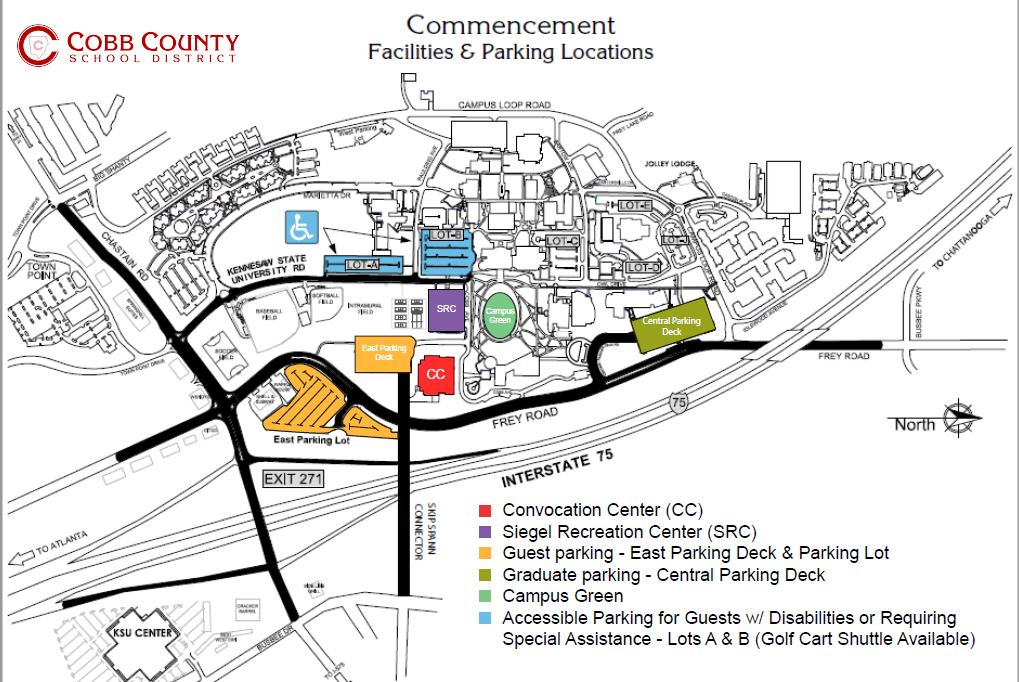 GRADUATION INFORMATION PACKET
SENIORS & SENIOR PARENTS: Please printout the Graduation Information Packet by clicking HERE, as it contains all the pertinent information regarding commencement. Students are responsible for the contents of this information packet, so please read it carefully and make note of important details.
GRADUATION TICKETS – Please check the Student Ticket Portal
Attention Seniors! Your graduation guest ticket requests have been finalized and results can be found by logging into the Student Portal again at https://studentportal.cobbk12.org/. Please note that this portal can only be logged into by the student using their student login information.
COMMENCEMENT PARENT MEETING IN ENGLISH:
COMMENCEMENT PARENT MEETING IN ENGLISH AND SPANISH
Commencement Ceremony Class of 2023
Date - Wednesday, May 24, 2023
Time- 3:30pm
Location- Kennesaw State University Convocation Center (KSU Convocation Center)
Admission: By ticket only
More information regarding graduation will be posted in April.
FINAL Transcript Request / Graduation Survey
All seniors must complete the Final Transcript Request / Graduation Survey
Log into your Naviance Account
Go to Important to Do's and Tasks (scroll down a little and it will be on the left-hand side of the page)
Click on Class of 2023 Graduation Survey (top right-hand side, click on the pink diamond and arrow)
More instructions attached.
ANNOUNCEMENTS:
Class of 2023 is invited to participate in a Senior Walk at Smyrna Elementary School, May 24, 2023, between 8am and 8:15am. Wear your cap and gown. Checkin at the Smyrna Elementary Front Office.
This is part of the Senior Clearance process. Please review the attached flyer below for final transcript requests. This information has been shared with teachers and has been sent to all seniors via Naviance. ALL SENIORS have been assigned the CCSD mandated Class of 2023 Graduation Survey in Naviance. They must submit their responses by April 27, 2023 at 10:30am to be cleared for this portion of the Senior Clearance process.
School Counselors will be in the cafeteria April 26th and 27th to verify completion, so please encourage them to take time between now and then to complete the survey. Seniors are encouraged to preview the survey first. Once they have acquired the information needed, they should complete, and submit the survey.
We want to begin recognizing our seniors for their hard work as they complete their senior year and begin to make post-secondary plans. Recognitions could include things like scholarships, special recognitions, and acceptance to colleges, apprenticeship programs, trade schools, military, and the world of work. Dr. Watkins will spotlight seniors in her weekly newsletter and the counselors will recognize them on our Senior Recognition Wall, near the Counseling Office. Please UPLOAD a copy of your acceptance/award letters using the link below or DROP THEM OFF in the Counseling Office. You must be logged into your Office365 account to upload your letters. You can submit as many letters as you want, even if you are not planning to attend. It will be fun to see where everyone applied.
CLASS OF 2023 RECOGNITION FORM SUBMISSION
Cords & Stoles
Students may qualify for cords or stoles based on their academic performance, pathway completion, or participation in community service, extracurricular clubs and honor societies. Please click on the links below to see more information on requirements for the cords or stoles. You can submit payment for cords/stoles on MyPaymentsPlus. Be advised, any associated cost, paperwork, or requirements are specific to each cord and stole. It is the responsibility of the student to contact the necessary staff member to determine eligibility and for additional information. Graduates may only wear stoles, cords, and other insignia authorized by the school during the graduation ceremony. Examples:
Each graduate will receive a fixed number of tickets this year for Commencement. Unfortunately, NO additional tickets are available. Ticket distribution will take place during mandatory commencement practice in May.

Herf Jones Brochure.pdf

; Place all orders at

www.HerfAtlanta.com
Class of 2023: Please go to cady.com/schedule to schedule your senior portraits. Don't be left out of the Campbell High School yearbook! #Cady #CadySenior