Hillgrove Honors 23 Athletes with Signing Day Event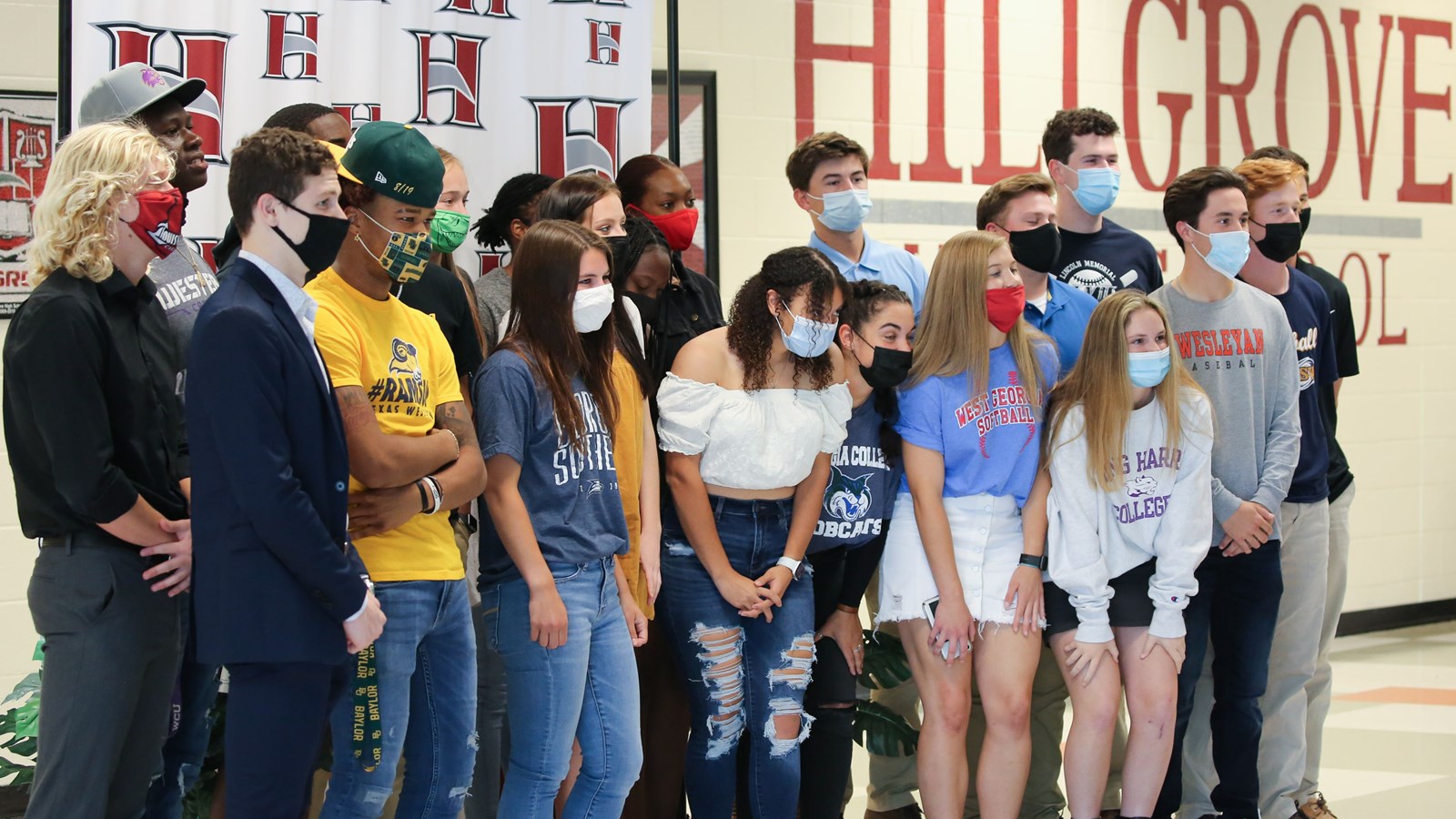 Hillgrove High School recently opened its doors to families, friends, and staff to help celebrate 23 senior athletes that signed their National Letter of Intent to play sports at the collegiate level. Representing ten different sports and 22 different colleges, the graduating Hawk athletes were optimistic and ready to begin the next chapter of their academic and athletic careers.
Athletes were each given a table that included their name, sport, and a box of doughnuts to help make the moment a special and memorable one. In his opening comments, Athletic Director Jonathan Brown joked that the doughnuts also represented how much time and "dough" parents have invested while helping their son or daughter get to this point.
Each student-athlete was called forward by their coach and allowed to take the mic for a few brief words. Most thanked their families for all the years of support and encouragement. For example, Lindsay Bell (Soccer, Mercer University) thanked her parents for waking up early for games and practices, while Jack Tilton (Baseball, West Virginia Wesleyan University) said he wouldn't be the man he is today without his parents' involvement.
Current state 500-meter freestyle champ Tommy Bried gave tribute to everyone he competed against over the years for making him the swimmer he is today. Teammate Daniel DeCarlo thanked his parents, as well as his coaches, and "all the volunteers who made everything possible."
Chelci Banks (Volleyball, Temple University) thanked her coaches for always demanding more. "You made it hard on us," she said, "but it was always worth it." Divina Checo (Softball, Georgia College) agreed and also thanked her coaches for teaching the mental aspect of the game.
Jose Chaires (Football, Central State University) said he is ready to take his talent to the next level but also reminded the crowd "once a Hawk, always a Hawk." Teammate Andreas Keaton (Football, Western Carolina University) thanked the entire Hillgrove community for their support and commitment during his high school years.
With her closing comments, Principal Angela Stewart mentioned how proud she was of all the student-athletes present. She also hoped that the crowd gathered in the school cafeteria was a hopeful sign of things to come. "It's great to see everyone together in one room," she said with a smile. "I hope this means that we are beginning to move forward and beyond the COVID restrictions and distancing."
Congratulations to all 23 Hillgrove student-athletes for your commitment and dedication to the classroom and your sport. Good luck as you move on to the next level!
Football:
Jose Chaires – Central State University
Jawon Garner – Texas Wesleyan University
Andreas Keaton – Western Carolina University
Jalen Royals – Georgia Military College
Grant Suttle – Birmingham Southern College
Lacrosse:
Macy Fulton – Reinhardt University
Camille Brathwaite – Notre Dame College
Lacrosse and Wrestling:
Sarai Sanders - Life University
Cross County and Track:
Reese Connelly – Georgia Southern University
Track:
Anisa Williams – Kennesaw State University
Soccer:
Victoria Shanahan – Young Harris College
Lindsay Bell – Mercer University
Volleyball:
Chelci Banks – Temple University
Swimming:
Tommy Bried – University of Louisville
Daniel DeCarlo – U.S. Merchant Marine Academy
Softball:
Katie Hassenboehler – University of West Georgia
Divina Checo – Georgia College
Baseball:
Cameron Powser – Lincoln Memorial University
Brandon Etter – Georgia Southwestern State University
Caleb Stacy – Shorter University
Ethan Bobo – Lincoln Memorial University
Jack Tilton – West Virginia Wesleyan University
Jake Hill – Oglethorpe University