Cobb EMC and Gas South Partner to Support STEM In Cobb Schools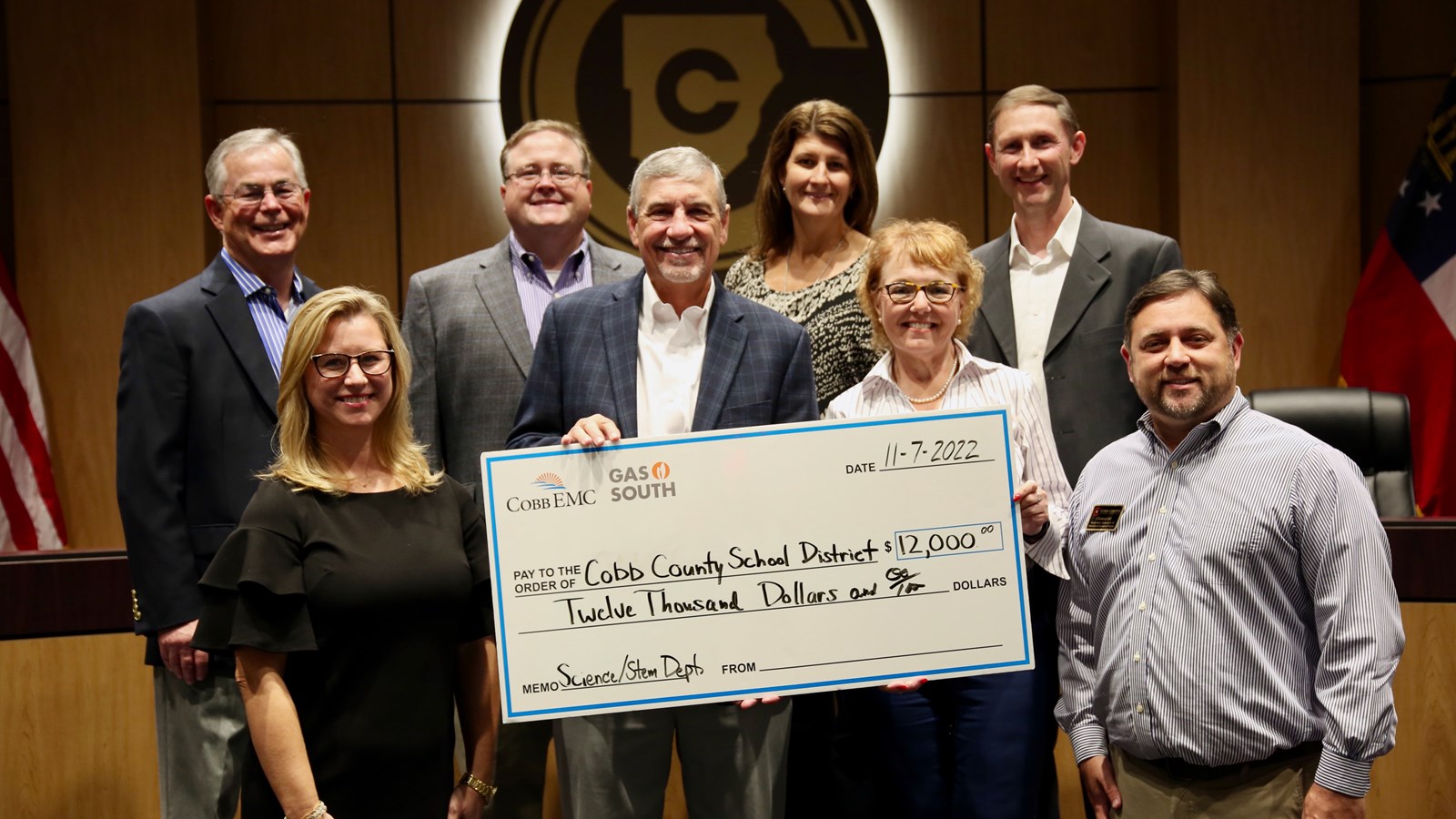 Cobb EMC has been a strong and consistent supporter of Cobb Schools for many years. Since 1991, Cobb EMC has been sponsoring and helping fund STEM projects and initiatives within the District. That long partnership has gotten even stronger this year, thanks to Gas South getting involved as well.
The two energy companies furthered a grant from CoBank and recently delivered a check to Cobb Schools for $12,000. Administrators from the Instruction and Innovative Practice and STEM Departments were on hand to accept the check from representatives from both companies.
"We are excited to continue this partnership with Cobb EMC and Gas South," said Christian Cali, Supervisor of Instruction and Innovation. "They have supported our science events for many years in Cobb."
Mark Justice, Cobb EMC's Director of Education and Community relations explained how he was able to extend this year's support. "I found a grant available from CoBank that helped to maximize this year's support," he said. "The grant was half of our sponsorship this year, which now allows us to do other things, like sponsoring several STEM mini-grants. This partnership has grown since the 1990s, and this grant is another leap forward."
The District's supervisor of STEM and Innovation praised the community's support for the Cobb Schools STEM programs.
"This is such great news for Cobb's STEM programs," Dr. Sally Creel said. "This will enable us to fund everything from awards for our competitions to the materials used to the printing costs for signs and worksheets at the events. When we need any kind of support at a Cobb science event, Cobb EMC is our first call and they're always more than willing to help!"
She also credited the community partnerships with the long-term success of the Cobb Schools STEM programs.
"I have so many high schoolers that reach out to me and say they were in the Science Olympiad in elementary school and now they want to help. It has a lasting impact and gives them a launching opportunity that supports them all the way through their time at Cobb Schools," Dr. Creel added.
Generous support like this from local companies such as Cobb EMC and Gas South is but one way that Cobb companies give back and support public education in the county. Cutting-edge programs in the local schools ensure that Cobb's economy remains strong and viable for many years to come. It is truly a win-win for all. Thank you, Cobb EMC and Gas South, for supporting science education in Cobb!