December Coach of the Month Awards Go to Kell and McEachern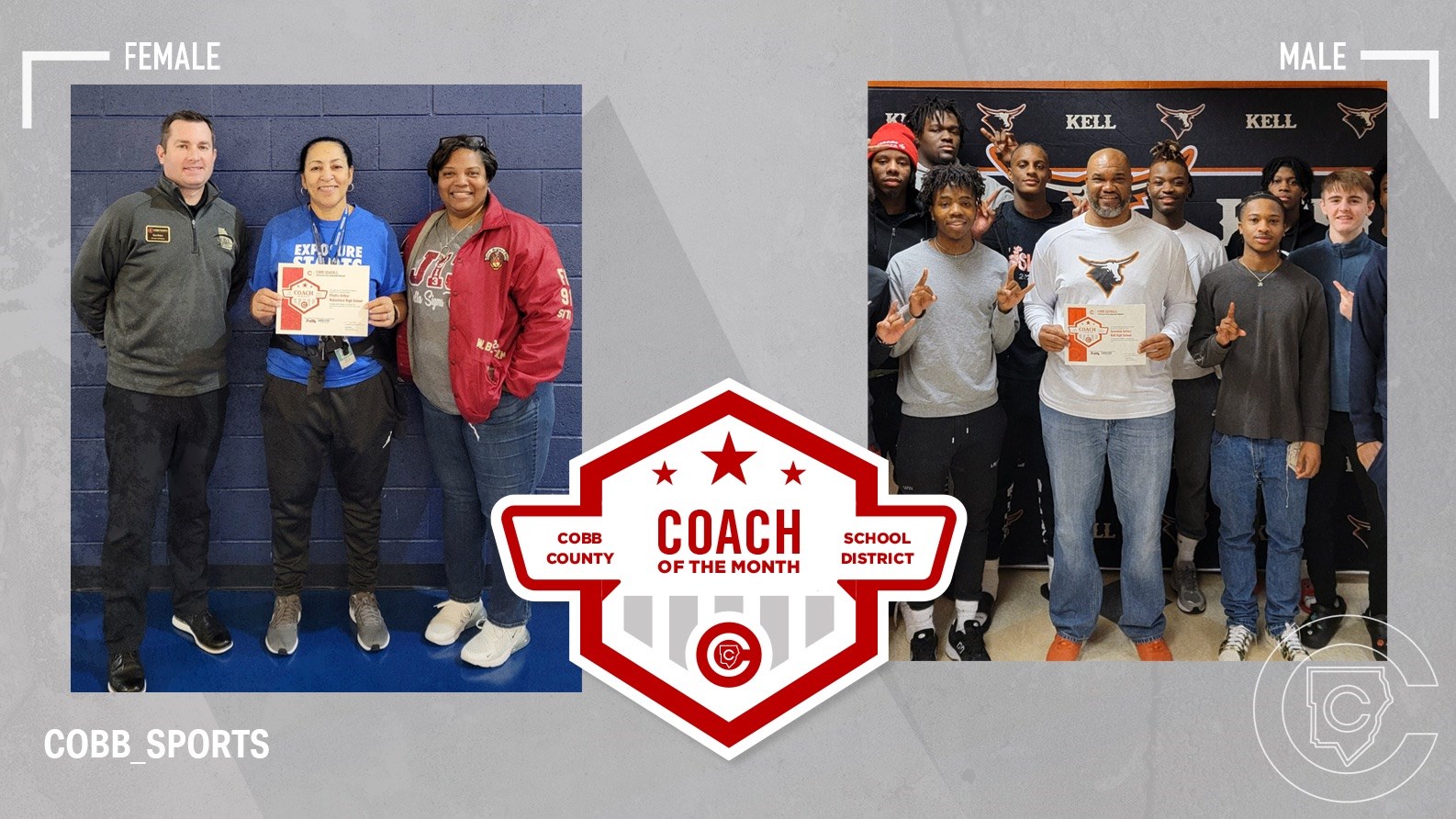 The Cobb Schools' Athletic Department has selected the latest Coach of the Month (COM) winners. The COM award shines a light on a female and a male coach doing exceptional work in the District.
In conjunction with the Atlanta Braves and Good Game Atlanta, the winners receive a complimentary one-night stay at Aloft Atlanta at the Battery and dinner from Good Game Atlanta.
"This is a small token of our appreciation for their efforts both on and off the field," said Cobb's Director of Athletics, Don Baker. "Coaches teach a full day, and their days are only half over when the bell rings at 3:30. They continue to work with our student-athletes for hours each week, often at the expense of their own spouses and children. We believe we have the best coaches in the state and want to celebrate them as much as possible!"
The winners for December are from Kell and McEachern. Jermaine Sellers coaches boy's basketball for the Longhorns, and Phyllis Arthur is the girl's basketball coach for the Indians.
Jermaine Sellers, Boys Basketball, Kell
Over the last ten seasons, Coach Sellers has transformed Kell basketball into one of the premier programs in the state and the nation. Before his arrival in 2013, Kell had never experienced a winning season in boys basketball, but he has now led them to winning records in 8 of his 10 years. He also recently celebrated his 250th career win.
Before Christmas, the boys team traveled to Las Vegas for the Tarkanian Classic, a prestigious tournament with some of the top teams in the nation. Kell went 3-1 during that tournament, with incredible victories over some of the country's best teams.
"Time and time again, Coach Sellers has put the team above self," said Longhorn Athletic Director Jeff Burch. "In adverse situations, he has gone above and beyond to make sure his players come first. He is a true leader and dedicated to his entire team. He sets high standards for his players but loves them first and foremost."
"He is also easygoing and well-liked by students in his classes. He sets standards on the court and in the classroom for student success," AD Burch said proudly about his Coach of the Month.
"He is an incredible leader of young men!" agreed Kell Principal Peter Giles. "He also supports many of our junior programs because his children are involved. He is respected by our staff and builds great relationships with all our students. He is helping to bring success to students throughout the school, not just on the court."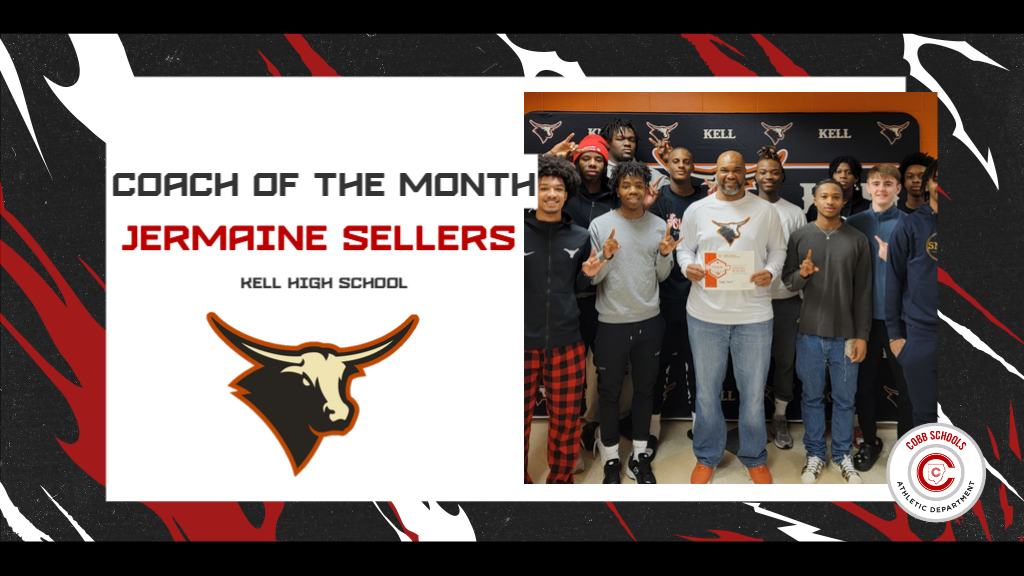 Phyllis Arthur, Girls Basketball, McEachern
Coach Arthur has been at McEachern since 2006. During that time, she has accumulated five state championships for the Indians. Before that, she was integral at Pebblebrook and Athens, where she won her first state championship for a total of six in her storied career.
Under her leadership, the Indians were the first team in 40 years to four-peat(!) in the state's highest division. She brought home state titles for McEachern in 2012, 2014, 2015, 2016, and 2017. She has also coached softball and volleyball and remains committed to the McEachern community in all aspects. She is a treasured member of the school's faculty.
"Coach Arthur is the admin of her programs," said McEachern Athletic Director Myra Camese. "She represents them and the school at meetings, press conferences, and within the community. She manages fundraising, publicity, safety, staff, facilities, and equipment. And that's in addition to coaching and keeping up with her athletes and all that entails, including grades, competitiveness, skill, and strategies."
"She is hard working and dedicated to McEachern's staff, students, and community. She has a high degree of integrity and a phenomenal personality. She takes initiative and always looks for what works for her students and athletes to achieve superior performance. Her intelligence, commitment, perseverance, and compassionate character have made all the difference here. She is an essential piece to the success of McEachern Athletics!" AD Camese concluded with admiration.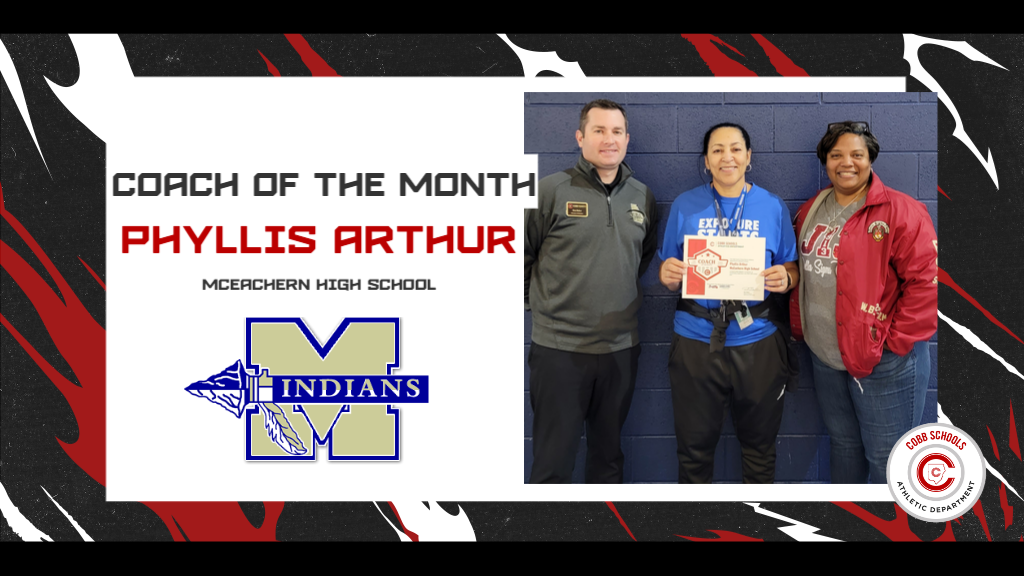 Congratulations, Coaches Sellers and Arthur! You are both top-level and long-term examples of why Cobb IS the best place to Teach, Lead, and Learn. Thank you for all you do on and off the court and for making Kell and McEachern great places for both students and athletes. Well done!