Stakeholders Meeting for Federal Programs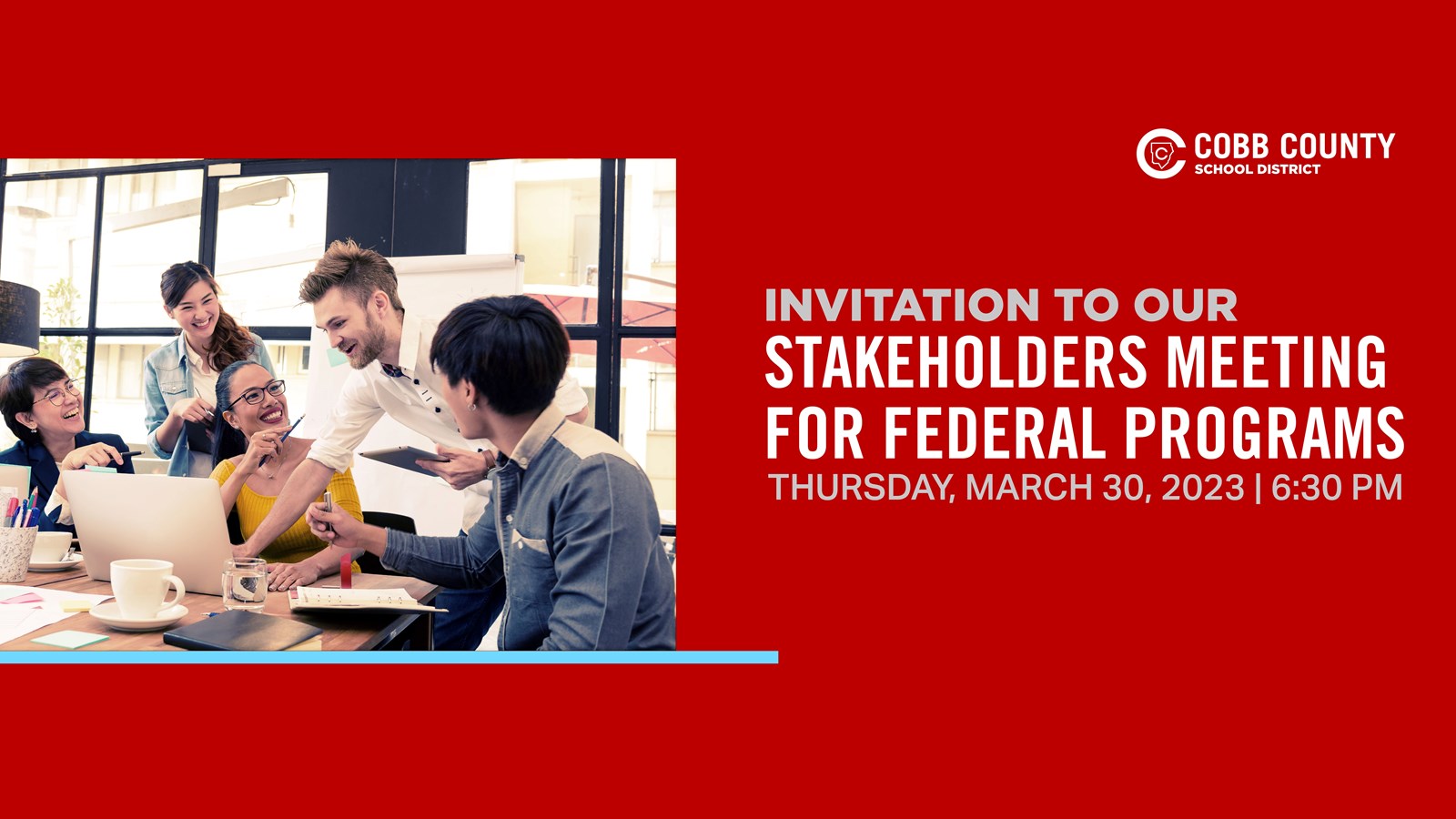 You are invited to our Stakeholders Meeting for Federal Programs
Thursday, March 30, 2023
6:30 pm
Meeting Location:
Join TEAMS: https://tinyurl.com/mwxrp66r
As we strive to continually improve student achievement, we invite you to join us for our annual opportunity to share information about our schools and the District. We will be discussing and gathering your feedback for the District Improvement Plan; including the Title I Family & Community Engagement Policy. We hope you'll join us and provide your input on this important work.
Any questions, please contact the Cobb County School District at 770-426-3323.
Thank you for your attendance!
(Spanish and Portuguese translators available)
---
Reunión informativa del Distrito Escolar de Cobb (Programas Federales) 30 de marzo 2023
Está cordialmente invitado a nuestra reunión de las partes interesadas para los Programas Federales!
Jueves 30 de marzo 2023
6:30 pm
Enlace de TEAMS: https://tinyurl.com/mwxrp66r
A medida que nos esforzamos por mejorar el rendimiento académico de los estudiantes, queremos invitarlo a esta reunión anual para compartir con ustedes información sobre nuestras escuelas y el distrito escolar. Hablaremos sobre el Plan de Mejora del Distrito y nos interesa sus aportes y comentarios. También hablaremos sobre la Política de Participación de las Familias y la Comunidad de Título I. ¡Esperamos que nos pueda acompañar y participe dándonos sus opiniones y comentarios sobre esta importante labor!
Si tiene preguntas, comuníquese con el Distrito Escolar del Condado de Cobb llamando al (678) 331-3086
¡Agradecemos su asistencia!
(Traductores de español y portugués disponibles)
---
Convidamos as Partes Interessadas para a Reunião de Programas Federais
quinta-feira, 30 de março de 2023
18h30
Locais da Reunião
Link de TEAMS https://tinyurl.com/mwxrp66r
À medida que nos esforçamos para melhorar continuamente o desempenho dos alunos, convidamos os pais para vir se juntar a nós enquanto compartilhamos informações sobre nossas escolas e o Distrito. Estaremos discutindo e coletando seus comentários para o Plano de Melhoria do Distrito; incluindo a Política de Participação da Família e da Comunidade do Título I Ambas as intervenções detalhadas para melhoria. E revisadas a cada ano letivo. Esperamos que participe conosco e forneça sua opinião sobre este importante trabalho!
Qualquer dúvida, entre em contato com o Distrito Escolar do Condado de Cobb, através do telefone (678) 331-3086.
Obrigado por comparecer!
(Tradutores de espanhol e português disponíveis)