Walton's Jack Xu Recognized as Presidential Scholar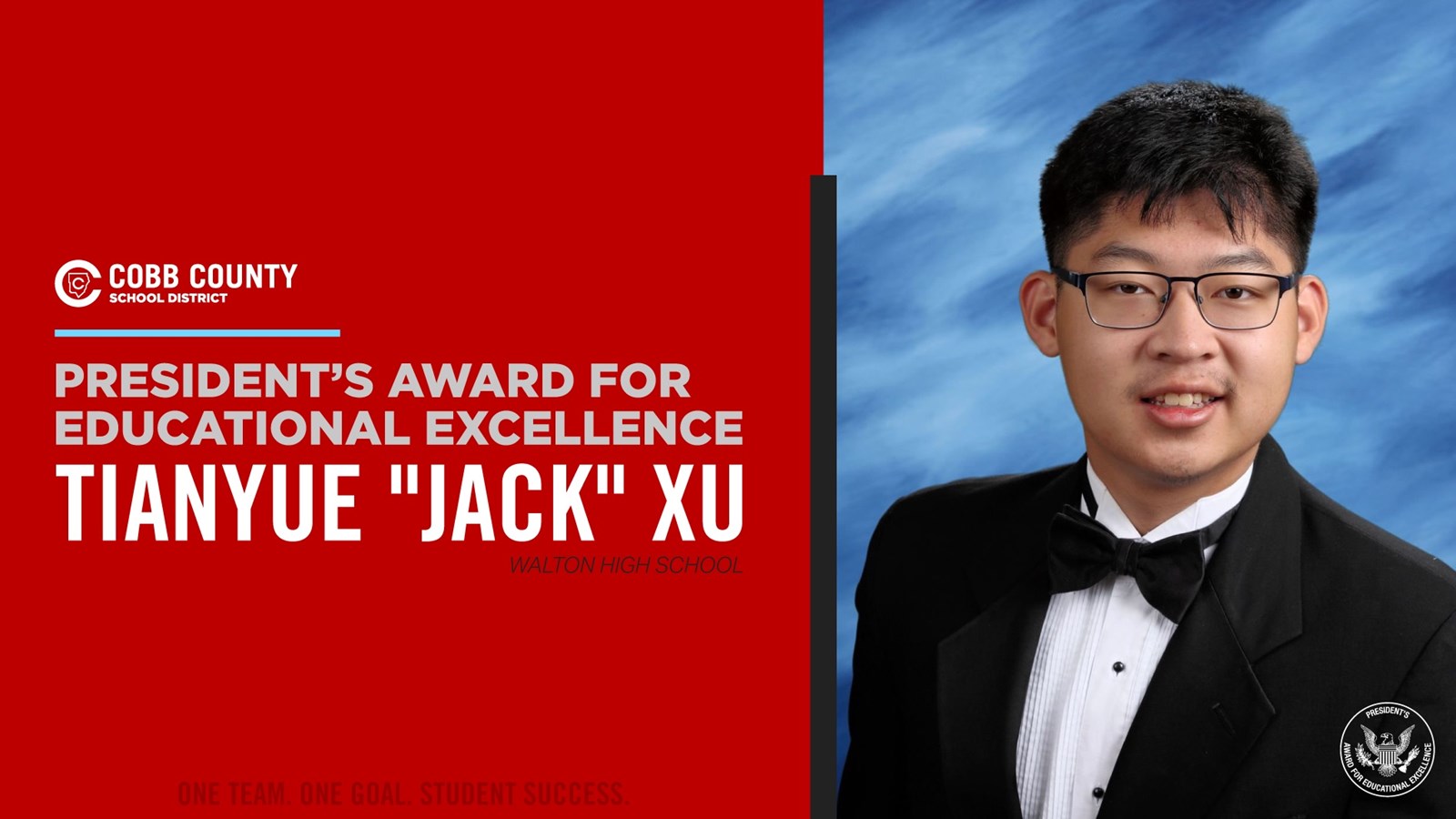 Four Georgia students have been recognized as U.S. Presidential Scholars, a prestigious honor for the nation's most distinguished graduating high school seniors. One of those four is Cobb School District's own, Tianyue "Jack" Xu, a senior at Walton High School!
"Jack has truly demonstrated the qualities of an exemplary student," said proud Walton Principal Richard Tischler. "His commitment to excellence, intellectual curiosity, and passion for learning has made him a deserving recipient. The U.S. Presidential Scholar is a highly competitive and nationally recognized honor, and it is a source of immense pride for all us of at Walton to see his talent and dedication recognized with this prestigious award."
Jack is joined by three other Georgia students in receiving this high honor: Aira Dani of Northview High School, Michelle Li of North Oconee High School, and Sahil Sood of Lambert High School.
"I am so proud of Aira, Michelle, Sahil, and Jack – they have pursued excellence in academics and in life and represented the state of Georgia with distinction," State School Superintendent Richard Woods said. "I look forward to seeing the success these students will achieve in the future and wish them the very best in their future endeavors."
For Jack, his future endeavors will include attending Princeton University in the Fall. He is also a very accomplished pianist and was a varsity athlete on the Walton Swim and Dive team for the last four years. He is in Walton's STEM Academy advanced math and science track.
"I have had the chance to see Jack grow personally and academically over the past four-plus years," said Walton Latin teacher Alan Farnsworth. "He was part of a small group of eighth grade students who came to the high school two hours before their normal school day began so he could take Latin, as it is not part of the standard curriculum at the middle school. What commitment to learning! Jack handled the increased workload without a problem, and really showed how much he enjoys learning for the sake of learning. Jack has continued to be an example to his peers of what it means to be a dedicated learner. He is an outstanding Latin scholar and young man."
Part of being a dedicated learner for Jack means giving back. He came in early each week to tutor and train eighth grade students and helped run a summer Latin Camp for middle school students. He served as an officer of Walton's 125-plus member Latin Club. He attended both the Georgia Junior Classical League Convention and National Junior Classical League Convention for several years and has won innumerable awards. Jack was one of only fifteen students in the state to participate in the Georgia Governor's Honors program in Latin last summer.
Jack completed all his K-12 education in Cobb Schools, including Sope Creek Elementary, Dickerson Middle School, and Walton High School. He was also selected as one of two National Merit Corporate Scholarship Winners in the District. He is receiving his scholarship from State Farm, which is where his father works.
Beyond the classroom, Jack likes to volunteer and serve those in his community. In high school, he volunteered more than 400 hours and was named three times for Presidential Volunteer Service Awards. After scoring perfect scores on both his SAT and PSAT, he organized an SAT camp fundraiser for money for the Center of Children and Young Adults, a youth homeless shelter located in Cobb County.
Congratulations on this amazing recognition and award, Jack! We know that you will continue the excellence you learned and displayed at Walton in all that you do. Thank you for being an outstanding example of Student Success!

About the Presidential Scholars Program
The U.S. Presidential Scholars Program was established in 1964, by executive order of the President, to recognize and honor some of our nation's most distinguished graduating high school seniors. Students are recognized for general academic achievement; for exceptional talent in the visual, creative, and performing arts; or for ability and accomplishment in career and technical education fields. Each year, up to 161 students are recognized as Presidential Scholars.
The 59th class of U.S. Presidential Scholars included 161 high school seniors recognized for their accomplishments. As directed by Presidential Executive Order, the 2023 U.S. Presidential Scholars are comprised of one young man and one young woman from each state, the District of Columbia and Puerto Rico, and U.S. families living abroad, as well as 15 chosen at-large, 20 scholars in the arts and 20 scholars in career and technical education.