Cobb Schools and Naviance

---
What is Naviance Student?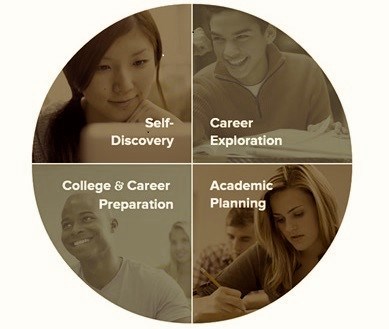 Naviance Student is a web-based program that supports students in exploring and developing their postsecondary plans. It addresses four key areas of college and career readiness:
Self-Discovery – "Who Am I?"

Students find college and career pathways that are right for them.
Career Exploration – "What Do I Want To Be?"

Students realize their strengths, goals, skills, knowledge, and interests to help them make better academic decisions.
Academic Planning – "How Will I Get There?"

Students connect academic achievement with long-term goals.
College and Career Preparation – "Will I Be Successful?"

Students research and compare colleges and universities, explore and apply to scholarship opportunities, and track the status of transcripts and letters of recommendations.
CCSD Scope and Sequence
Tasks By Grade Level
---
Resources
Student Login Information
Click on Find It Fast.
Click on Naviance.
If you are on a CCSD campus, you will automatically be logged into Naviance.
If you are off-campus, you will need to use your Office 365 credentials to log in.
***Office 365 credentials can be found in Student View.
Naviance Student Tour and Overview
The Naviance Student Tour and Overview video will help familiarize you with navigating and understanding the available tools in the program.
Parent Login Information
Go to the Naviance website.
Enter the zip code for your student's school.
Click on your student's school.
Enter your Naviance login credentials.
***If you do not know this information please contact your school counselor.
How to use Naviance Student
What can students do in the Naviance student program?
---
Research colleges—Compare grade point average, standardized test scores and other statistics to actual historical data from our schools for students who have applied and been admitted in the past.

Research careers—Research hundreds of careers and career clusters, and take career assessments.

Create plans for the future—Create goals and to-dos, and complete tasks assigned by the school to better prepare your student for future college and career goals.
Naviance Student also lets us share information with you and your student about upcoming meetings and events, local scholarship opportunities, and other resources for college and career information.
College Readiness
Your student can research a variety of colleges and can use information from career assessments and course plans to help identify the colleges he or she is interested in. Students can match their college preferences in terms of size, location, major, etc., and Naviance will generate a list specific to the criteria. The generated list will also show the percentage of how closely the colleges fit your student's wants and needs, and provides specific information on college admissions, tuition, school size and financial aid. Students can compare the facts of many schools in an easy-to-see format. There are also links pertaining to admissions data, to request additional information directly from the school, and even take a virtual tour of the college.
The Career Interest Profiler is an online career assessment designed to help student identify colleges and careers that are best suited for them. Student results are based on responses to questions like this:
How would you feel about it if you were to…
• Study genetics?
• Maintain the grounds of a park?
• Test the quality of parts before shipment?
• Enter the information into a database?
College Application Tools & Resources for Naviance
Every high school has a process for requesting a transcript. It is very important that students become familiar with your school's process for transcript requests.
***This process will also apply to letters of recommendation.
---
As students work in the Naviance system to request their Edocs, it will be important that they become familiar with the following processes:
How to add a colleges to your "Colleges I'm Applying To" list in your Naviance account

---

---

***This step must be completed before a transcript or a letter of recommendation can be sent on behalf of a student
Setting Goals
Review the academic and personal goals your student has developed. This can help identify scholarships and other programs that may support your student's goals. Encourage your student to set realistic goals and identify the steps he or she needs to take in order to accomplish them. With the resume tool, you can help your student build his or her resume.
Survey Example:
› Strengths Explorer is an online assessment designed to help students realize their emerging talents. This assessment asks students to what degree they associate themselves with statements like these:
• I love to help others feel welcome
• I enjoy being in front of a group
• I like to imagine what the future will be like
Career Readiness
Your student can complete multiple career assessments to help him or her learn more about his or her personality. You can review the results and help find the different types of careers and college majors that fit your student's interests and strengths. You and your student can access in-depth information from hundreds of career options, including job descriptions, task and activities performed in that career and expected wages.
› The Career Cluster Finder is an online assessment designed to help students discover the careers that may be a good match for them. Their results are based on responses to questions like these:
• Choose the activities you would like to do in the future, and the ones you are interested in or able to do right now
• Choose some of the words that best describes you
• Choose a few of the school subjects that you most enjoy
---