Cobb Teaching and Learning System
The Cobb Teaching and Learning System is a digital learning environment which precisely identifies what students know, supports student learning, engages parents, and empowers teachers with one goal: student success.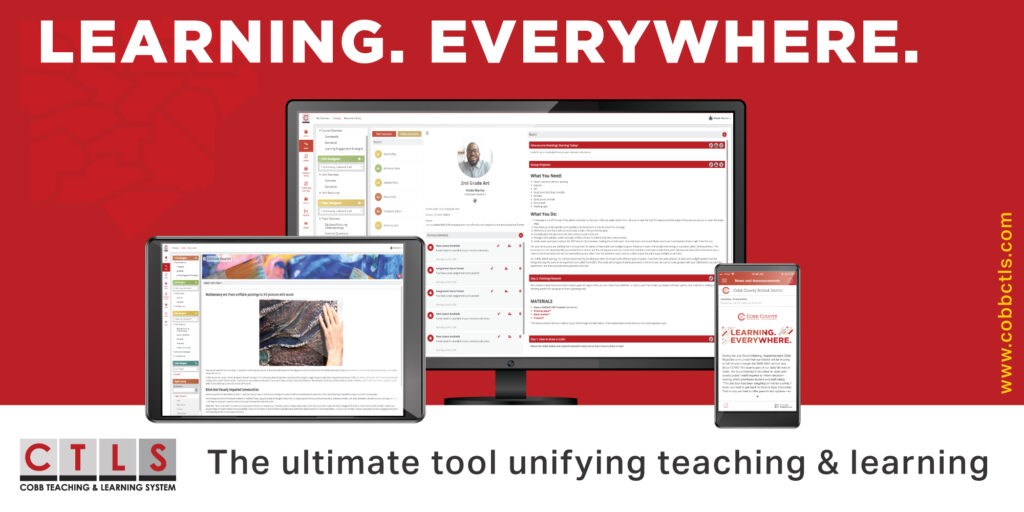 Providing More Opportunities For Student Success Through CTLS Assess, Teach, Parent, and Learn, we can provide more opportunities for student success.
<
CTLS Learn

HOW DO WE CREATE A DIGITAL LEARNING ENVIRONMENT FOR STUDENTS?

CTLS Learn is a learning management system (LMS) for students which integrates with ASSESS, TEACH, and PARENT.

CTLS Parent

HOW DO WE GIVE PARENTS ACCESS TO EVERYTHING THEY NEED TO SUPPORT LEARNING AT HOME?

Parents can be, and want to be, engaged with learning. They just need the tool.

All of your communication with your school in one place!

One-stop-shop features including content to support learning from home, grades, attendance, report cards, language translations, and more!

CTLS Teach

HOW DO WE SUPPORT TEACHING IN FACE-TO-FACE AND REMOTE LEARNING CLASSROOMS?

CTLS Teach teachers are provided with over 700,000 high-quality, meta-tagged resources from vendors, open source resources, and content developed by Georgia teachers.

CTLS Assess

How do we determine what our students know?

CTLS Assess provides teachers with access to real-time determinations of what students know in alignment with Georgia standards.
Chris Ragsdale - CCSD Superintendent

The classroom gets more complicated for students, parents, and teachers every year. It doesn't have to be. The Cobb Teaching and Learning System is designed to give students better resources, parents more information, and teachers more time.