Scott Kelly Named Cobb's Athletic Director of the Year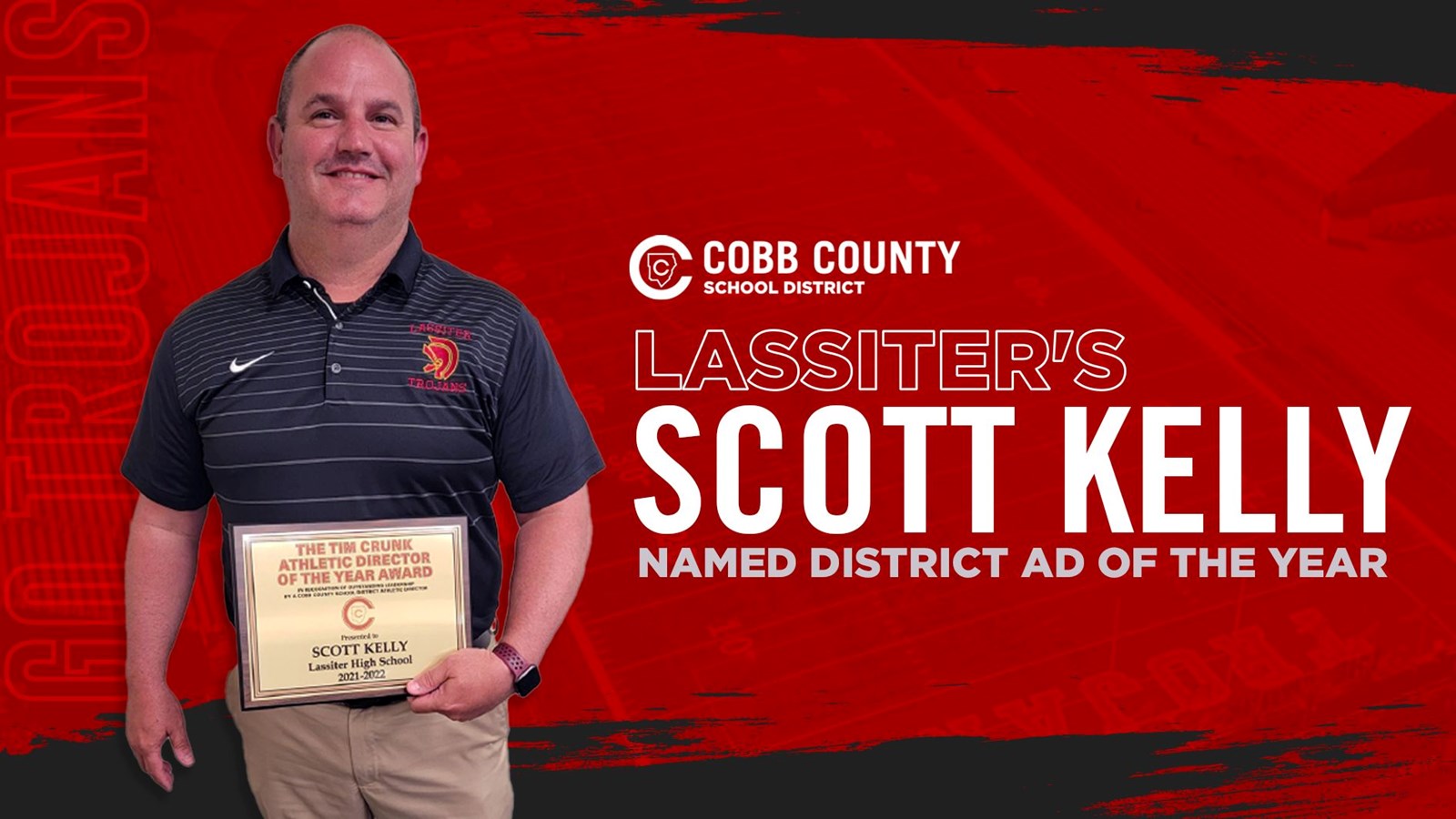 Lassiter's athletic department is a proven winner with 34 state championships in many different GHSA sports in its 40-year history. The continuation of that success looks secure thanks to the recognition of Lassiter Athletic Director Scott Kelly as Cobb Schools' Athletic Director of the Year.
The Tim Crunk CCSD Athletic Director of the Year Award was established in honor of Mr. Crunk, a long-time educator, and administrator for Cobb Schools. Mr. Crunk worked in the District for 22 years, with stops at South Cobb, Kennesaw Mountain, and Sprayberry. He died unexpectedly in 2012 after an apparent heart attack while running.
"Tim Crunk was a man of great character and one who never shied away from hard work," said Don Baker, Cobb's Director of Athletics. "Scott Kelly upholds these same qualities each and every day."
"Scott is a huge asset to the district and Lassiter High School," Mr. Baker continued. "He has a great passion for the role of the athletic director, and he understands the importance interscholastic sports plays in the lives of our student-athletes. He is respected by his peers and never hesitates to help others both inside and outside of the profession. He is a pillar of the Lassiter community, and the Trojans are very lucky to have him."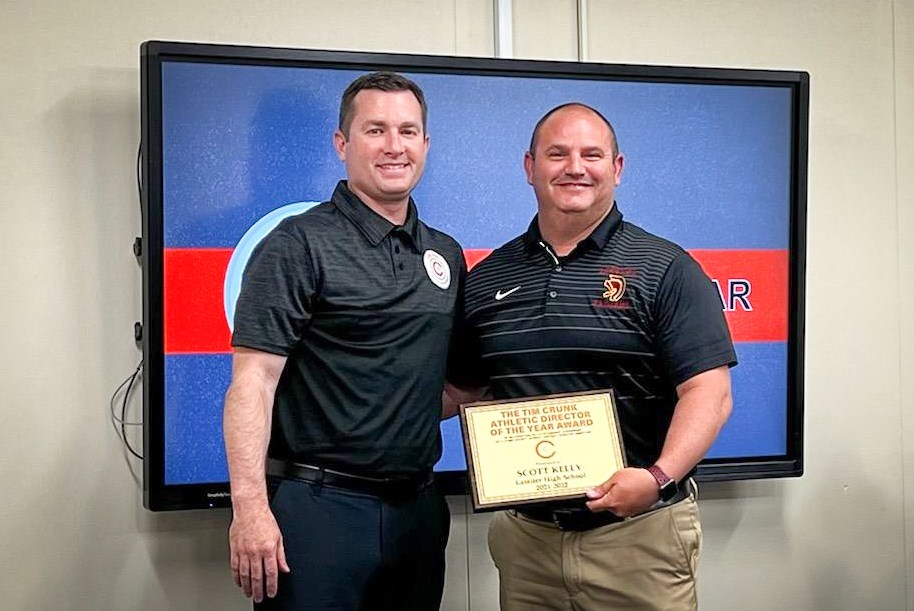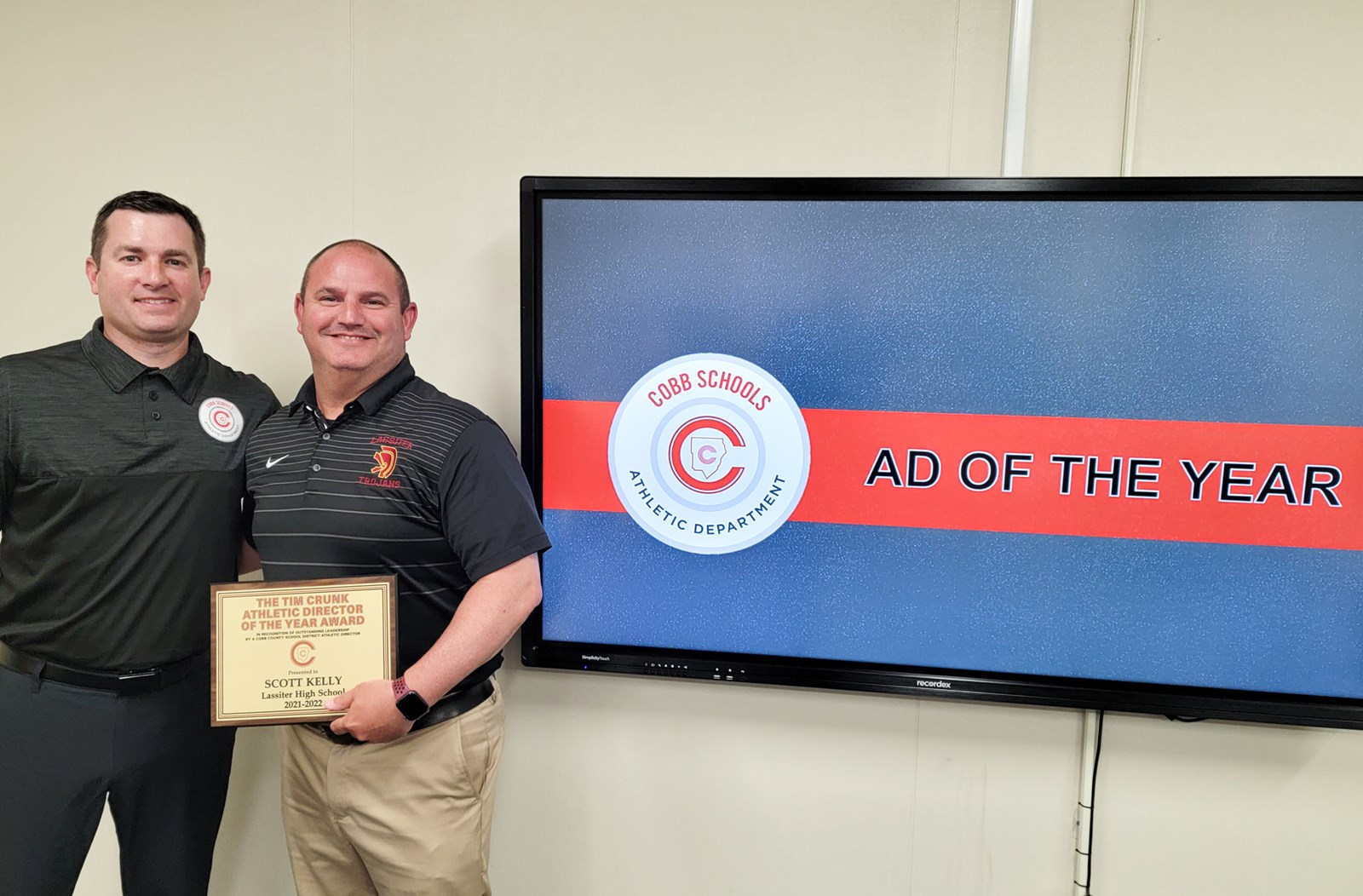 Don Baker and Scott Kelly
Mr. Kelly has been in education for 21 years and has been an Athletic Director for the last eight years. In addition to being selected as Cobb's Tim Crunk AD of the Year, Scott also was chosen as the Region 6-6A AD of the Year by the Georgia Athletic Directors Association.
"Coach Kelly is a Lassiter graduate, and his family is an integral part of our community," said Lassiter Principal Chris Richie. "He embraces our shared commitment to developing champions and always strives to provide all of our students with opportunities to showcase their talents. His leadership, work ethic, and commitment to all Lassiter students is truly exemplary."
An Athletic Director is also an Assistant Principal, which means that an AD's job isn't solely focused on sports. An AD must also know his students and what they need to succeed whether or not they play a sport. Scott Kelly excels in his AP role as well.
"He does an exceptional job supporting all Lassiter students," Principal Richie said appreciatively. "He intentionally builds on our strong culture of student success both athletically and academically. The Lassiter community is extremely proud to see him recognized as District AD of the year!"
Ever humble and unassuming, AD Kelly quickly deflected any attention coming his way. "I know how hard all the ADs work in this county, and this award is for all of us," he said.
"It means so much more that my name is associated with Tim Crunk," he continued. "I knew Coach Crunk very well, thanks to the Baseball Community, and just knowing his name is a part of this award makes it special to me."
Congratulations to Lassiter and AD Kelly for this well-deserved recognition. Next time you see AD Kelly on the field or the court, give him a high-five and thank him for his dedication and service to Cobb Schools and its students!