Top in the State! 23 Cobb Students Named 2022 Georgia Scholars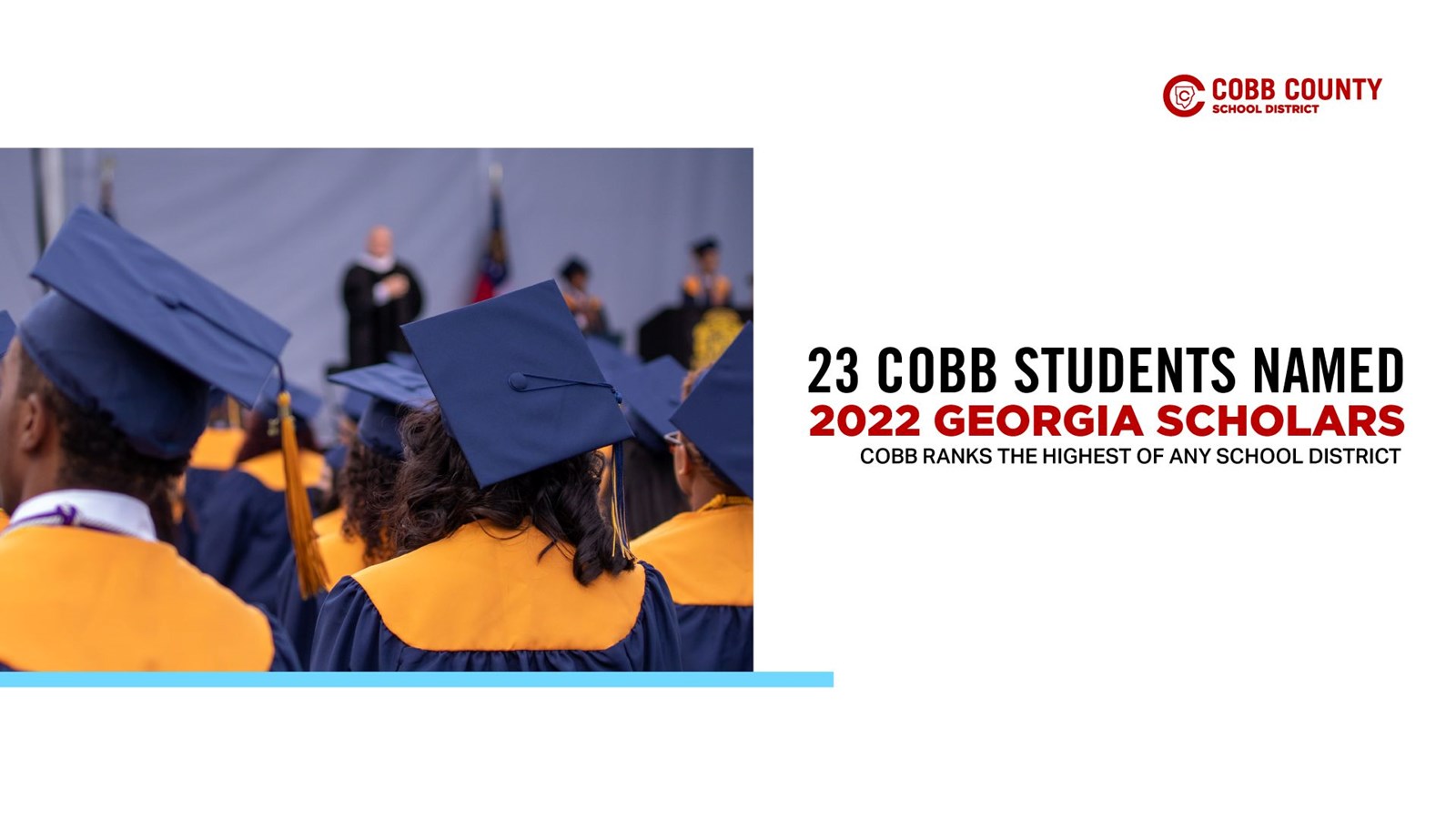 With a total of 23 Georgia Scholars, Cobb Schools earned more recognitions than all the other public school districts in 2022, according to the recent announcement by State School Superintendent Richard Woods. In fact, the Cobb County School District has more Georgia Scholars than all the Private/Independent Schools in Georgia combined. Cobb students also topped the District's number of Georgia Scholars recognized in 2021.
This year, Wheeler High School's Class of 2022 includes 10 Georgia Scholars—the most of any school in Georgia! Walton High School (6) and Sprayberry High School (4) also have several scholars graduating this year. Allatoona High School, Hillgrove High School, and Pope High School each have one Georgia Scholar.
Through the Georgia Scholar program, the Georgia Department of Education identifies and honors high school seniors who have achieved excellence in school and community life. Each Georgia Scholar receives a seal for their diploma.
"I offer my sincere congratulations to the 2022 Georgia Scholar honorees," Superintendent Woods said. "These students have worked hard, become leaders in their schools and communities, and taken advantage of the opportunities offered in Georgia public schools. I wish them well as they embark on their next steps after high school and know they'll continue to make us all proud."
Georgia Scholars are students who carried exemplary course loads during their four years of high school, performed excellently in all courses, successfully participated in interscholastic events at their schools and in their communities, and assumed leadership roles in extracurricular activities sponsored by their schools.
The Georgia Scholar program is coordinated by GaDOE's Office of Communications in partnership with local school districts and schools.
Cobb Schools 2022 Georgia Scholars:
• Christina Hulette, Allatoona High School
• Justin Cleckley, Hillgrove High School
• Christine Werts, Pope High School
• Riley Smith, Sprayberry High School
• Hannah Fischer, Sprayberry High School
• Jeremy Thomas, Sprayberry High School
• Kelynn Johnson, Sprayberry High School
• Kunling Tong, Walton High School
• Shruthi Maharajan, Walton High School
• Isabel Buyers, Walton High School
• Alexa Weston, Walton High School
• Fiona Guo, Walton High School
• Joseph Walter, Walton High School
• Achyutan Narayanan, Wheeler High School
• Nandini Joshi, Wheeler High School
• Angela Francis, Wheeler High School
• Nimai Patel, Wheeler High School
• Navan Kothari, Wheeler High School
• Leah Caldwell, Wheeler High School
• Amy Huang, Wheeler High School
• Jared Loncar, Wheeler High School
• Samyukta Iyer, Wheeler High School
• Sujit Iyer, Wheeler High School