BOE Meeting Recap: Cobb Bus Drivers to Receive Extra $5.25 Per Hour Raise, Cobb Students Top Georgia Milestones Comparison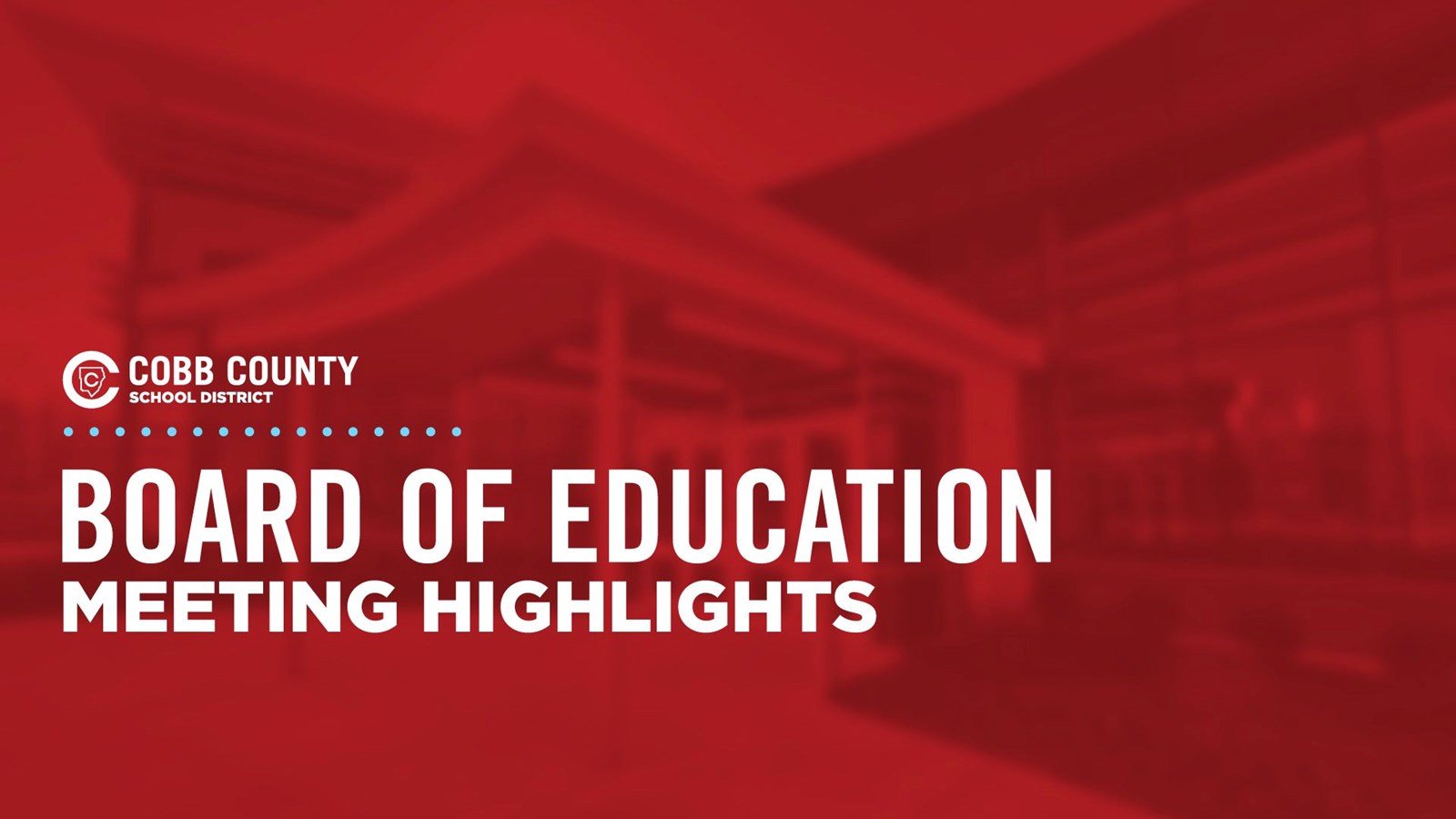 Starting August 25, Cobb Schools bus drivers will have an additional reason to love their jobs. Today, the Cobb County Board of Education approved the Superintendent's recommended $5.25 per hour raise for the District's bus drivers. The pay increase for bus drivers is in addition to the historic 8.5-13.10% raise approved for all non-temporary employees as part of the FY2023 budget earlier this year.
As a result of the Board's approval, the hourly rate for Cobb Schools bus drivers will now start at $25 per hour and range up from there, depending on their salary step. The new rate will take effect in the pay period beginning on August 25, and Cobb bus drivers will see it reflected on the September 16 payroll check. Safety-minded professionals looking to join the team can learn more here.
"Thanks to our conservative financial planning, and as a AAA-rated school district, we are now able to offer one of the highest hourly rates in the metropolitan area. I am encouraged by the input we have received from our parents and am confident Superintendent Ragsdale's recommendation is the best possible step. Serving as a Cobb Schools bus driver is a part-time job, with full-time benefits, and now pays $25 per hour, at a minimum," said Cobb Schools Board Chair David Chastain.
In their role safely transporting 72,000+ students to school each day, Cobb bus drivers contributed to the success of Cobb students demonstrated on the 2022 Georgia Milestones. During the August meeting, Cobb Schools Chief Strategy and Accountability Officer John Floresta briefed Board members on how Cobb students compare to their metro peers on the statewide assessment. The data showed Cobb students outperforming their metro peers across almost all subjects and grade levels.
"In Cobb, student success is our continuous One Goal. Our students are supported by the best Team, who, data continues to show, make Cobb the best place to teach, lead, and learn. I could not be more proud of our teachers going above and beyond for our students," said Superintendent Chris Ragsdale.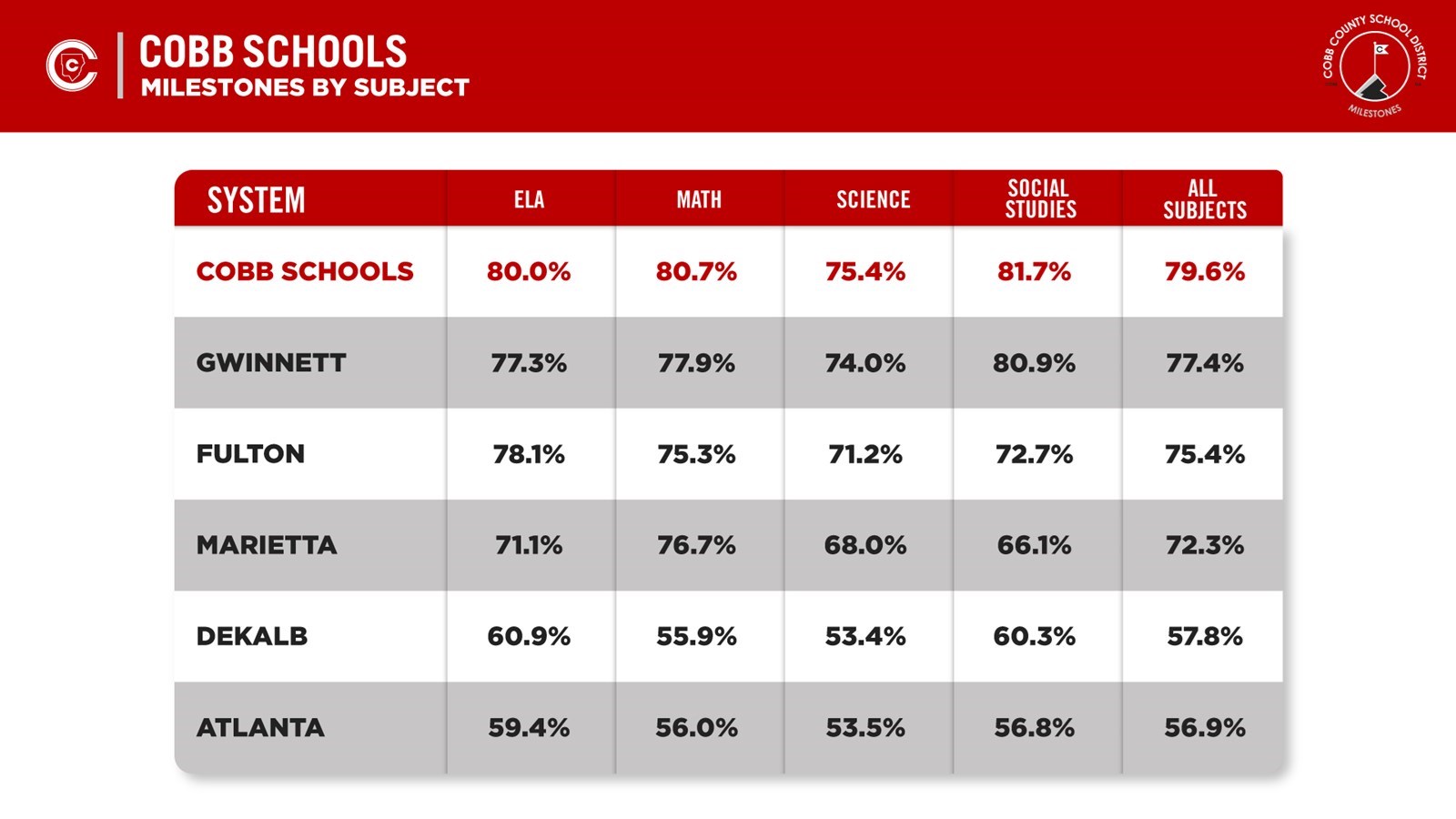 Personnel Updates for Principal Level and Higher Positions:
Jones, Troy, appointment to Principal, Osborne High School from Assistant Principal, Kell High School effective August 19, 2022.
Board Recognitions:
2022 Georgia Athletic Director's Association 6A Director's Cup – Girls State Winners, Lassiter High School
2022 Georgia Athletic Director's Association 7A Director's Cup – Boys, Girls, and Overall State Winners, Walton High School
40 Years of Service – Christopher Dale, Maintenance Department
40 Years of Service – James Franklin, Maintenance Department
40 Years of Service – Chester Ransom, Blackwell Elementary School
40 Years of Service – Lona Wright, Lassiter High School
Elementary School Level Teacher of the Year – Jenifer Mitacek, Argyle Elementary School
Middle School Level Teacher of the Year – Derrick Tucker, Awtrey Middle School
High School Level Teacher of the Year – Jordan Motsinger, Harrison High School