Cobb Schools: Home to Crossing Guard of the Year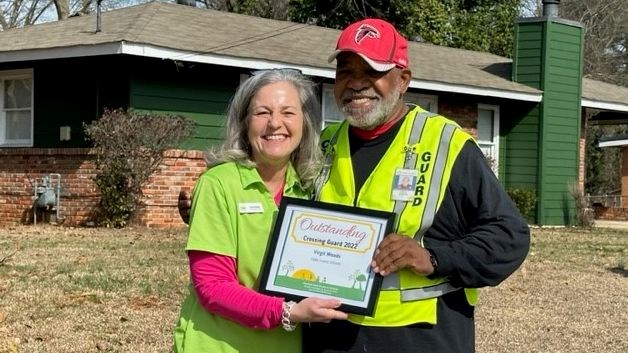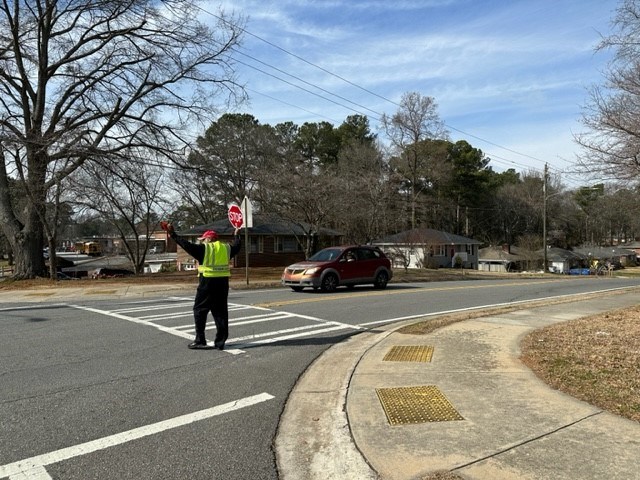 As a Cobb Schools crossing guard, Virgil Woods welcomes students to school every day. He is often the first smiling face students see before they enter school and the last one they see before they walk home. He keeps them safe as they cross the road to begin another day of teaching and learning and has been doing so since 2018.
For his dedicated service to students, including putting their safety ahead of his own, Cobb Schools staff joined Safe Routes to School in recognizing Mr. Woods as the 2022 Outstanding Crossing Guard of the Year for the West GA Safe Routes to School region.
The group surprised Mr. Woods in front of LaBelle Elementary School—one of the schools he supports. They had to delay presenting him with the award because he was injured by a car while helping students cross.
"Mr. Woods comes to work daily with a smile on his face and shares a spirit of joy with every student and parent that crosses his path, praised LaBelle Principal Paul A. Watson. "As he is often the first representative of our district that many students and families see each morning, I don't know a better person to greet them!"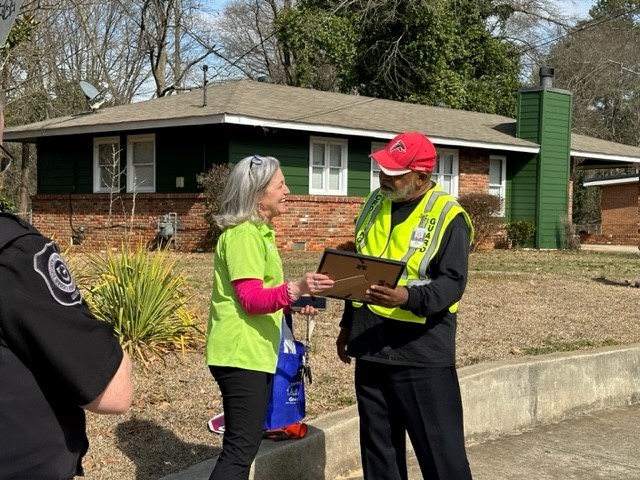 The Campbell Middle School principal was also at the surprise event to thank the crossing guard who serves students every morning and afternoon.
"Mr. Woods is one of the kindest souls I have ever met. The kids love his warmth and smile and that he remembers their names. While he was out, we were contacted by several parents who wanted to know if he was okay. There was a genuine concern for his well-being. We are all so happy to have him back, keeping our students safe," applauded Dr. Camille Havis.
Mr. Woods won the Outstanding Crossing Guard of the Year title because of glowing nominations like these:
"Mr. Woods is the crossing guard at LaBelle and Osborne High School. I am nominating him as an Outstanding Crossing Guard because he goes above and beyond the call of duty daily to not only ensure the safety of our students but ensuring they are met with a smile. His pleasant disposition is not only shared with our students but also the staff who assist our walkers with whom he interacts. When he is not assisting students, he smiles and waves to passing cars and has numerous "frequent honkers" as people feel they know him as cars give the "two beeps" honk and wave to him. There is an old saying that principals use: "Culture starts at the curb," and Mr. Woods certainly assists us in building a positive culture in our building."
"Virgil is an amazing human. He knows EVERYBODY who walks by. He waves at EVERY car. He strikes up a conversation with anyone who stops to cross. He is a joy to see every morning. I am a teacher at CMS, and my children go there, and we both cross Atlanta Road under the protection of Mr. Woods. I feel the better for it, every day."
This is not the first time a Cobb Schools Crossing Guard has won the Award for the Crossing Guard of the Year. In fact, Cobb has had a regional winner every year since 2019!
2019 - Alice Medlin, Rocky Mount Elementary School
2020 - Nuri Al-Bilali, Campbell Middle School
2021 - Jerry Spearman, Davis Elementary School
2022 - Virgil Woods, LaBelle Elementary School, Osborne High School, Campbell Middle School