Tritt Robotics Team Headed to State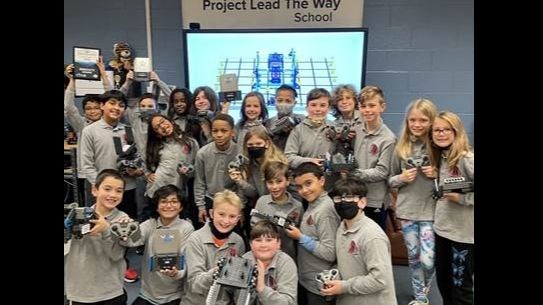 The Tritt United Robotics Club, a collection of eight robotics teams, has been working hard all year to design, build, code, and drive robots for this year's VEX Robotics Competition, Pitching-In. According to Tritt Elementary School coaches Joey Giunta and Courtney Pascual, the 4th and 5th graders have learned valuable transferable skills, such as collaboration, creativity, and critical thinking, while showcasing their engineering talents.
Tritt's Robotics teams of 4th and 5th graders recently traveled to the Great Wolf Lodge in LaGrange for a tournament with schools from around the country.
Tritt's Team Zeta won the Innovate Award for an effective and efficient robot design process.
At another recent tournament in Forsyth County, Tritt's Team Theta won the Design Award for a flywheel created to launch softballs. Team Gamma won the Skills Challenge for the highest combined coding and driving score.
Additionally, three of the Tritt teams rank in the Top 10 in Georgia for the Skills Challenge (out of over 60 schools).
The Tritt students are now preparing for the state tournament in Covington on February 6. Their focus is on earning a trip to Dallas, Texas, for the VEX Robotics World Championship in May.
"Tritt Elementary has a long history of STEAM learning," said Principal Karen Carstens. "From the beginning of their time here, students learn to identify problems, design solutions, and assess results. Ensuring our students receive education and the opportunity to be successful in their futures is one of the driving themes of my leadership. This was all on full display with our robotics team. Over the course of their competitive season, they have shown great engineering skills, creativity, collaboration, and critical thinking. I'm confident they will be successful in any career pathway they choose and grateful for our teachers who always go over and above to provide them with opportunities."