Kennesaw Community Donates Funds to Help Pine Mountain Middle School Students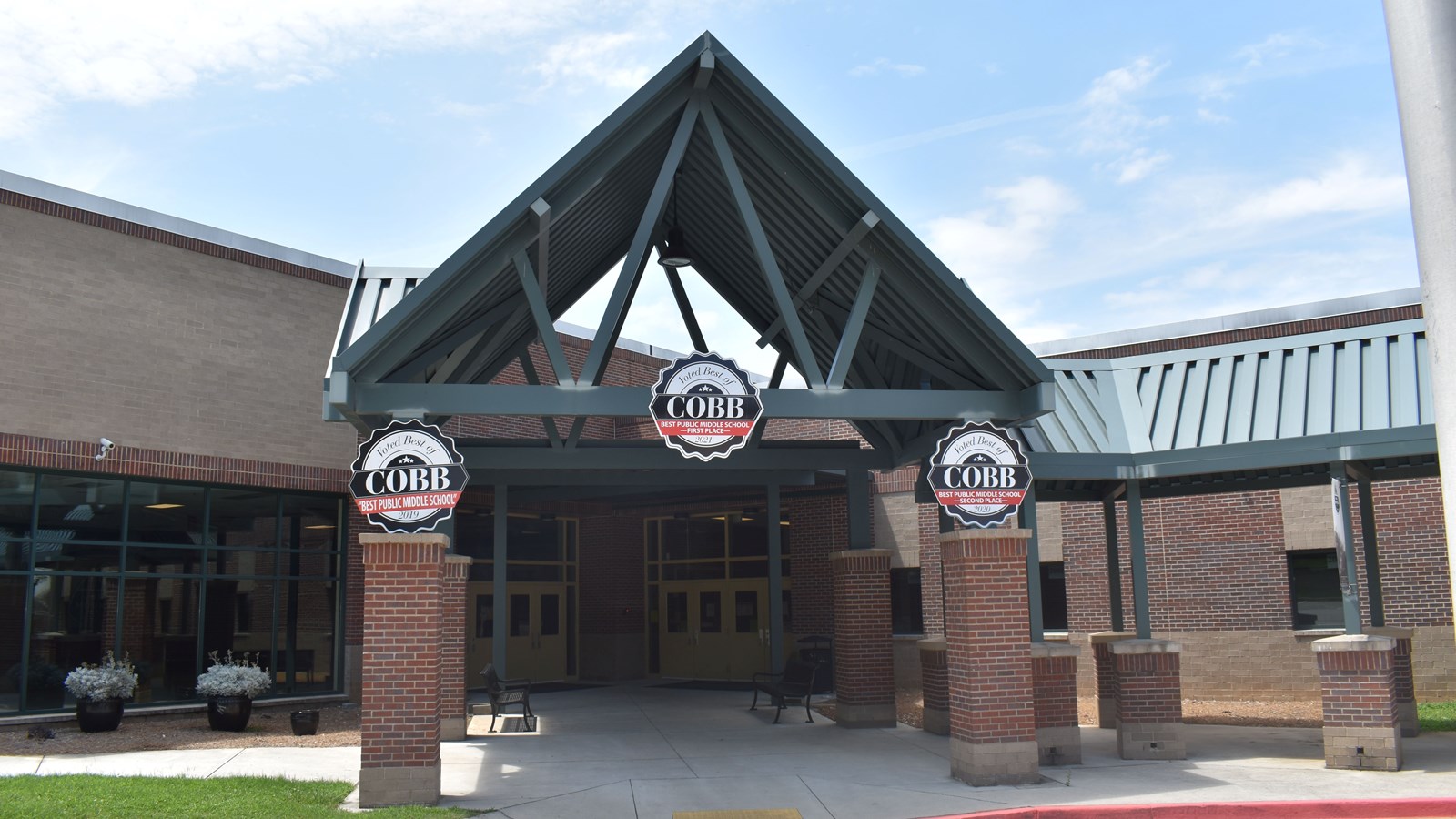 The community that surrounds Pine Mountain Middle School is an integral part of the school's team and the resulting student success.
On the heels of the North Cobb Rotary's beautification of Pine Mountain's memorial garden, the North Cobb Rotary returned to Pine Mountain with the Kennesaw Police Department and Kennesaw Police Citizen Advisory Board for the presentation of a Family Stabilization Impact Grant. This impact grant was a donation provided to the school on behalf of the Chief Bill Westenberger's Kennesaw Police Department Citizen Review Board.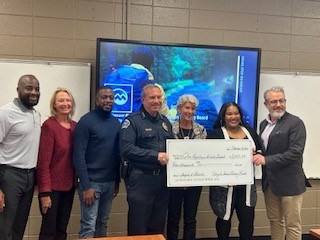 "The strength of the Kennesaw community is visible through the unity developing around our school's vision to prepare students for high school success. Donations such as this help our counselors and social workers assist with unmet needs of our students and families. What a great honor to serve as the principal of Pine Mountain where our community is so focused on helping all our students be successful," stated Pine Mountain Principal David Nelson.
The donation goes to support Pine Mountain's student services team, which assists students and families in need. Funds for the donation were raised at the Juneteenth Unity in the Community Celebration hosted by the Kennesaw Police Department and Advisory Board at Swift Cantrell Park over the Juneteenth weekend. The North Cobb Rotary was instrumental in helping with this donation along with faith-based institutions and local Kennesaw businesses. The Juneteenth Unity in the Community Celebration was organized the KPD Citizen Review Board and sponsored by all these community partners.
"It's amazing the magnitude of impact we can have when we come together and serve. The [Kennesaw Police Department] team is blessed to work with community partners who recognize the strength of partnerships. The vision to find opportunities in tragedy has opened doors to unite our community which in turn has opened doors to bless those in need. This gift represents just another door through a maze that leads to making differences for others," said Bill Westenberger, Chief of Police for the Kennesaw Police Department.
The president of the North Cobb Rotary agreed in the power of the community when the community teams up to help students succeed.
"The North Cobb Rotary is delighted to support Family Stabilization at Pine Mountain Middle School and committed to improving the lives of students and their families," shared North Cobb Rotary Nancy Prochaska. "These community collaborations create a lasting impact, and [we are] devoted to this community. Grants like this allow the magic of mathematics. In this case, 2 + 2 = 5!!!"
Pine Mountain counselors, social worker, court liaison, and school psychologist will use the funds to support student needs. According to the 2023 Niche Best Schools Report, Pine Mountain Middle School is ranked within the top 3.1% of the most diverse public middle schools in the United States.
"As a School Counselor, I have a natural heart for service," explained Pine Mountain counselor Ms. Greonna Brooks. "With little to no resources it is sometimes difficult to help families the way we truly desire. Because of the Citizens Advisory Board's generosity, we will be able to do so much more for our families in need. Giving is not just about making a donation, it's about making a difference."