Performing Arts - General & Choral Music/Dance & Theatre

---
Dr. Sara Womack
Supervisor
General & Choral Music / Dance & Theatre
P: 770.426.3404





---
Tara Norris
Secretary
P: 770.426.3404
Email





Staff
Andrew Geocaris
Fine Arts Professional Learning Specialist
P: 770.426.3404
Email
Mission and Vision
The Cobb County School District Performing Arts Programs offer a balanced, comprehensive, standards-based arts curriculum as an important part of the education of the whole child. Courses are offered in dance, music, and theater.
We believe that study in the arts:
Provides students with opportunities to propose and solve problems
Provides a form of expression, skill development and overall enrichment to encourage lifelong learning
Celebrates the achievement of diverse cultures
Inspires creativity, helping students develop their own passions, strengths, and personal voices, while creating a sense of family and belonging
Fosters self-esteem, community pride and skills, giving students hope and goals to strive for in their career pathway and life
In Cobb, we value the arts for the distinct and significant effect they have on the lives of our students both in the present and in their futures.
About Performing Arts
The Cobb County School District has more than 40,000 students enrolled in the music elective programs additionally each elementary student receives music instruction. The elective programs include band, chorus, orchestra, general music, music appreciation, piano keyboarding, AP music theory, and guitar. Our instrumental and vocal ensembles are seen and heard throughout the United States and worldwide. Recent accomplishments have included BOA Grand National Marching Band Champions – Lassiter HS Band, 7th place at BOA Competition – Kennesaw Mt. HS Band, and multiples of tours to Japan, Italy, Bahamas, England, and Germany.
Performing groups have been selected to appear at the Mid-West Band Clinic, the American Choral Director's Association Divisional Conference, the Music Educator's National Conference, the Georgia Music Educator's Conference, the National Concert Band Festival, and numerous other events.
The Cobb County School District has been named as one of the "Best 100 Communities for Music in America" in 2000, 2004, 2005, 2006, 2008, 2009, 2010, 2011, 2012, 2013, and 2014.
CCSD also provides the Pebblebrook HS Center for the Performing Arts. This magnet performing arts school offers specialized instruction in voice, drama, and dance. Students enrolled in the program receive a two-hour integrated performing arts block. Students are expected to present a recital in their primary emphasis area and will also participate in repertory production involving all aspects of the performing arts. For more information go to www.cccepa.com.
CCSD provides general music education for all students Kindergarten through fifth grade, as well as band, chorus, and orchestra instruction in the sixth grade. In grades six through twelve a wide variety of music course offerings is available to meet the interest of students and their abilities.
Recognition
Calendars

---
Concert Halls
Click here to view more information about The Concert Hall at Lassiter
Why We Perform
Public performance is an important aspect of band, chorus and orchestra programs. While the learning process is crucial, the concert provides an opportunity to showcase student learning and provide the unique experience of performing for an audience, which is also a content standard. Additionally, concert performances should be a result of instruction in performance classes; therefore, the frequency of performances will vary according to the ability of the performing ensemble. Too many performances will deprive the students of basic instruction; too few will deprive them of the opportunity to put that knowledge to use.
Along with performance, the ability to sight-read music is also an important aspect of the curriculum. Sight-reading ability is a skill that continually results in greater musicianship and level of performance. Each music program is required through standards to emphasize music reading to improve sight-reading and music reading skills.
Ultimately, these sight-reading skills and experience with performance provides the necessary tools needed to become an independent musician that values and engages in music for a lifetime.
Sacred Music
Sacred Music in Schools
The Cobb County School District does not have a written policy regarding the use of sacred music in the music curriculum. It is important that the music curriculum include the study of music of all styles, forms, periods, and cultures. However, it is necessary that the teacher exercise good judgment and sensitivity in selecting non-secular music for study and programming for public performances.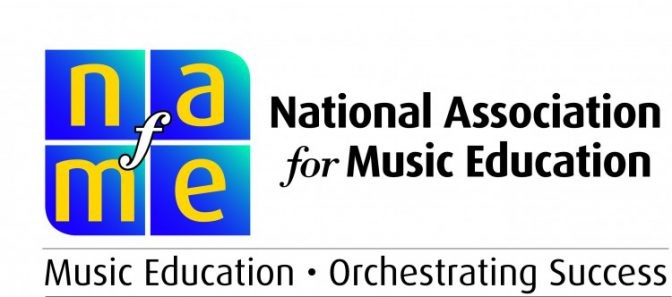 It is the position of the National Association for Music Education that the study and performance of religious music within an educational context is a vital and appropriate part of a comprehensive music education. The omission of sacred music from the school curriculum would result in an incomplete educational experience.
The National Association for Music Education suggests the following questions be considered:
What is the purpose of the activity? Is the purpose secular in nature, that is, studying music of a particular composer's style or historical period?

What is the primary effect of the activity? Is it the celebration of religion? Does the activity either enhance or inhibit religion? Does it invite confusion of thought or family objections?
Does the activity involve excessive entanglement with a religion or religious group, or between the schools and religious organizations? Financial support can, in certain cases, be considered an entanglement.
If the music educator's use of sacred music can withstand the test of these questions, it is probably not in violation of the First Amendment. Music educators have an obligation to provide a quality and complete music curriculum. This obligation must be met with good judgment and common sense, keeping in mind the students, the community, and the law.
Donation Program
Belief:
The Arts educate, communicate, and inspire us to know more about ourselves, each other, and our culture and heritage.

The Performing Arts are those forms of art such as acting, dancing, and playing and singing music that are performed in front of an audience.
Our Purpose and Mission:
To provide opportunities for Cobb's children K- 8th grades to experience uniquely rewarding performing arts that might otherwise be unavailable to them

To spark curiosity, broaden awareness of the Arts, stimulate minds and emotions, foster creativity and inspire a lifelong interest and love of the arts with far-reaching effect

To encourage excellence in the arts by providing high-quality professional performances and opportunities for cultural enrichment through the performing arts
---
Elementary School Donation Form and Brochure – English
Elementary School Donation Form and Brochure – Español
Middle School Donation Form and Brochure – English
Middle School Donation Form and Brochure – Español
---
Donations accepted year-round
Please make checks payable to your child's local school
Performance Evaluation
Purpose and Process of Large Group Performance Evaluation:
Large Group Performance Evaluation is the annual assessment of student achievement by each school music ensemble. It is sponsored by the Music Educators Association and follows their rules of participation and performance expectations. Choral directors select music literature that will demonstrate the various fundamental performance standards and concepts in the curriculum. The degree of literature difficulty ranges from E for Elementary, M for Middle School and levels D to A with D representing beginning high school or upper level middle school, up through A being of the highest level of difficulty. Choirs sing two selections with one of the selections being from the required list provided in each level of difficulty.
Each year, nationally recognized experts in the field assess Cobb County music ensembles on every aspect of student and director performance. The rigor and comprehensiveness of this evaluation is similar to that of standardized tests or end-of-course exams given in other school subjects. Students demonstrate their musical understanding and skill development through applied performance and sight-singing both individually and as an ensemble.
Three experts evaluate choirs of the fundamental elements through prepared literature and one expert evaluates fundamental elements on literature seen and sung for the first time. Expert clinicians also conduct a brief clinic to provide face-to-face, immediate feedback to the director and students regarding pedagogical strategies for improvement and specific aspects of the performance that were particularly effective. The adjudicators complete score sheets with commentary. Grades of (I) Superior, (II) Excellent, (III) Good, (IV) Poor, and (V) Failure, are utilized to communicate a national standard for performance with more detailed grading in each fundamental performance indicator.
Additionally, a conducting expert provides video commentary for the director concerning their musical communication to the students through gesture. A professional audio recording of each performance serves as an archive and resource for further study and reflection. This thorough process of performance.
Performing Arts - General & Choral Music, Dance and Theatre -
Subject Areas
Choral
---
Elementary Chorus
Middle School Chorus
High School Chorus
Theatre
---
Middle School Theatre
High School Theatre
Dance
---
Middle School Dance
High School Dance
Other Courses
---
Music Theory
Music Appreciation
Music Technology
Elementary Music
---
Elementary Music Classroom
Elementary students in the Cobb County School District receive varying amounts of music instruction depending on the size of the school. Each elementary school typically has one music specialist. It is recommended that each elementary student receive music for approximately 45 minutes, at least once per week. An elementary music lesson includes many of the following activities: singing, listening, moving, playing instruments, arranging, improvising, composing, analyzing, describing, reading and writing. Performances provide students with an opportunity to demonstrate what has been achieved as a result of classroom lessons, focusing on actual performance rather than entertainment, and to learn the skills necessary for performance in a public setting. Students have the opportunity to demonstrate formal performance behaviors, such as following the cues of a conductor, while actively engaging in music making in a public concert setting. The goals of music instruction in grades K – 5 are as follows:
Through sequential learning, to explore and develop musical skills and knowledge through singing, playing, creating, listening, analyzing, and evaluating

To increase student achievement in music through high quality teaching and performing experiences

To provide to students an opportunity to experience music of diverse cultures and time periods and make connections with other arts and disciplines

To efficiently utilize community and school resources to allow students optimal opportunities to develop musical aptitude, creativity, and knowledge

To develop interest and an understanding of the value of the music program to increase support and enjoyment of the arts in the Cobb County School District
Performing Arts - Choral & Music - Cobb Teaching & Learning Standards
Elementary School Choral & Music Standards
---
KINDERGARTEN TO 5th GRADE STANDARDS
Kindergarten – 5th Grade Chorus Standards
---
KINDERGARTEN STANDARDS
Kindergarten General Music Standards
---
1st GRADE STANDARDS
1st Grade General Music Standards
---
2nd GRADE STANDARDS
2nd Grade General Music Standards
---
3rd GRADE STANDARDS
3rd Grade General Music Standards
---
4th GRADE STANDARDS
4th Grade General Music Standards
---
5th GRADE STANDARDS
5th Grade General Music Standards
Middle School Choral & Music Standards
---
6th GRADE – 8th GRADE STANDARDS
---
6th-8th Grade Beginning Chorus Standards
6th-8th Grade Intermediate Chorus Standards
6th-8th Grade Advanced Chorus Standards
High School Choral & Music Standards
---
9th-12th GRADE MUSIC STANDARDS
---
9th-12th Grade Chorus Standards
9th-12th Grade Music Appreciation Standards
---
9th-12th Grade Beginning Chorus Standards
9th-12th Grade Beginning Men's Chorus Standards
9th-12th Grade Beginning Music Theory and Composition Standards
9th-12th Grade Beginning Women's Chorus Standards
---
9th-12th Grade Intermediate Chorus Standards
9th-12th Grade Intermediate Men's Chorus Standards
9th-12th Grade Intermediate Music Theory and Composition Standards
9th-12th Grade Intermediate Women's Chorus Standards
---
9th-12th Grade Advanced Chorus Standards
9th-12th Grade Advanced Men's Chorus Standards
9th-12th Grade Advanced Music Theory and Composition Standards
9th-12th Grade Advanced Women's Chorus Standards
---
9th-12th Grade Mastery Chorus Standards
9th-12th Grade Mastery Men's Chorus Standards
9th-12th Grade Mastery Women's Chorus Standards
Performing Arts - Dance - Cobb Teaching & Learning Standards
Middle School Dance Standards
---
6th GRADE – 8th GRADE STANDARDS
---
6th-8th Grade Dance Standards
MS Advanced Dance Standards
High School Dance Standards
---
9th-12th GRADE STANDARDS
---
HS Advanced Repertory Dance Standards
HS Applied Anatomy Kinesiology for Dance Standards
HS Ballet Dance Standards
HS Classical-Contemporary Partnering I-II Dance Standards
HS Classical-Contemporary Partnering III-IV Dance Standards
HS Dance Composition Standards
HS Dance For Theatre Standards
HS Dance History Standards
HS Dance Level I Standards
HS Dance Level II Standards
HS Dance Level III Standards
HS Dance Level IV Standards
HS Dance Production Level I-II Standards
HS Jazz Dance Level I-II Standards
HS Jazz Dance Levels III-IV Standards
HS Mens Dance Standards
HS Modern Dance Standards
HS Modern Dance Level II Standards
HS Modern Dance Level III Standards
HS Modern Dance Level IV Standards
---
Music for Dancers Levels I-II Standards
Performance Ensembles Levels I-II Standards
Pointe-Variations Levels I-II Standards
World Dance Forms Levels I-IV Standards
Performing Arts - Theatre - Cobb Teaching & Learning Standards
Middle School Theatre Standards
---
6th GRADE STANDARDS
6th Grade Theatre Standards
---
7th GRADE STANDARDS
7th Grade Theatre Standards
---
8th GRADE STANDARDS
8th Grade Theatre Standards
High School Theatre Standards
---
9th-12th GRADE MUSIC STANDARDS
---
High School Acting Theatre Standards
High School Advanced Drama Theatre Standards
High School Dramatic Writing I Standards
High School Fundamentals of Theatre Standards
High School Musical Theatre Level I-IV Standards
High School Technical Theatre Level I-IV Standards
High School Theatre History- Literature I-II Standards
High School Theatre Management Standards