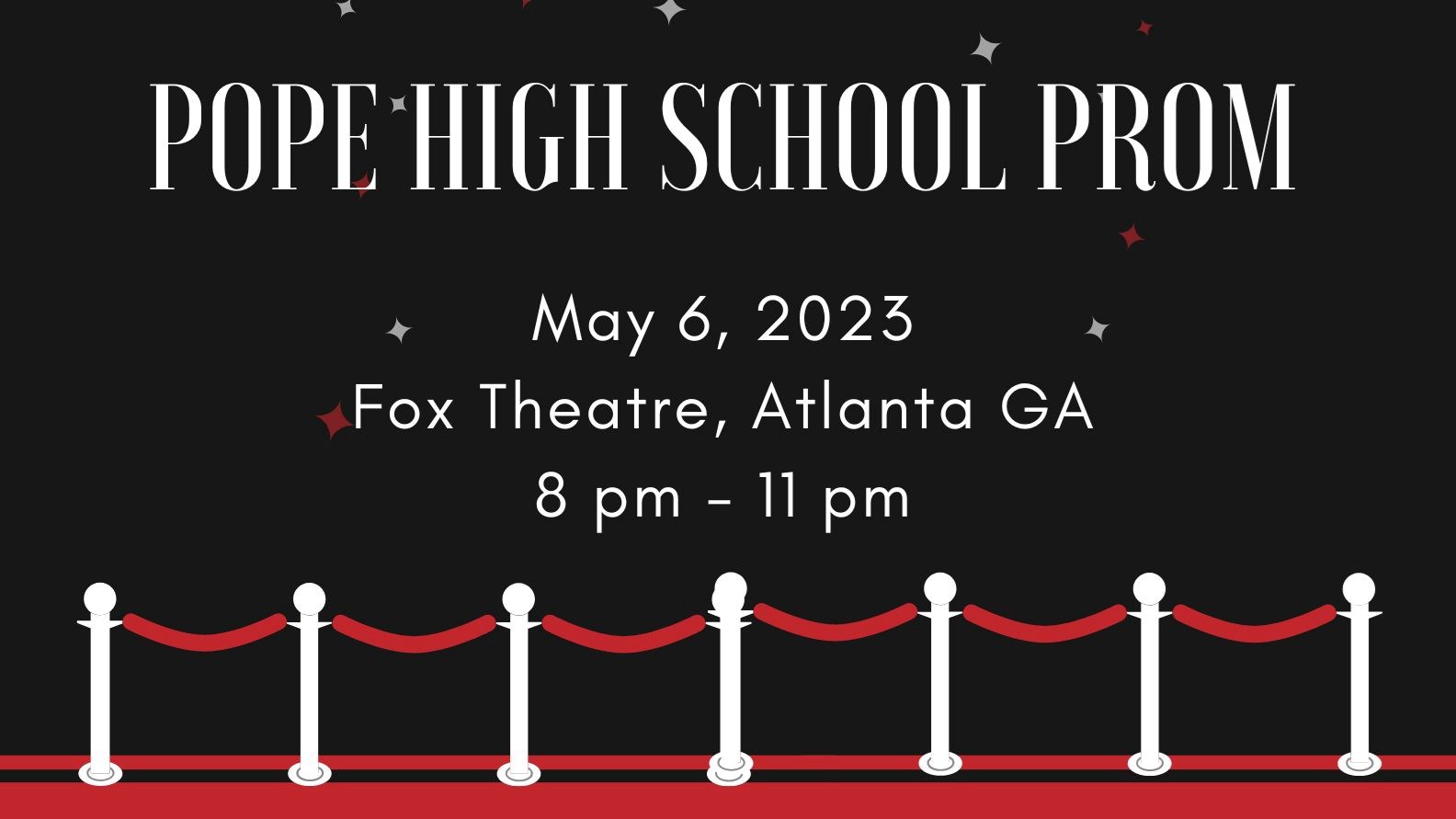 Pope High School's Prom will be on May 6, 2023 at the Fox Theatre in downtown Atlanta from 8:00 pm - 11:00 pm.
Tickets can be purchased in MyPaymentsPlus.
ALL juniors need to purchase a ticket
Only seniors who didn't pay junior dues must purchase a ticket
TICKET SALES END APRIL 28
Date tickets are $100 and the attached form must be filled out for guests who are not Pope students
FAQs
What's the difference between the prom invitation and the ticket?
Every junior and senior received a prom invitation. This is NOT their ticket. It's an invitation to buy your ticket and a date ticket. Our students like to have them as a keepsake.
Where do I buy my ticket?
Through your MyPaymentsPlus account.
How much are the tickets?
$90 until March 31st. $95 starting April 1st. All date tickets are $100. No tickets will be sold after April 28th.
If I paid my class dues, do I have to buy a ticket?
Seniors who paid their junior dues have already paid for their prom ticket. Prom tickets were not included in junior dues this year, so no juniors prepaid for a prom ticket.
How do I confirm that I do not need to buy a ticket because I bought it with my dues?
Seniors only! Go to you MyPaymentsPlus account. If purchasing a prom ticket is not available to you, then you already bought a prom ticket. You may double check with Mrs. Kelly in room 118 or jessica.kelly@cobbk12.org as well.
What's the difference between a regular ticket and a date ticket?
Juniors and Seniors attending Pope HS buy a regular ticket. Date tickets are for any underclassman at Pope or a student from another school. They must be purchased by a Pope Junior or Pope Senior.
How many date tickets can I buy?
One
If I invite a date from another school, what do I need to do?
First, download the prom form from the Pope website. Have your date complete it and have signed from one of the administrators at their school. Return to room 118 along with a check for $100 written out to Pope High School.
If I invite a date that is an underclassman at Pope, what do I need to do?
Bring a check for $100 written to Pope High School to room 118.
How will I show that I bought a ticket for prom?
When you arrive at The Fox there will be a spreadsheet with your name and your date's name. You must provide identification that matches the spreadsheet to enter. There is no physical ticket.
Do I have to dress in the theme?
No. Our theme directs our invitations and decorations only.
Parking is not provided by Pope High School.
When do ticket sales end?
The very last day to buy tickets is April 28th. Not tickets will be sold at the door.
Is there going to be food?
Desserts will be provided, but not dinner.
When will prom king and queen be announced?
9:30pm
What time does prom start and finish?
8:00pm-11:00pm
If I have any other questions, who do I ask?
Jessica Kelly in room 118 jessica.kelly@cobbk12.org
Alissa Kitchens in room 112 alissa.kitchens@cobbk12.org