New Principal Profile Q&A: Kendall Foster, Norton Park Elementary School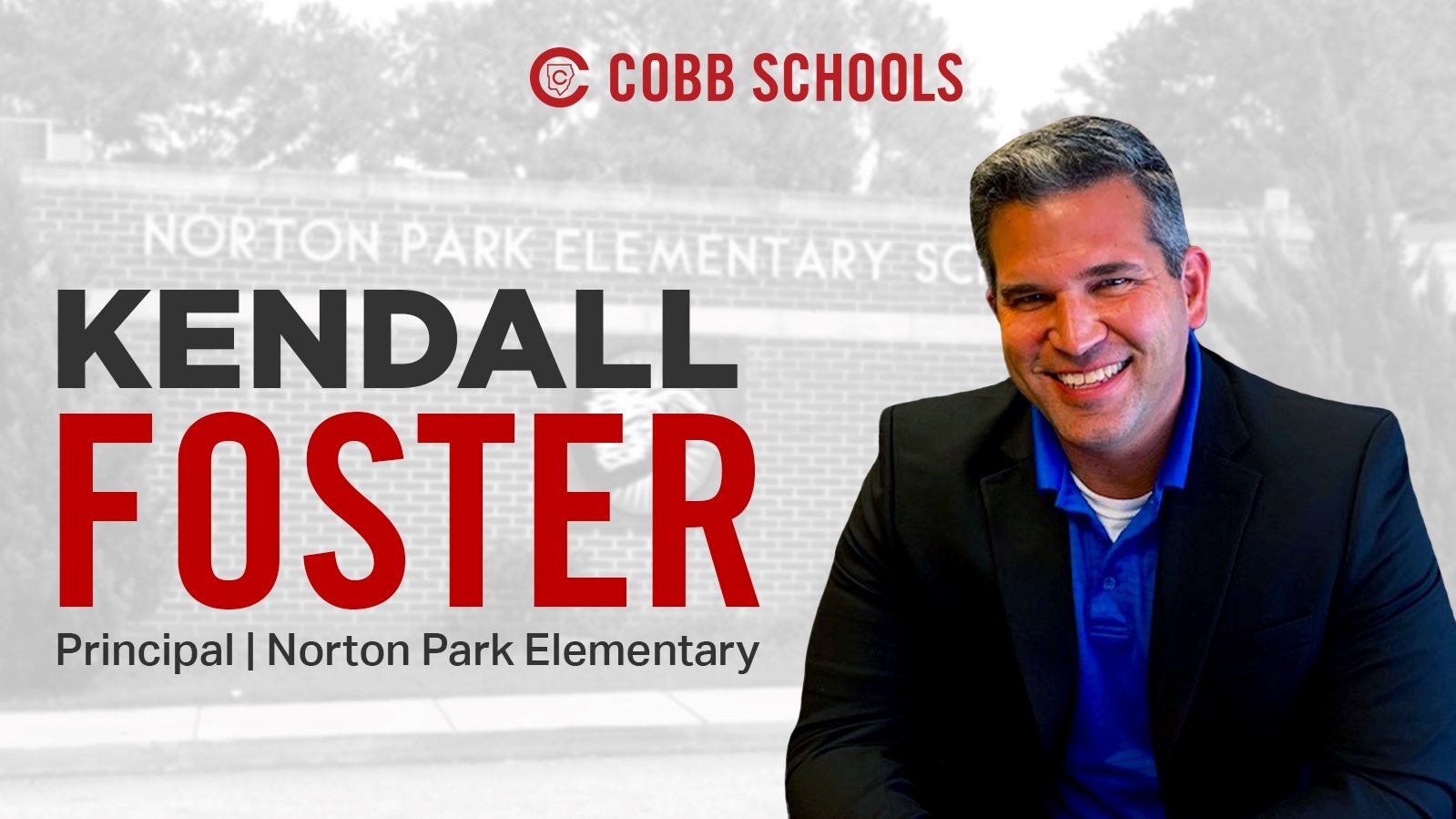 Principal Kendall Foster is a product of the Cobb County School District and for the past 21 years, has served as an educator in the same school system where he grew up. Starting in July, Principal Foster is bringing his years of experience to Norton Park Elementary School.
"I am thrilled and honored to be the PROUD principal of Norton Park Elementary," Principal Foster said. "I can't wait to meet our Norton Park students and families, and I'm so excited to work with our amazing teachers and staff! We are going to have a great year; welcome to 'The Park!'"
With five children of his own, he understands that "student success takes on many different forms," and a key component of student success is establishing "the foundation for a lifelong love of learning."
From what impresses him the most about Norton Park to his favorite memory from his first year teaching 3rd grade and where the community might find him outside of school hours, learn more about Principal Foster in the question and answer section below.
Question: Why are you excited to serve the Norton Park Elementary School community as principal?
Answer: "Our teachers and staff have a tremendous reputation of investment in our students and community. Also, as we continue to return to traditional school operations, I'm grateful for the opportunity to host events on campus that we can invite our families to be a part of again. In making this transition, I can't imagine a better way to get to know and learn about our community than through those schoolwide events that create memories for our students.
I'm also excited to be able to return to the Smyrna area, where I have previously served as an assistant principal, and the city of Smyrna does so much to support Cobb Schools!"
Question: What most impresses you about the students and school community at Norton Park Elementary School?
Answer: "Back in January, I had the opportunity to attend an Instructional Rounds' Learning Walk at Norton Park, and I was immediately in awe of the teaching and learning that was happening. In multiple classrooms across all grade levels, I not only observed very talented teachers that were providing high-quality instruction but equally impressive was the student response to that instruction. Students were engaged in the process and really enjoyed the experience of learning! The environment set by the staff was conducive for student achievement."
Question: What can the school community expect to see under your leadership?
Answer: "The mission of Norton Park, 'One Team for collaboration through The Park, Parents, and Partnerships,' aligns perfectly with my personal practice of shared leadership. We all have the capacity for leadership through our individual talents and strengths. It's that collective efficacy of the organization, the clarity of our communication, and the connection we make with our community that will maximize the success of our students.
We will emphasize a culture of collaboration through weekly teacher team meetings, stakeholder involvement and input, and community engagement in schoolwide events and activities.
I also practice high visibility in our classrooms to support our teachers and identify our instructional strengths, as well as opportunities for ways that we can better serve our students."
Question: What does student success look like to you?
Answer: "Student success takes on many different forms because it can be so personalized when the school is intentional in its development, delivery, and implementation of the instructional programming. Student success is certainly academic achievement in response to high expectations and a rigorous curriculum.
Student success is also evident in the tracking and monitoring of growth and progress towards the learning goal as well. What really ties it all together is the student and teacher recognition and celebration of both achievement and growth as evidence of student success.
Through those large-scale or mini celebrations, students build confidence in their abilities. The ultimate student success can be realized as we establish the foundation for a lifelong love of learning in our students!"
Question: What do you like most about being an educator, or what is your favorite memory as an educator?
Answer: "Whether as a classroom teacher or as an administrator, what I enjoy most about being an educator is connecting with people from a variety of backgrounds, cultures, and experiences while at the same time having a common goal of giving the student the best possible experience in learning.
I have many incredible memories throughout my career, but what stands out was the last day of school of my first year of teaching. I was a 3rd-grade teacher, and at the time, all 3rd-grade students were required to pass the state standardized test in reading to be promoted to the next grade level. I had a student that had missed some substantial time in the classroom due to medical reasons, and her parents were concerned that she wouldn't pass or be ready for 4th grade. On the last day, my principal informed me that all the students in my class had passed the test's reading section. I remember telling the student and her parents in the hallway that she had passed, and I'll never forget how her mom immediately hugged her and began crying tears of joy, saying just how proud she was of her.
In that moment, I remembered thinking of how this was accomplished not through any singular effort, but through a team effort, we ensured that this student was successful. As a first-year teacher, I had a lot of guidance and support from my grade level team and administration. It was the communication we established with the Hospital/Homebound services that allowed the student to continue learning while away from the classroom. It was also the support of her parents, that worked tirelessly with her each evening after work.
I didn't realize it at the time, but that would set the tone for my continual belief that all students can be successful when we have effective collaboration and prioritize the connection between the school and the home."
Question: Outside school, where might students, parents, or staff members run into you?
Answer: "With five children of our own, and depending on the season, I most often run into students, families, and staff members at our children's sporting events.
You can find us at many different baseball fields for the boys (ages 14, 12, and 10) or a volleyball match for my oldest daughter (age 14), or a basketball or soccer game for my youngest daughter (age 7). I rely heavily on our 'Family Event Coordinator'—my incredible wife, Molly—to help me figure out what child needs to be where and what time each evening and weekend.
When the stars align, and there are no children's activities, then a Falcons or Braves game is another great option that we like to go to!"