New Principal Profile Q&A: Elayna Wilson, Powers Ferry Elementary School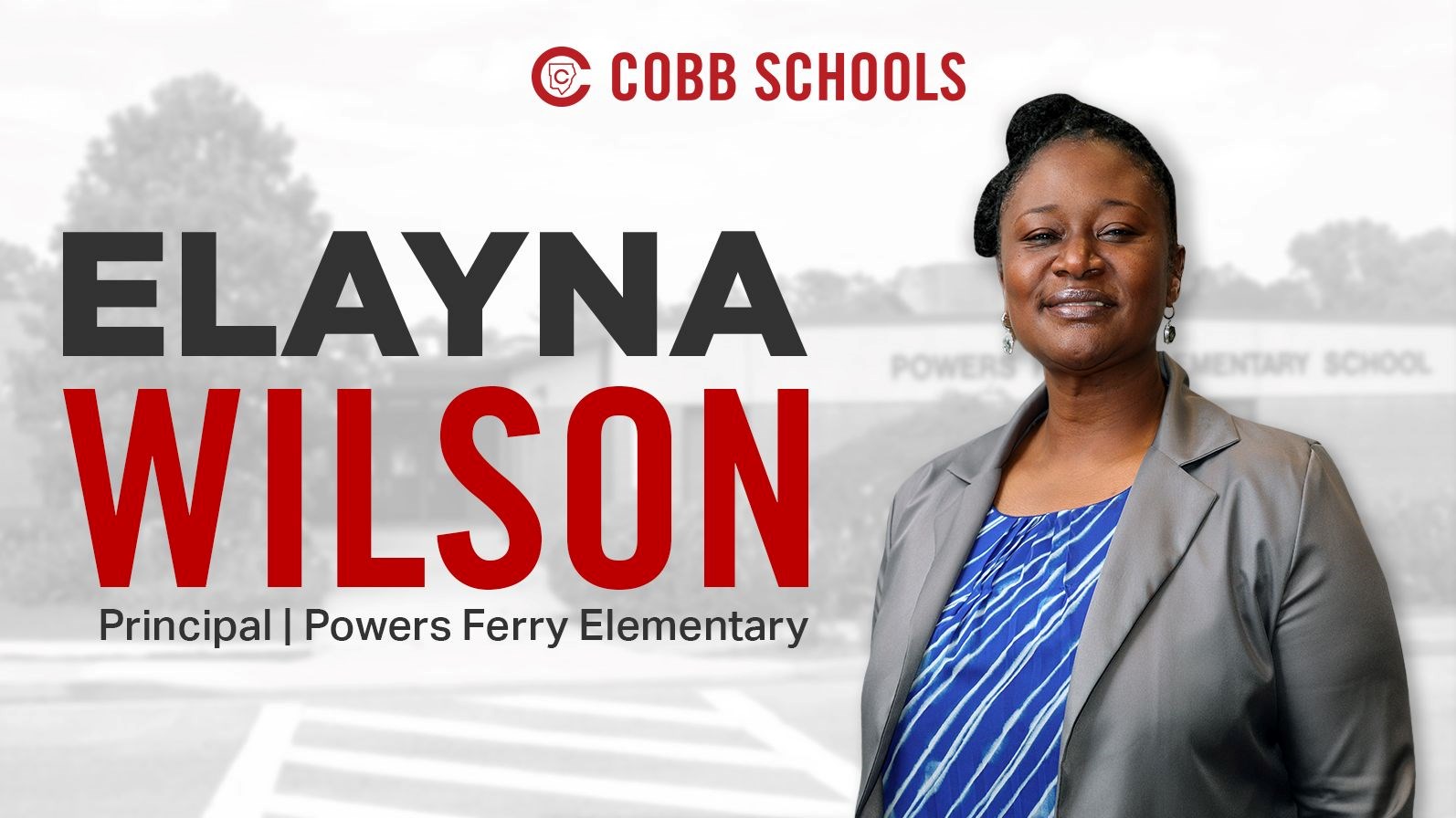 Principal Elayna Wilson is only a year shy of celebrating 30 years as an educator, and students at Powers Ferry Elementary School will soon benefit from those decades of experience. The dedicated educator is stepping in as Powers Ferry's new principal.
"I recently visited the school! During this time, I was most impressed by the caring, welcoming, and collaborative atmosphere that met me at the door upon my entry," shared Principal Wilson, who has served a total of 8 years in Cobb Schools. "To have the opportunity to serve as the new principal of Powers Ferry Elementary is an exciting honor for me!"
Through her leadership, Principal Wilson aims to positively impact student achievement. However, her students often positively impact her too. She listens and learns from her students just as they learn from her.
Find out why she is excited to join the Powers Ferry community, why she firmly believes all students can learn, why she happily serves as an educator, and where staff and students may see her outside of school. She shares that and more in the Question-and-Answer section.
Question: Why are you excited to serve the Powers Ferry Elementary Community as principal?
Answer: "I have heard about the great work happening at Powers Ferry! The word 'power' in the school's name describes the community at large. The community works as a collective power to ensure all students are supported, nurtured, and empowered, every day. The opportunity to join this team brings me immense pleasure. I look forward to becoming an integral member of this great community and continuing the meaningful work for students!"
Question: What can the school community expect to see under your leadership?
Answer: "As principal, I will maintain high expectations for myself and others, and work collaboratively with all stakeholders. The community can expect a leader who is compassionate, focused, and willing to go above and beyond to create innovative ways to ensure all students, staff, parents, and community members feel a sense of belonging, self-worth, and success."
Question: What does student success look like for you?
Answer: "Student success is individualized and priceless. Success looks different for each learner, and I am a firm believer that all students can learn. Success is when teachers identify students' strengths and align instruction to match their learning styles. Success is also when students take responsibility for their learning, develop perseverance skills (keep trying, never give up) and understand the importance of being a person who shows integrity and kindness towards others. Student success encompasses the whole child; academic, behavioral, and social-emotional."
Question: What do you like most about being an educator?
Answer: "We have been charged with a greater responsibility than one can imagine and that is to shape the outcome of our country through students! Our students are our future! As an educator, I love to speak with students and find out what is important to them. They have some very amazing perspectives and I love when they learn from me and when I learn from them. As a principal, I also enjoy the experience of working with educators to positively impact student achievement. Additionally, I enjoy supporting and celebrating staff members when they reach their goals."
Question: Outside school, where might students, parents, or staff members run into you?
Answer: "When I am not serving the Powers Ferry Community, you will find me spending time with my husband and Titus (pet Rottweiler) walking, jogging, or riding my bicycle, at church, shoe shopping, and making calls to check on my nieces and nephews."
Question: Is there anything else you want the school community to know?
Answer: "I want the Powers Ferry Community to know that I believe in transparent communication, listening to others' perspectives and that I will work diligently to maintain a laser-focus on student growth and achievement."