Community Helps McClure Open Collaborative STEM Labs for Students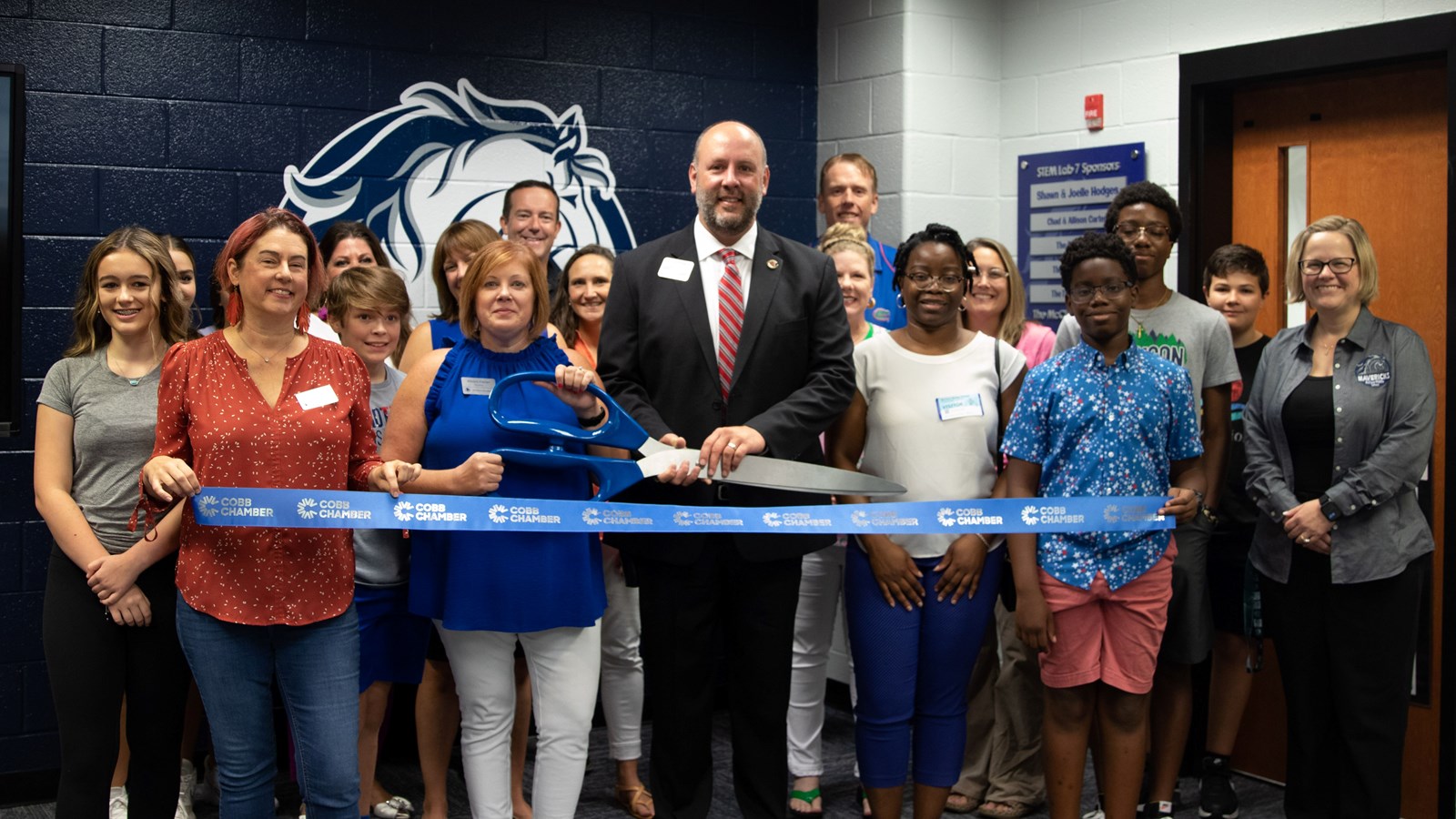 Freedom, flexibility, and collaboration are words students and parents use when talking about the advantages of McClure Middle School's new STEM labs.
The McClure community recently gathered to cut the ribbon on the two new collaborative learning spaces, two years in the making. The McClure Foundation raised more than $40,000 to transform the oversized classrooms with new carpet, paint, and flexible seating.
When the school's Foundation took on the project, they sought help from the school community.
"We reached out to our families and got interior designers and architects that could help us just come up with ideas for the space. We came up with a budget and then really just started asking our local businesses and our families here at McClure to help fund this project," explained Allison Carter, McClure School Foundation president.
After gutting the space, they were finally able to see their ideas come alive in the room as they started putting the new furniture together. They listened to the teachers to learn how McClure educators planned to use the space and revised some of their plans.
"We've added some additional tables, we've added some additional couches. As [the teachers] saw the need for additional furniture, we were able to supply that as well," the McClure parent explained.
Some of their plans for the renovated space evolved when the District began providing middle school students with their own laptops they can use all the way through high school. The McClure students no longer needed an expansive computer lab.
"When we started with this project, it was to create an interactive, collaborative space where they could utilize the computers because, at that time, our students didn't have laptops. Since then, we have been able to eliminate almost half the computers that we were going to use in the space because all the students have laptops. So now this gives us even more flexibility to have modular seating," Ms. Carter added.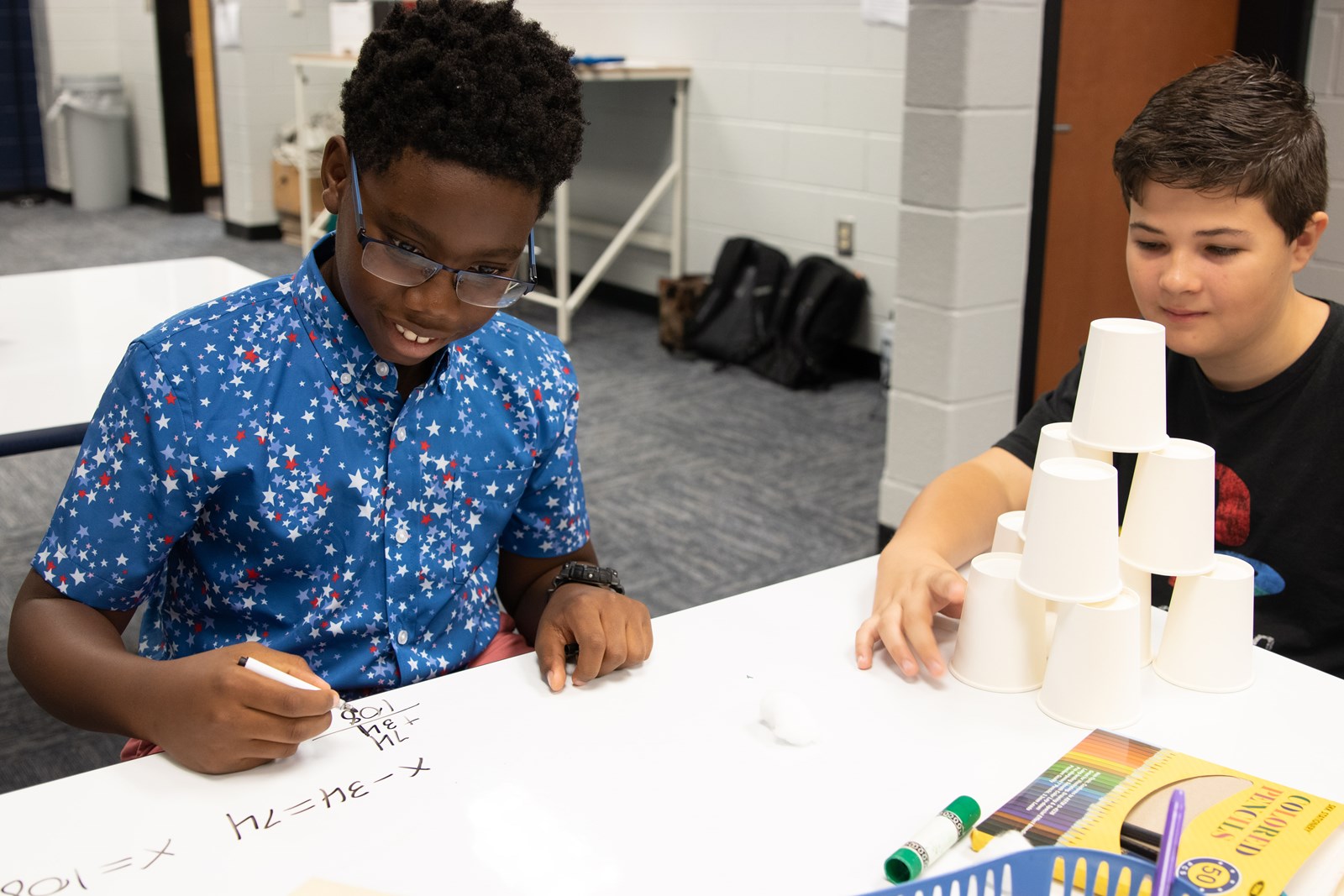 Flexibility is one of the room's highlights for McClure teachers and students. If a class wants to move all the furniture over to the sides, they can. If they want to use the tables as dry-erase boards, they can. If they want to divide into groups, some working at tables, some working on computers, some collaborating on the couch, they can.
The room allows students to move around more than a traditional classroom, and that's a definite plus for them.
"It's more open and free," said Nnayerem, 6th grade.
Ms. Carter echoed Nnayerem when explaining why McClure students like the renovated rooms.
"They get to be free. You feel like you're out of a classroom kind of setting. There's fun seating for them to be in. It's colorful. It's bright. So, it just gives them a new, innovative space to think outside the box and collaborate with their friends," the Cobb parent revealed.
Some classes use the space ahead of tests. Students can review, on their own, what they have learned as they relax on the couch. Meanwhile, their teacher can provide a bit of extra help for students who need it.
"The teachers let us sit where we want, and it's kind of comfy," explained Luke, 7th grade. "It's a good environment. So instead of just sitting in the hard chairs, we can have comfy ones, and the teachers let us be on our computer."
The environment helps Luke learn, and he is not alone.
"Some of our teachers let us take study sessions in here with them, and it has really improved all of our kids' scores by a lot," 8th grader Sophia revealed.
Like the other McClure students, Sophia likes the freedom and space to collaborate with her classmates.
The Foundation is not finished with the STEM labs. They will continue listening to McClure teachers and students to help provide what they need to make the best use of the spaces.
"Our goal next is to add some dry-erase boards to the walls so that the kids can not only use the dry-erase tables, but now they can go and help each other," added the McClure Foundation president.
There is a reason why parents like Ms. Carter worked to give the McClure educators the collaborative space they wanted.
"I love that I've seen my boys thrive here. These teachers truly care about our students," Ms. Carter said. "There's great communication between administrative, the teachers, and our families, and it's just a true sense of community."