New Principal Profile Q&A: Craig Dills, Birney Elementary School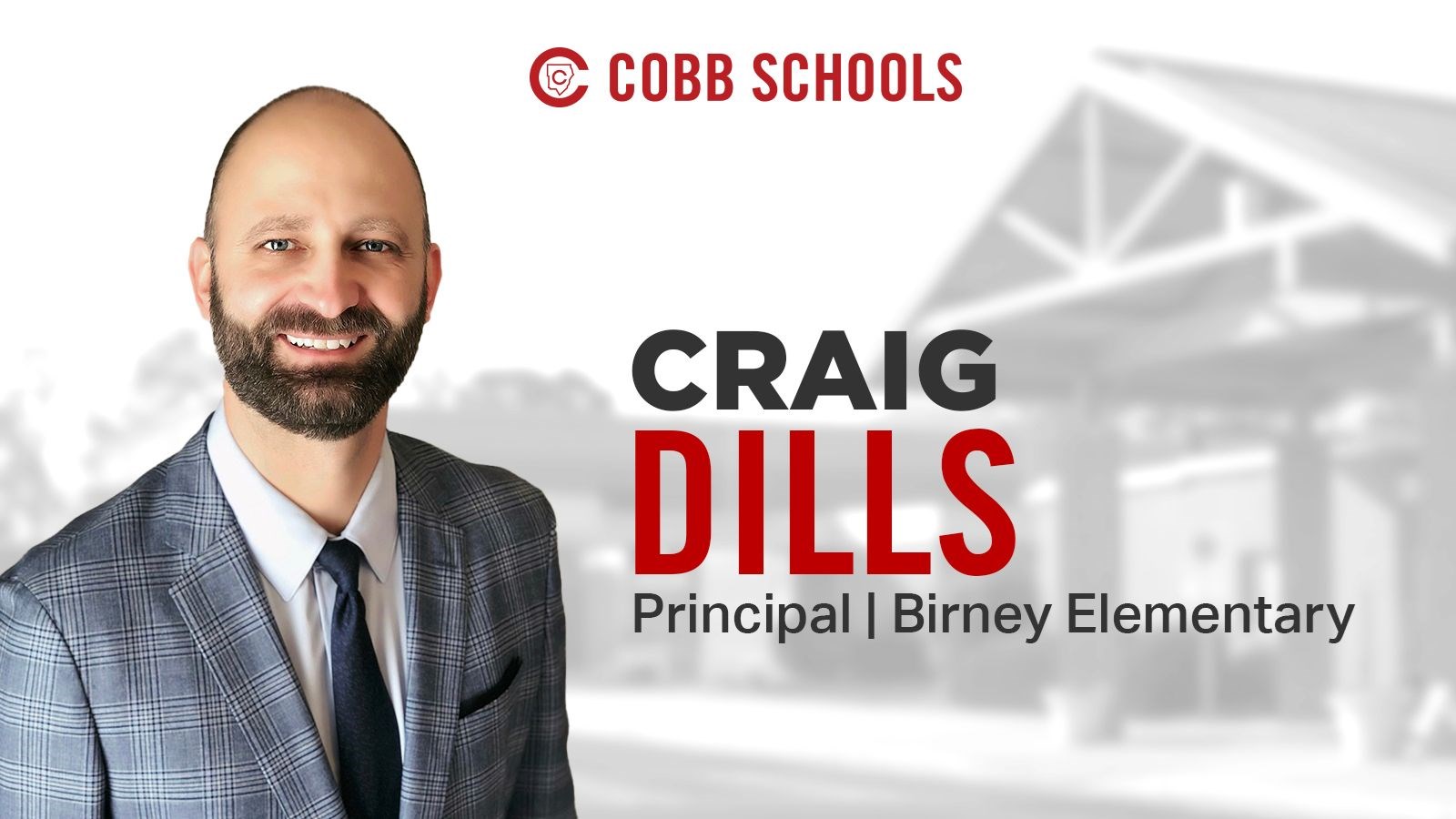 Starting in July, the Birney Elementary School family will see a familiar face in the principal's office. Craig Dills will assume the position of principal at Birney after serving at the school for the past two years as assistant principal. Principal Dills is in his 14th year as an educator—a career he has spent entirely serving students in Cobb Schools.
He worked as an elementary teacher for 5 years and as an instructional coach for 2 years. He then transitioned into leadership to serve as an assistant principal for five years at Milford Elementary School before moving to his new home at Birney.
During the below question and answer interview, Principal Dills details what has impressed him about the Birney community and how Birney educators can help students succeed. He also explains what he loves about being an educator.
Question: Why were you excited to serve the Birney Elementary School community as principal?
Answer: "I am excited to serve as Principal of the Birney Elementary School community because I love the sense of community and family. Every member of our community is committed to a shared common goal – student success. Teachers and staff, parents and families, and the larger community all work in a combined effort to ensure that every student is prepared to move into their future. Our students' accomplishments are our successes. Our students' obstacles are our opportunities, and our students' hardships are our burdens. When we work together to celebrate the successes, learn from setbacks, and share in the hardships, we grow as a community. We become a stronger community. A community where every student thrives."
Question: What most impresses you about the students and school community at Birney Elementary School?
Answer: "I have been most impressed by the commitment of every parent, student, and staff member to do whatever it takes to continue growing and learning, even when faced with the various challenges inherent to teaching and learning during a global pandemic. While the pandemic has provided many challenges, it has also provided some unique opportunities. For the first time, we, as a school staff, have been given an opportunity to see our students and their families through a wider lens. We had a view into their homes and lives, and our families could see into our classrooms. We saw families making daily sacrifices to ensure their children had what they needed to be successful. We saw teachers and families working together to solve problems creatively. The pandemic, if nothing else, clarified what I know to be true - every teacher, parent, and student wants to do their best and be their best. This commitment from every member of our school community to be their best is what continues to impress me every day."
Question: What can the school community expect to see under your leadership?
Answer: "The school community can expect to see a leader who values positive relationships with students, staff, and families. They can expect a leader who promotes positive change within the school and community and celebrates the successes of students and staff."
Question: What does student success look like to you?
Answer: "Student success is not simply a measure of academic success, but rather a reflection of a student's mental, physical, and emotional well-being. Academic achievement is merely a byproduct of a student feeling safe, loved, empowered, challenged, and supported. As educators, we must view each child individually and holistically. No one set of standards can measure success for every child. We must consider the entirety of the child's experiences. Our goal must be to create an environment where students feel safe, loved, empowered, challenged, and supported. When students feel these things, they will be willing and able to take the risks necessary to grow and learn. Continued growth and learning is student success."
Question: What do you like most about being an educator?
Answer: "What I love about being an educator has evolved throughout the years. As a classroom teacher, I loved seeing students gain confidence as they persevered through a difficult task. As an administrator, I take pride in seeing teachers from diverse backgrounds grow into their practice and teach with urgency and passion. I have been inspired while watching staff members and families collectively address problems faced by our community. However, in the end, what matters most is the work we do to encourage those around us to use their gifts to achieve their goals. The most powerful way to affect real positive change in students, staff, and a community is to give members the tools they need, the opportunity to try, and the confidence to succeed every day."
Question: Outside school, where might students, parents, or staff members run into you?
Answer: "Outside of school, you can find me spending time with my wonderful wife Chandra and our 3 children, Camden, Cora, and Cohen, working on my lawn, or on a golf course!"