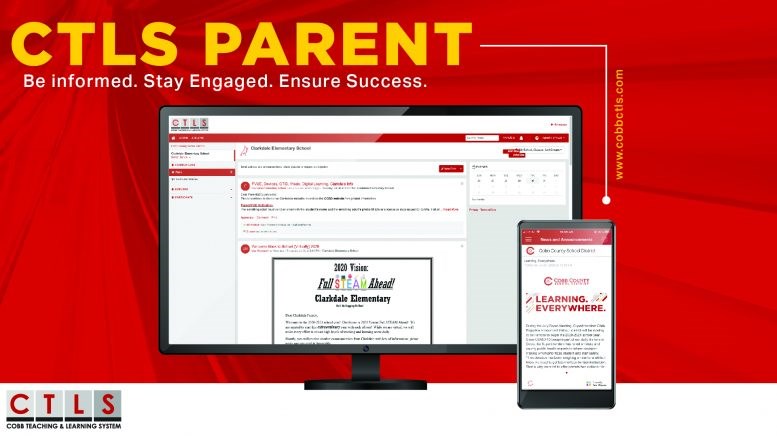 ---
---
How do we communicate with, involve, and engage parents?
Students are more successful in the classroom when parents are actively engaged in their student's learning. Thanks to the CTLS Parent portal, parents will have access to some of the same information that teachers use in CTLS to determine what students know.
Measurably increasing parent engagement to improve student outcomes.
Parents will know more about their students and will be able to use the instructional resources in CTLS to help students at home.
Parents will also be able to communicate more effectively with teachers and administrators using the communication tools available in the portal.
The goal of CTLS Parent is to make it easier for Cobb families to partner with Cobb teachers and schools whether during digital learning or when students return to face-to-face learning.
CTLS Parent Highlights

Communication

Stay connected with schools and teachers.
Directly message teachers and school.
Set up push notifications, select language preferences, and indicate the frequency in which to receive messages.
Access a directory of teachers and important contact information for the school.

Standardized Assessment Data (Coming Soon!)

Stay informed with what students know, and the progress they have made.
View End of Grade (EOG) and End of Course (EOC) assessments, Reading Inventory, and PSAT results.

Resource Library (Coming Soon!)

Over 700,000 Cobb vetted learning resources
Equip parents with tools to support their child's academic strengths and challenges at home
Access to items that can help them support students in social-emotional areas such as relationship skills, social awareness, responsible decision making, etc.

Cobb Teaching and Learning Standards (Coming Soon!)

Parents can answer the question, "What is my child learning in the classroom?" by having access to the Cobb County School District's standards and expectations for core content mastery.