Campbell Principal Named 2022 GLMA Distinguished Administrator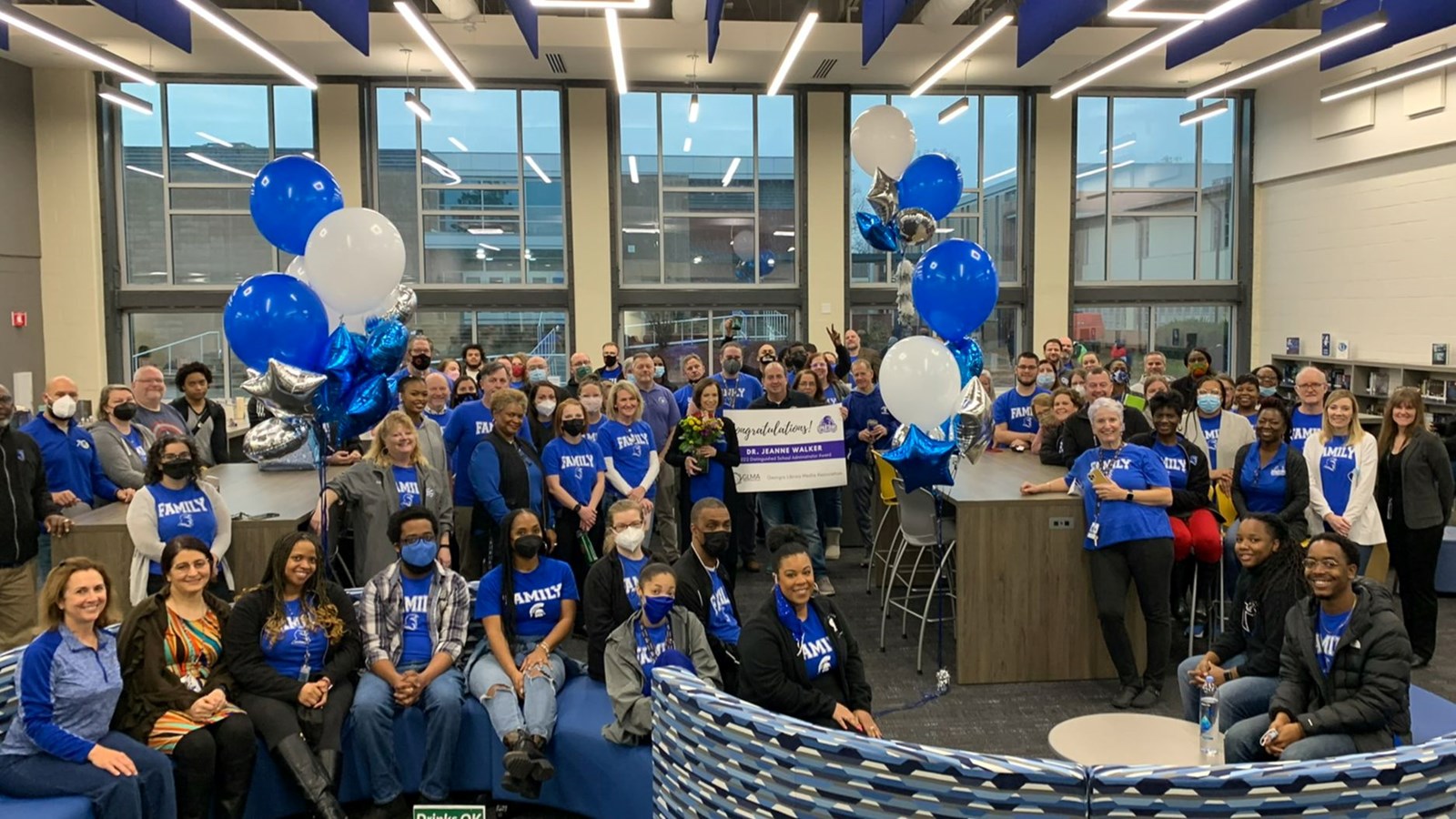 Over the past five years, Campbell High School's library program has earned numerous awards. One of Campbell's most recent state-level accolades praises the school's leadership. The Georgia Library Media Association (GLMA) selected Dr. Jeanne Walker as the winner of the 2022 Distinguished Administrator Award. The recognition honors a school administrator who has made worthy contributions to the operations of a school library media program and has advanced the role of the school library media specialist in the educational program.
About 100 Campbell staff members attended the surprise announcement, including Andy Spinks, who thanked his principal for all she had done to elevate the Campbell Learning Commons.
"You can't build a great school library program without a great principal, and Dr. Walker has been a champion of this program for her entire tenure here. This beautiful space that we are in, one that hundreds of students every day go out of their way to use, would not have been possible without Dr. Walker making it a priority, not to mention trusting the expertise of her library media specialists, and allowing us to contribute directly to the design of the space," Campbell's Library Media Specialist said.
By selecting Dr. Walker for the administrator of the year award, GMLA is honoring Campbell's principal for her leadership and for having made worthy contributions to the operations of effective school library services and advancing the role of the school library services in the educational program.
The award also recognizes the responsible and influential role of administrators, like Dr. Walker, for helping to develop successful school library programs and stimulating planning, implementing, and support of the library services, which are essential to a meaningful educational program.
Dr. Walker supported her library media specialists' vision for the now award-winning learning commons, including building a recording studio inside the library space.
"Our students are just blown away that they have free access to these tools, and it has brought our library national recognition, but without Dr. Walker, it would still be only a dream," Mr. Spinks added. "Dr. Walker recognizes the proven impact that strong library programs have on student achievement, and she has made sure our program has everything it needs to make an impact."
Dr. Walker is not the only Cobb Schools principal to earn the state recognition. In 2020, Awtrey Middle School principal Jeff Crawford was also honored with the GLMA's Distinguished Administrator Award.