Cobb Students Second Highest Graduation Rate in the Metro and Top State Graduation Rate, Again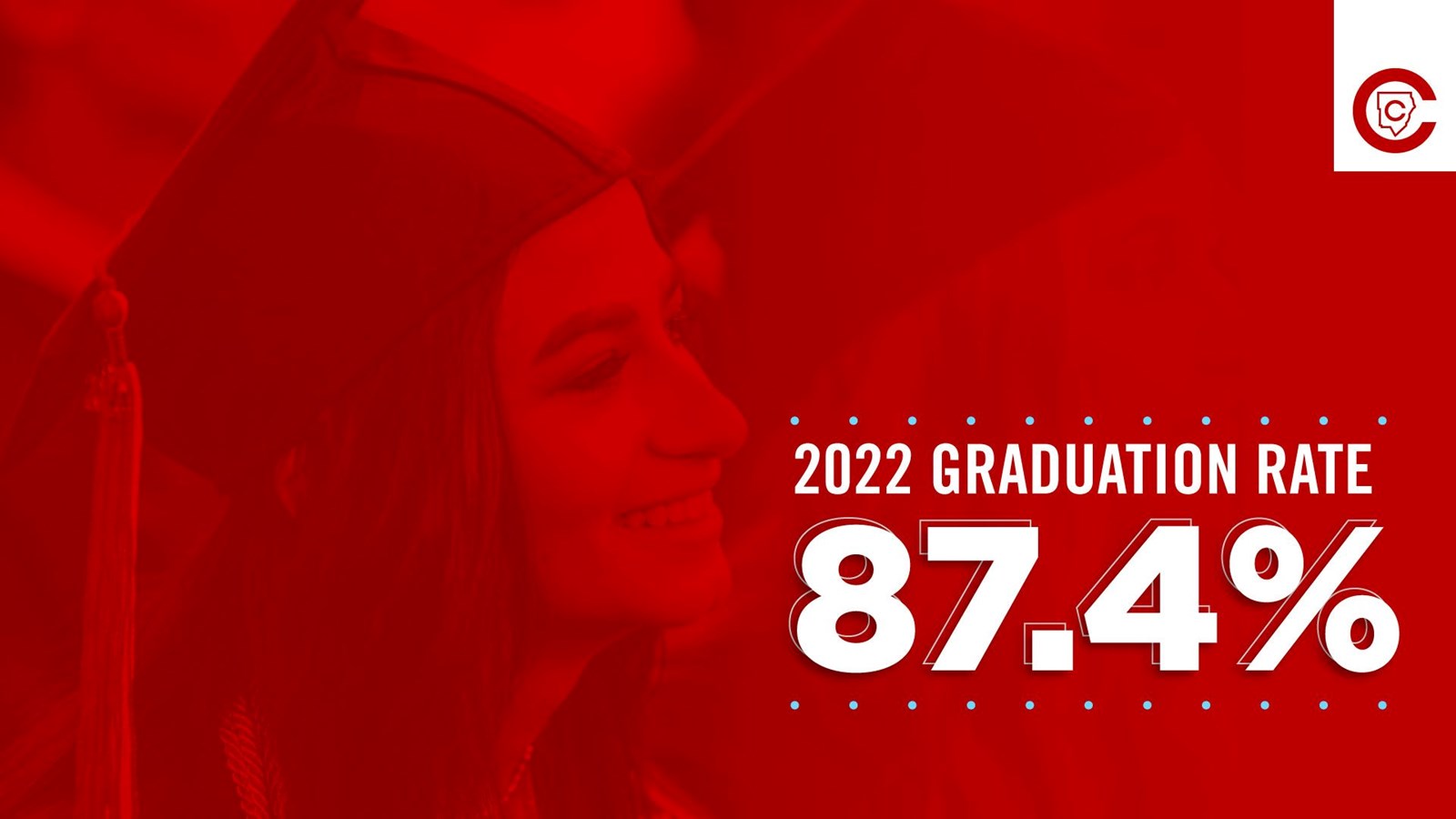 Although Georgia posted an all-time high state graduation rate of 84.1%, it was not enough to surpass the graduation rate for Cobb Schools. In fact, the state's rate lagged 3.3 percentage points behind the rate at which Cobb students graduated in 2022.
Cobb students earned a federally calculated graduation rate of 87.4%. That is 5.9 percentage points higher than the District's graduation rate in 2015. Each of Cobb's traditional high schools also have higher graduation rates when compared to that same year.
In addition to outpacing the state's graduation rate, Cobb students showcased one of the highest graduation rates in the Atlanta metro area.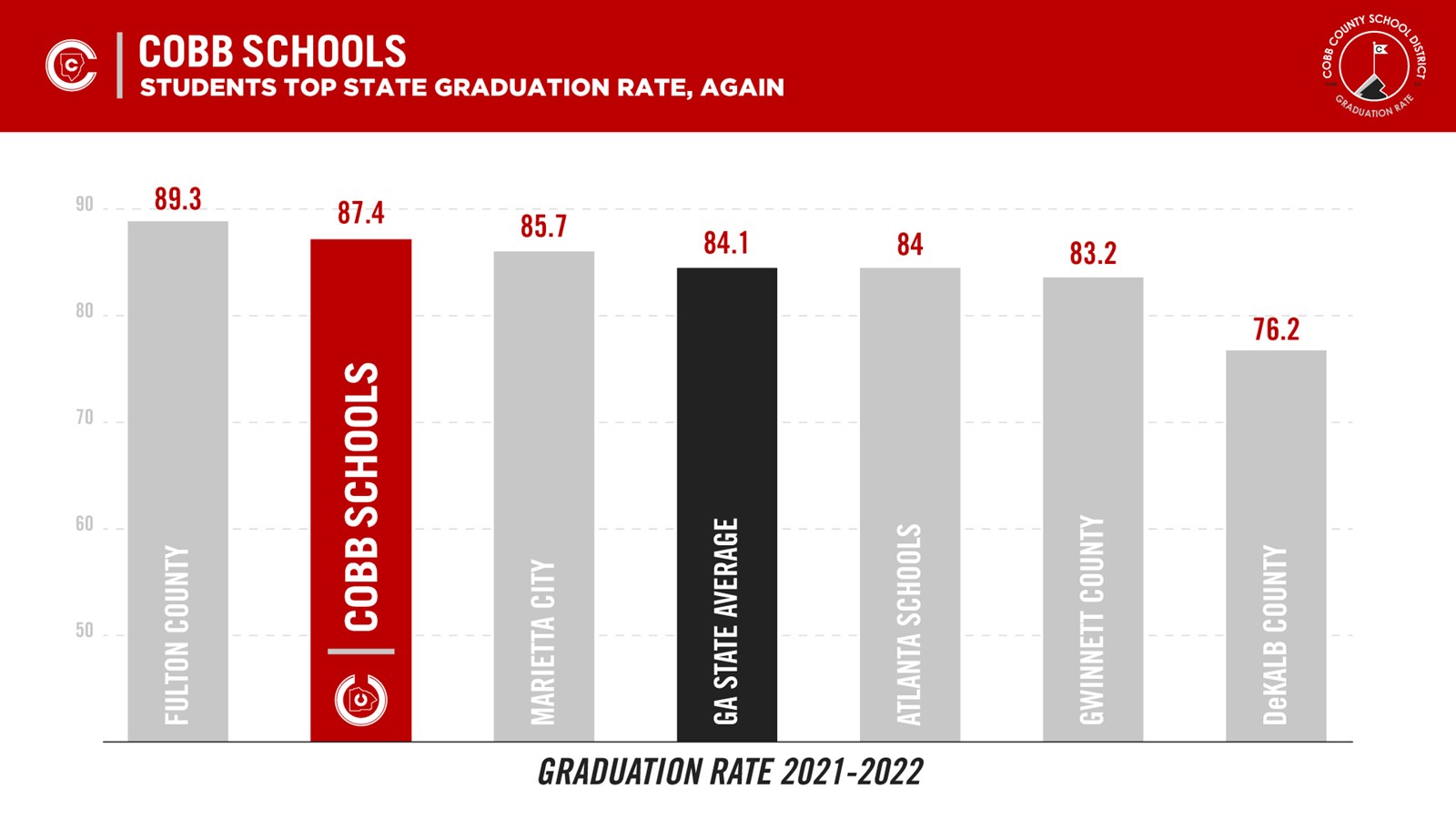 "I am proud and not at all surprised that our students once again demonstrated one of the highest success rates in the state. It is all thanks to our dedicated teachers and Superintendent Ragsdale's continued commitment to teaching and learning. While others kept schools closed and directed attention away from the classroom, Cobb stayed focused on what really matters, helping each student succeed, and it shows," said Board Chair David Chastain.
The Cobb high schools with the highest graduation rates all recorded rates above 95%: Harrison High School (97.2%), Lassiter High School (97.0%), Pope High School (96.8%), Walton High School (96.5%), and Hillgrove High School (95.7%).
The graduation rate for 9 Cobb high schools surpassed 90%, and an additional 4 Cobb high schools topped 85%.
Several Cobb high schools increased their graduation rates. With the addition of the Cobb Online Learning Academy, Cobb Horizon High School's graduation rate increased by 21.5 percentage points compared to 2021.
Three schools increased by more than two percentage points compared to 2021: Kell High School (+2.4), Kennesaw Mountain High School (+2.3), and McEachern High School (+2.2). Sprayberry High School increased by 1.9 percentage points.
The federally mandated method for calculating the 4-year graduation rate includes all students expected to graduate in 2022, including those enrolled for a single day.
However, the District's graduation rate jumps to 92.6% for students enrolled for a minimum of two years in Cobb Schools. The graduation rate climbs to 95.4% for students enrolled for three years in Cobb. Both of those graduation rates are higher than in 2021.
Cobb's 16 traditional high schools all have graduation rates above 96.5% for students who attended all four years, with some schools either achieving a 100% graduate rate or very close.
In addition to the graduation rate rising for all Cobb students combined, Cobb students with disabilities also posted a higher graduation rate of 79.3 compared to the prior year's rate of 78. Since 2016, the graduation rate for students with disabilities has risen by 17 percentage points.