Walton Robotics Team to Continue Legacy of Community Outreach Thanks to Ed-SPLOST Funded Robotics Center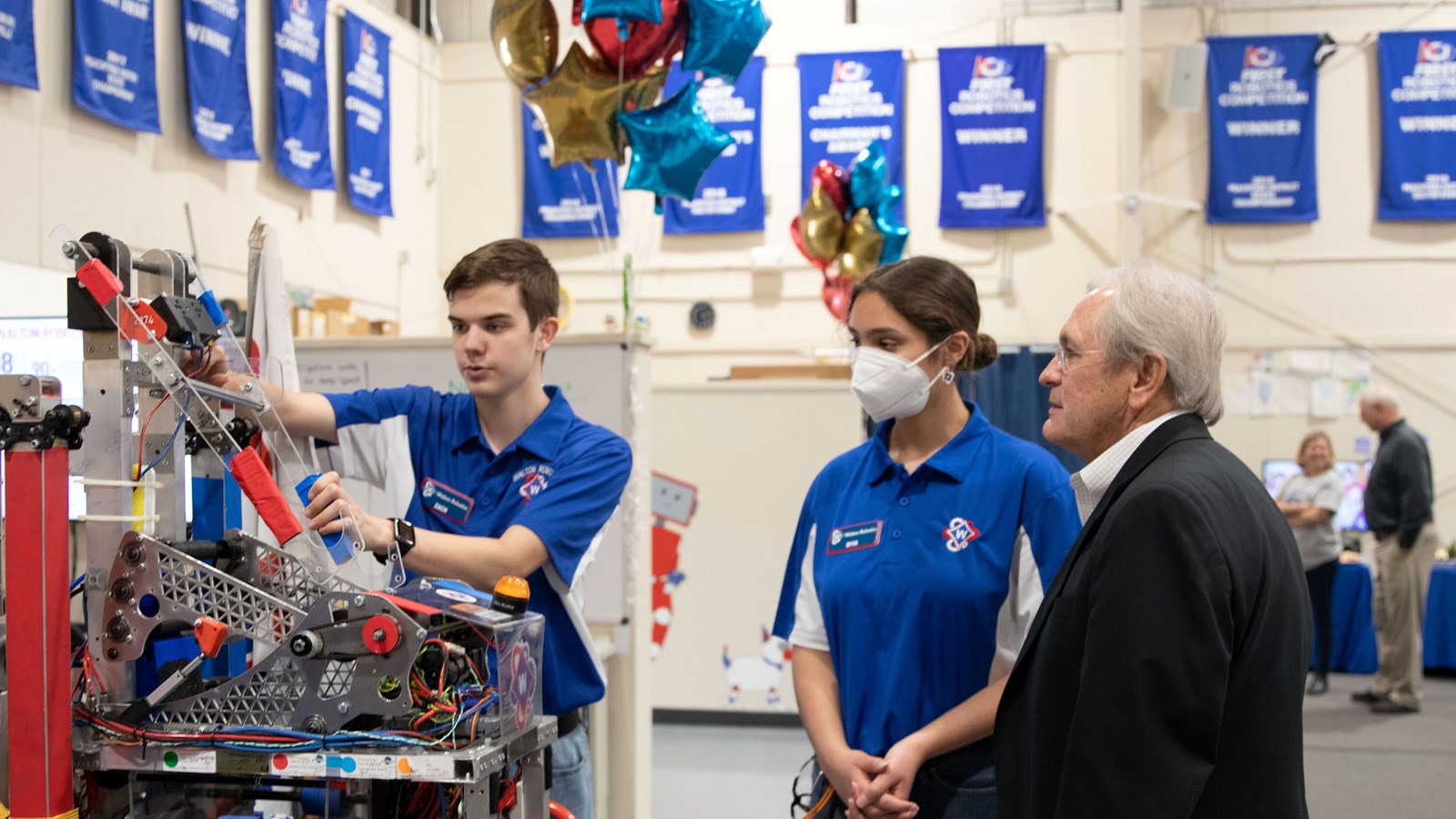 As members of Walton High School's award-winning robotics team, Walton students have impacted students throughout their community and as far away as Brazil.
The Walton Robotics team's mascot, Flat Walt, has popped up worldwide and been spotted on all seven continents. In addition to winning regional, state, national, and international awards, one of their robots will soon debut on the big screen and add movie credits to the team's list of accomplishments.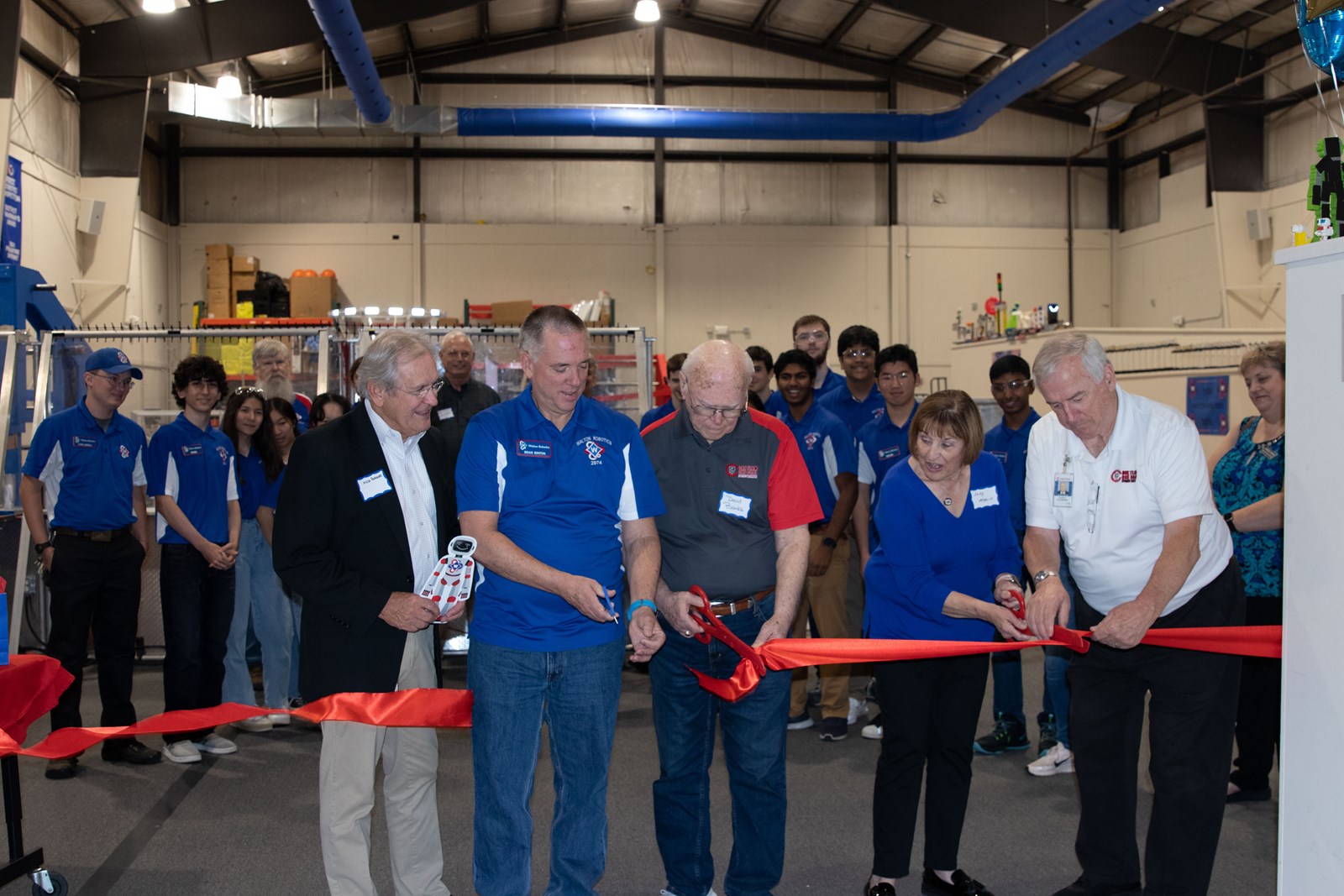 Now, the Walton students' legacy of building award-winning robots while coordinating extensive community outreach will continue inside a new spacious robotics center. The team's new home, which is funded by Ed-SPLOST, will boost its engineering capabilities and ability to impact students throughout Cobb and beyond.
The Walton Robotics team recently welcomed the community to tour their new facility, see a demonstration of one of their award-winning robots in action, and celebrate with them during the facility's official ribbon cutting.
"We're in a very fortunate position in East Cobb, which is a robotics hub. We like to give back, and that's our mission. We are also about giving back to our community. We go to Title I schools, and we take our outreach activities there," explained Anish, a Walton senior and robotics team veteran.
Anish and his robotics teammates take teambuilding exercises and activities to local elementary schools to help spark interest in science, technology, engineering, and math (STEM). They visited schools like Powers Ferry Elementary School, Fair Oaks Elementary School, East Valley Elementary School, and Timber Ridge Elementary School.
"We're not just about building a robot," added Anish, who dedicates about 50 hours per week to the team. "We also like to tell our team story, saying, 'we built this robot. Yes, it's amazing. We're a championship robot, but we also give back to our community, and that's what's more important to us.'"
Walton launched its robotics team, FIRST Team 2974, in 2008, and since then, their community service hours have piled up year after year.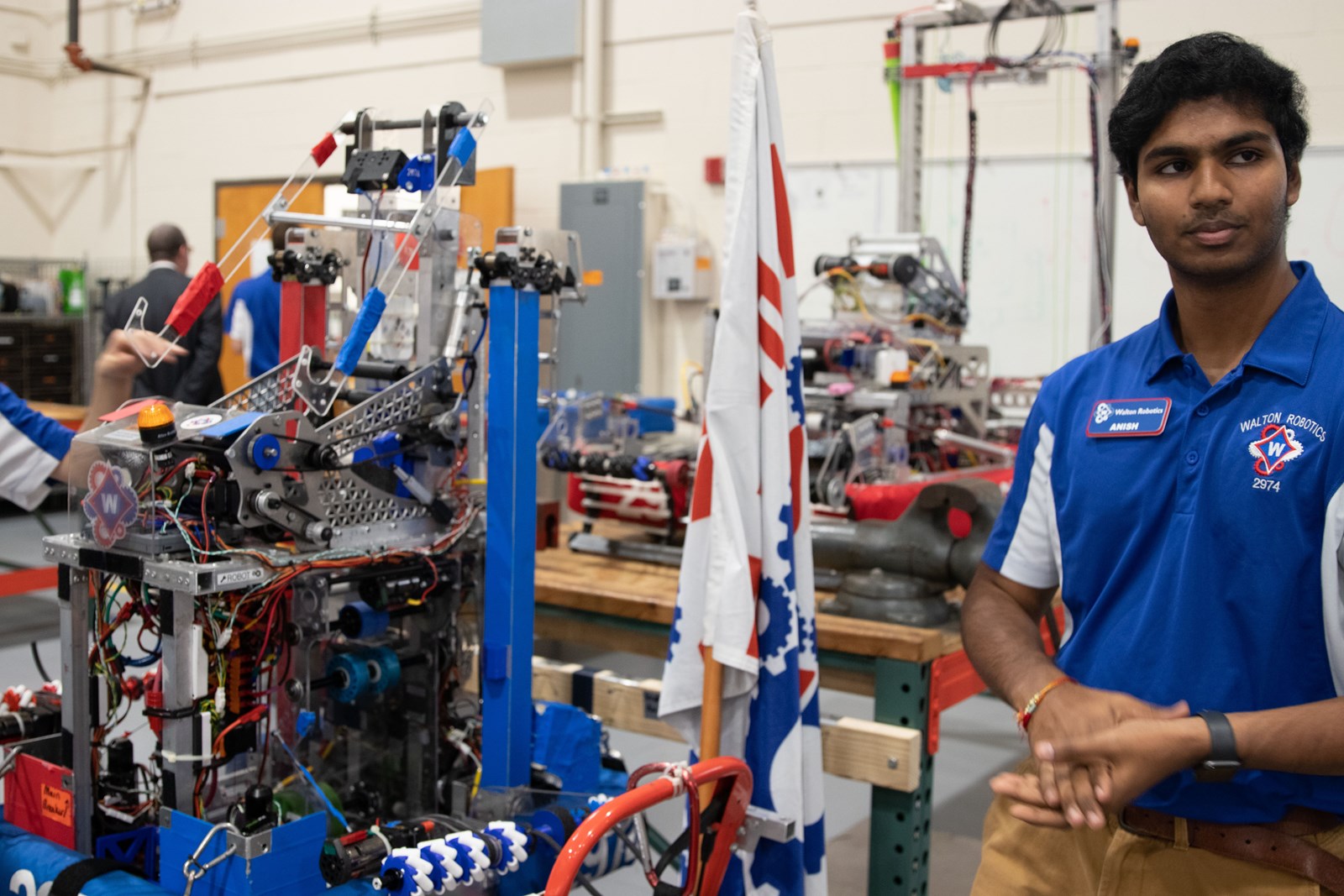 In just the month of October, the Walton Robotics team members hosted a Rocket Adventure Camp to teach Cobb middle school students the basics of rocket science, engineering, and problem-solving. They also welcomed middle school girls to a special activity-packed event to encourage them to explore the world of STEM.
Over the summer, the Walton students hosted robotics camps for Cobb elementary and middle school students.
During the school year, Walton Robotics leads and mentors two teams of middle school students from Dickerson Middle School and Dodgen Middle School.
In addition to their community impact, Walton Robotics impacts the student participants, who dedicate an average of 15-20 hours each week to the team.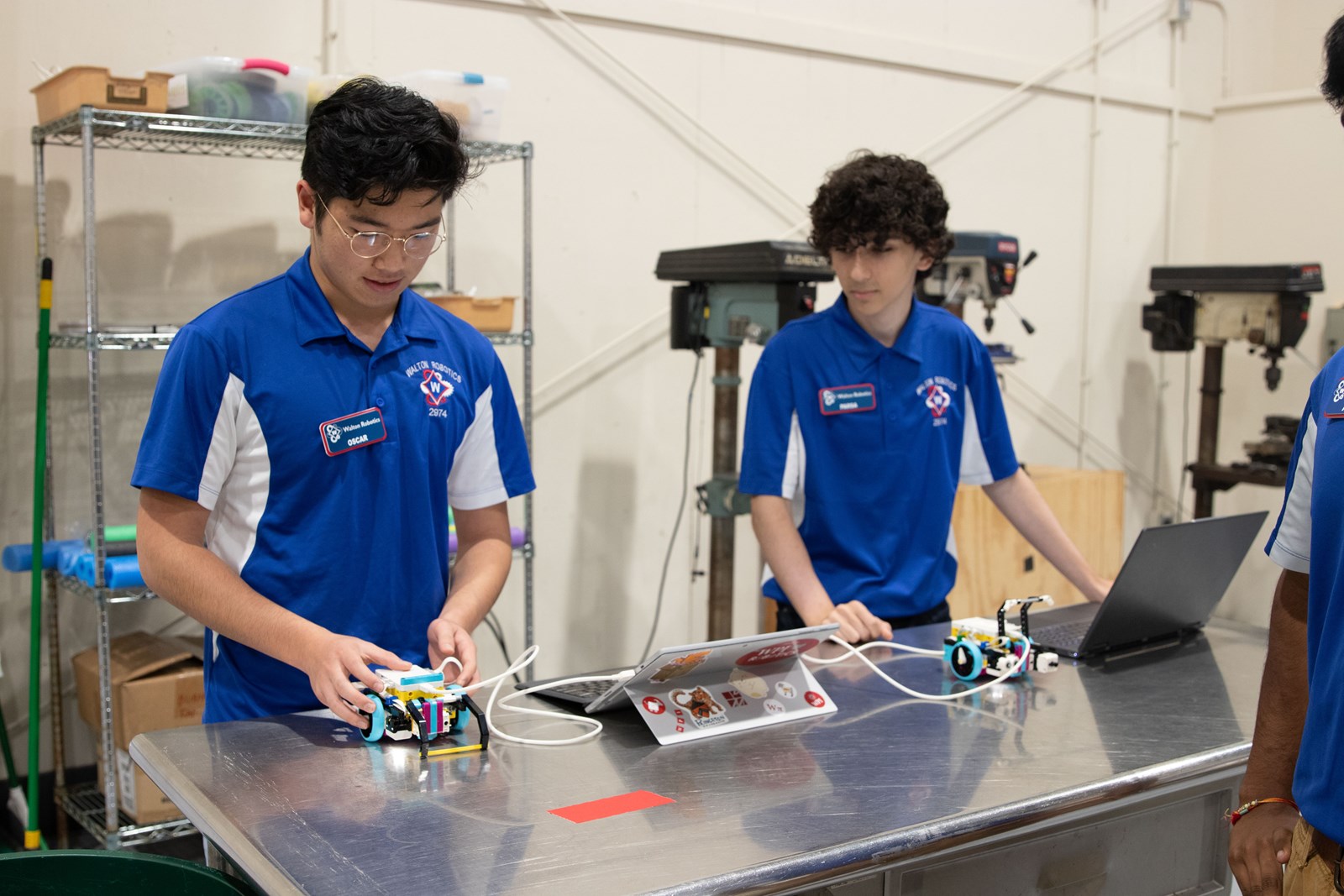 "My personal goal when I joined the team was to be a really, really good programmer because I came in with a lot of program knowledge. I used to do a lot of programming in middle school. When I joined the team, that kind of really transformed, and I saw so many other fields. It kind of helped my spark for engineering after I saw the build team working on all their mechanisms and everything. I definitely am pursuing engineering as my major in college, more specifically aerospace engineering," explained Anish.
Walton senior Oscar is also using his experience on the robotics team to prepare for college and his future career.
"I'm applying for electrical engineering and computer science. That has really been driven by robotics because I'm not in the STEM program at school, but here I really discovered a passion for programming. I've discovered a passion for STEM, and I wouldn't have gotten that experience if I wasn't involved in robotics," Oscar said.
With a wide variety of positions available beyond programming, their experience on the team improves more than just their engineering skills.
"I worked with the presentation team, which helped me with my public speaking because I used to be very shy. I'd be like this quiet programmer that sat in the corner and just kind of work, work, work. After working with the presentation [team], they've been able to help me build my confidence and also help me build my speaking voice," Anish revealed.
Teammate Julia shares Anish's praise of how the robotics team has impacted her and prepared her for life after high school.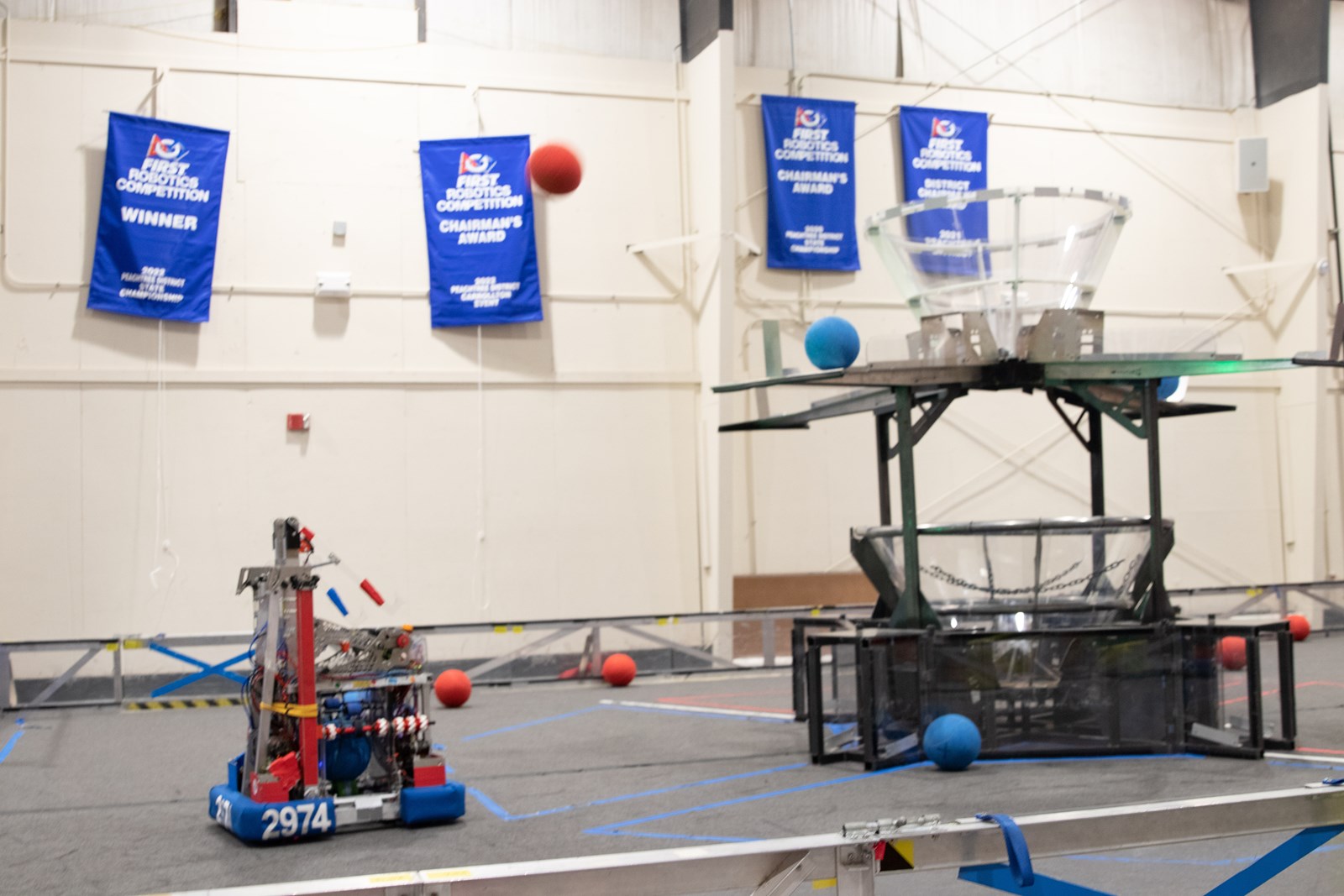 "It's made me find my purpose. If you had talked to me three years ago, I probably wouldn't have been talking to you because I'm very nervous. [The team] helped me develop my professional skills more. I've done a lot of outreach. It made me find that I love helping people, helping others find what they want to do," said the Walton junior, who now helps coordinate the two middle school robotics teams.
The Walton students recognize how the community's support, including constructing the school's new Ed-SPLOST funded robotics center, will help advance the team's mission.
"Having this facility has given us the ability to cut out the middle of transporting and having the kids come here and work with us," Julia said. "They get to see our build site. We have access to our mentors here. We're close to our school, so we can come here often."
Thanks to the new facility, the Walton team can stay together in one location and still have room for the students from the middle school robotics teams.
"We couldn't have done what we have done without what you guys have given us," Oscar declared. "We would be unable to give back to our community as efficiently as we have. Because of what we have, we're able to get out more. We're really grateful for what you guys have offered."