A Pathway to Success: Osborne Students Turned Firefighters in Training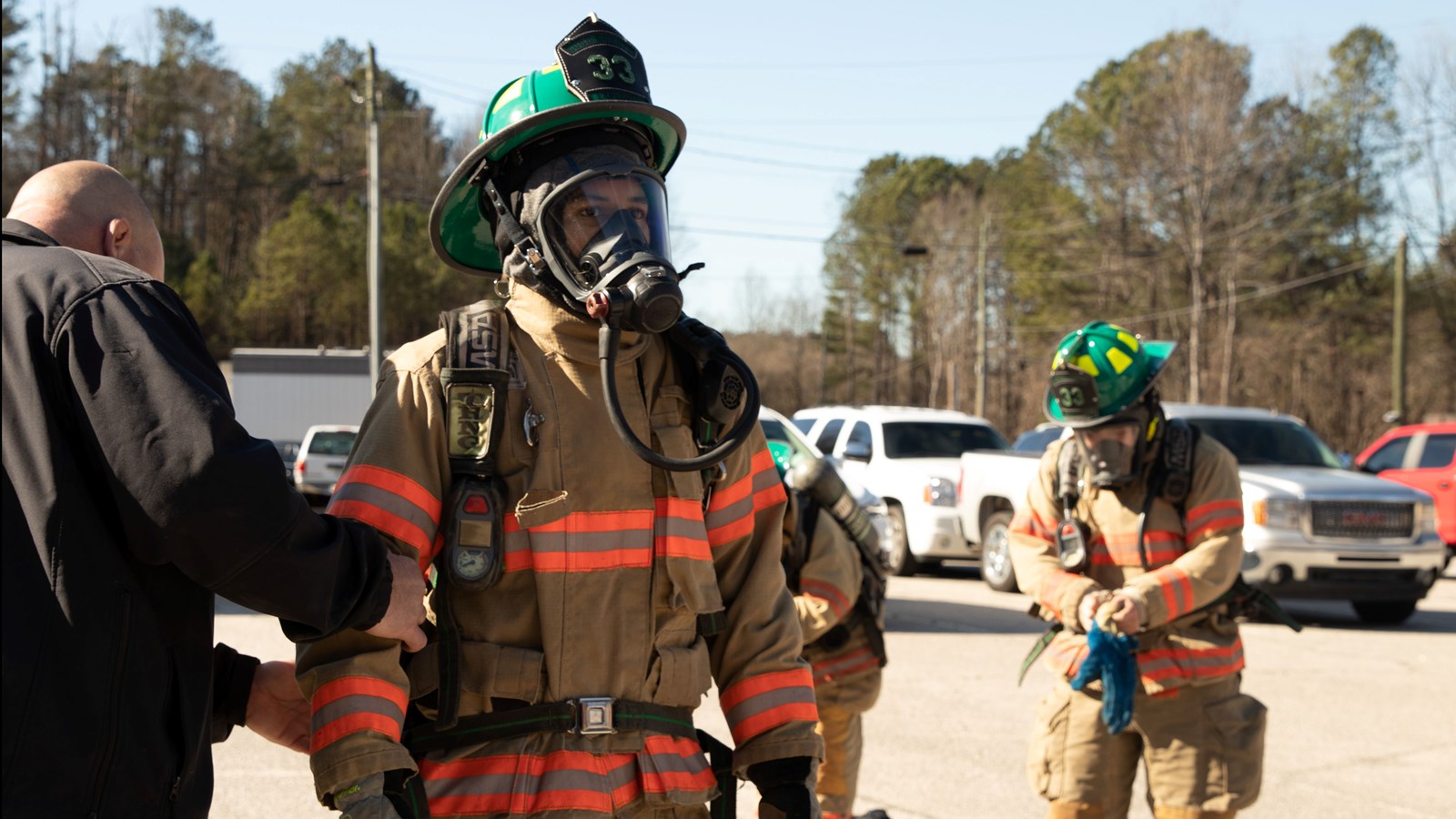 One minute and 10 seconds, that is how long it takes senior Evie to transform from an Osborne High School student into a firefighter in full gear, from the boots on her feet to the mask on her face and tank on her back.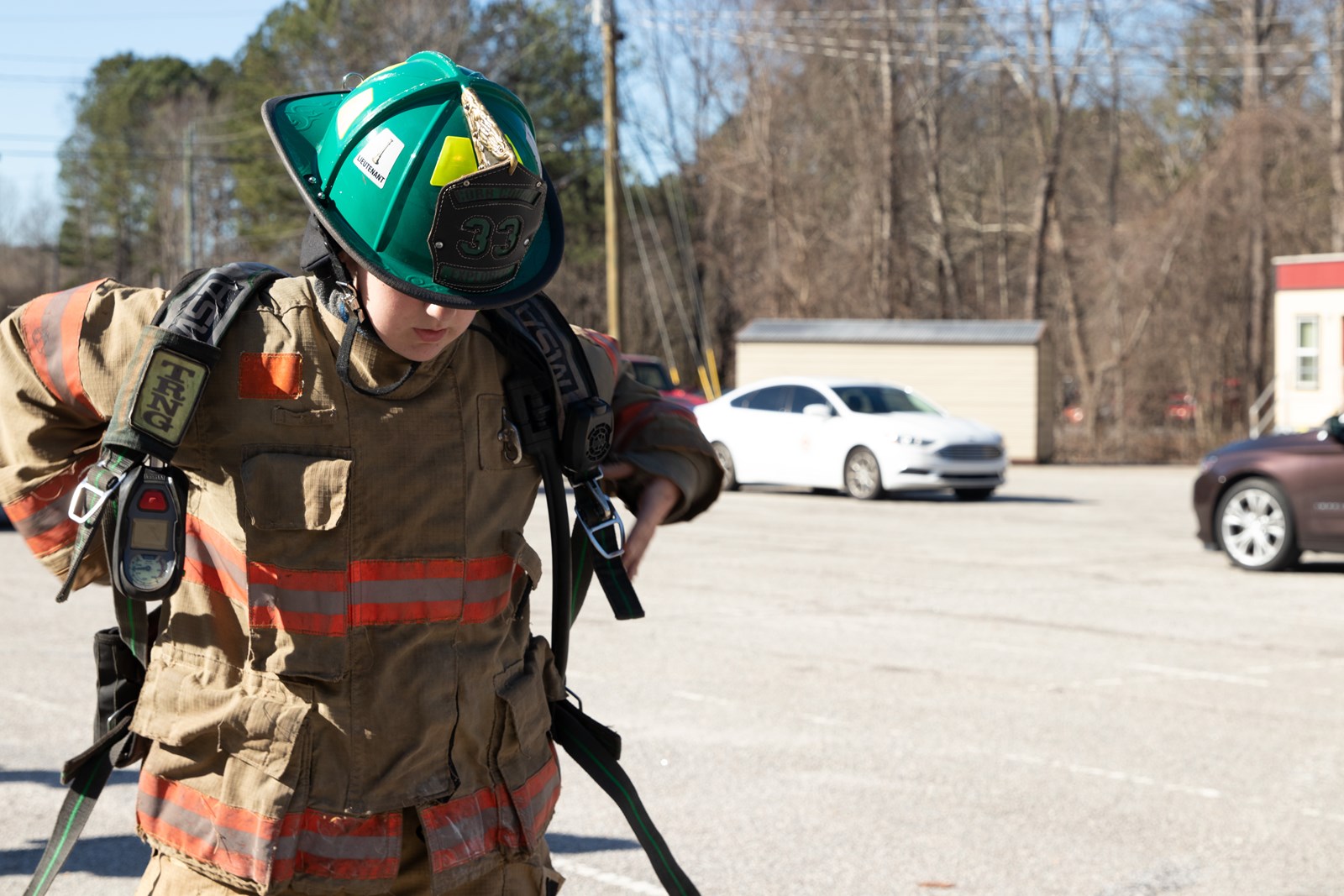 Evie and her fellow students enrolled in the Osborne Firefighting pathway board a school bus every day for the Cobb County Fire Department Training Center. They spend their class period training as firefighters. They break down doors to get into buildings, learn how to spray hoses, climb up onto a roof, and check for ventilation. They learn EMT training, including how to apply a tourniquet and administer CPR.
A limited number of students are selected for Osborne's two-year Firefighting pathway program. The first year is dedicated to firefighting skills, while the second focuses on EMT skills.
With their signature khaki pants and red shirts emblazoned with a Fire and Emergency Pathway shield, the Osborne firefighters-in-training walk the school halls with pride, pride for what they have already accomplished, and pride for their potential to serve their community.
The long-term goal for the Osborne students is for them to be certified firefighters who could theoretically graduate high school on a Friday and start work on Monday.
"We're not at that point in our training yet. For now, the goal is to just give them a career exploration and something that hopefully makes them passionate about serving others within Cobb County," explained their Osborne teacher, Kayla Greene.
Some of the students already had a passion for firefighting when they applied for the Osborne program.
"I have one student who has wanted to be a firefighter her whole life. So, for this to be her class, it's a dream come true because she's learning the skills she's wanted to learn her whole life," Ms. Greene revealed.
Other students joined the program for different reasons. Some did not even want to be firefighters. However, somewhere between pulling simulated victims out of windows, racing through the Physical Agility Test, and climbing through tight spaces, they discovered something about themselves.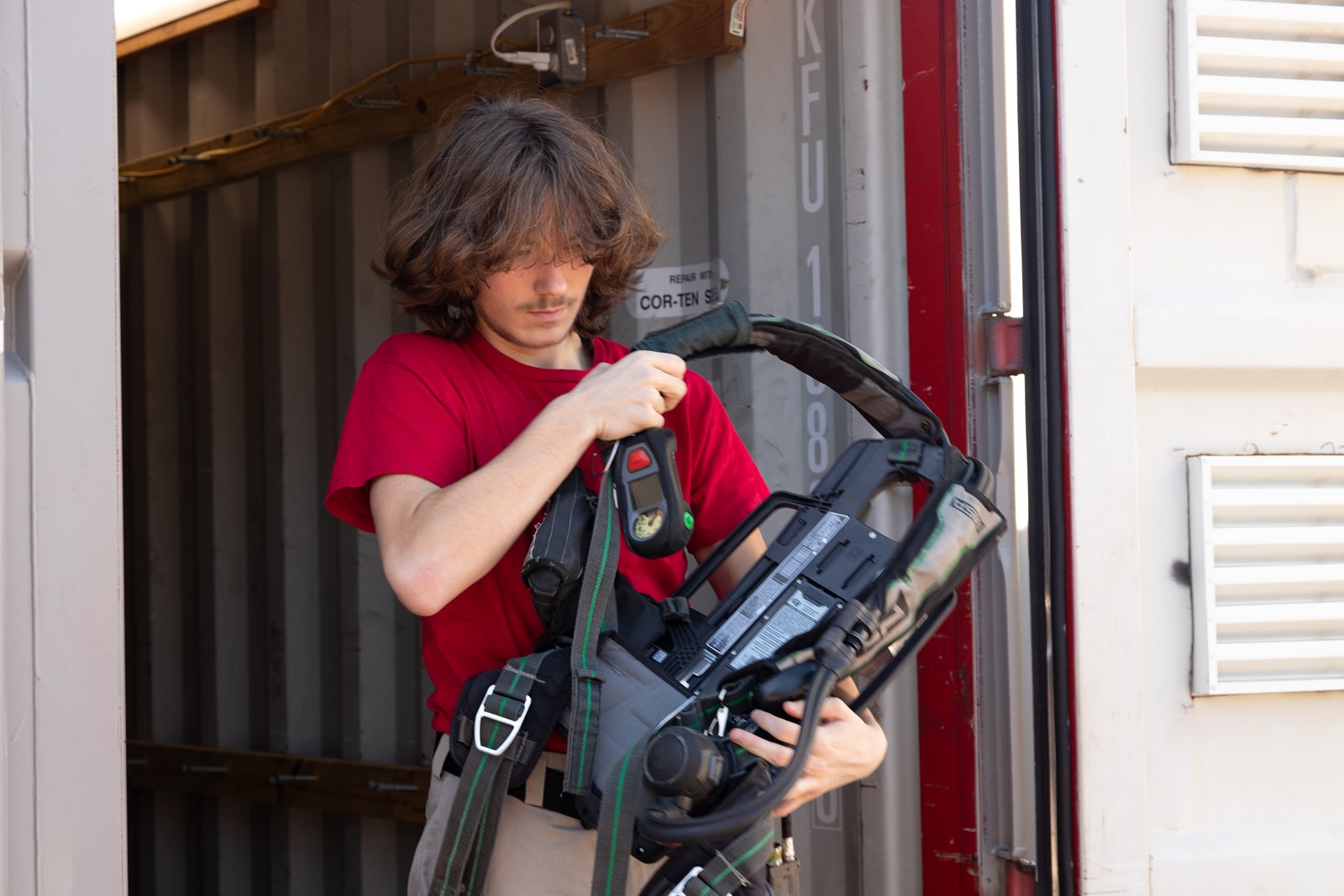 "When I first started, I was scared because there's a lot of stuff we do that pushes mental boundaries. I think it's helped me a lot with anxiety. Overall, [my] interpersonal skills have just gotten a lot better," shared Osborne senior Gavin.
The program has boosted their confidence. The training has helped the students develop mental toughness.
"I learned that no matter if you don't want to do it, you're still going to have to do it. You can't just always give up," said Osborne junior Markeyla.
Lt. Paul Willis is a 26-year veteran firefighter and one of the Cobb County firefighters charged with training the Osborne students.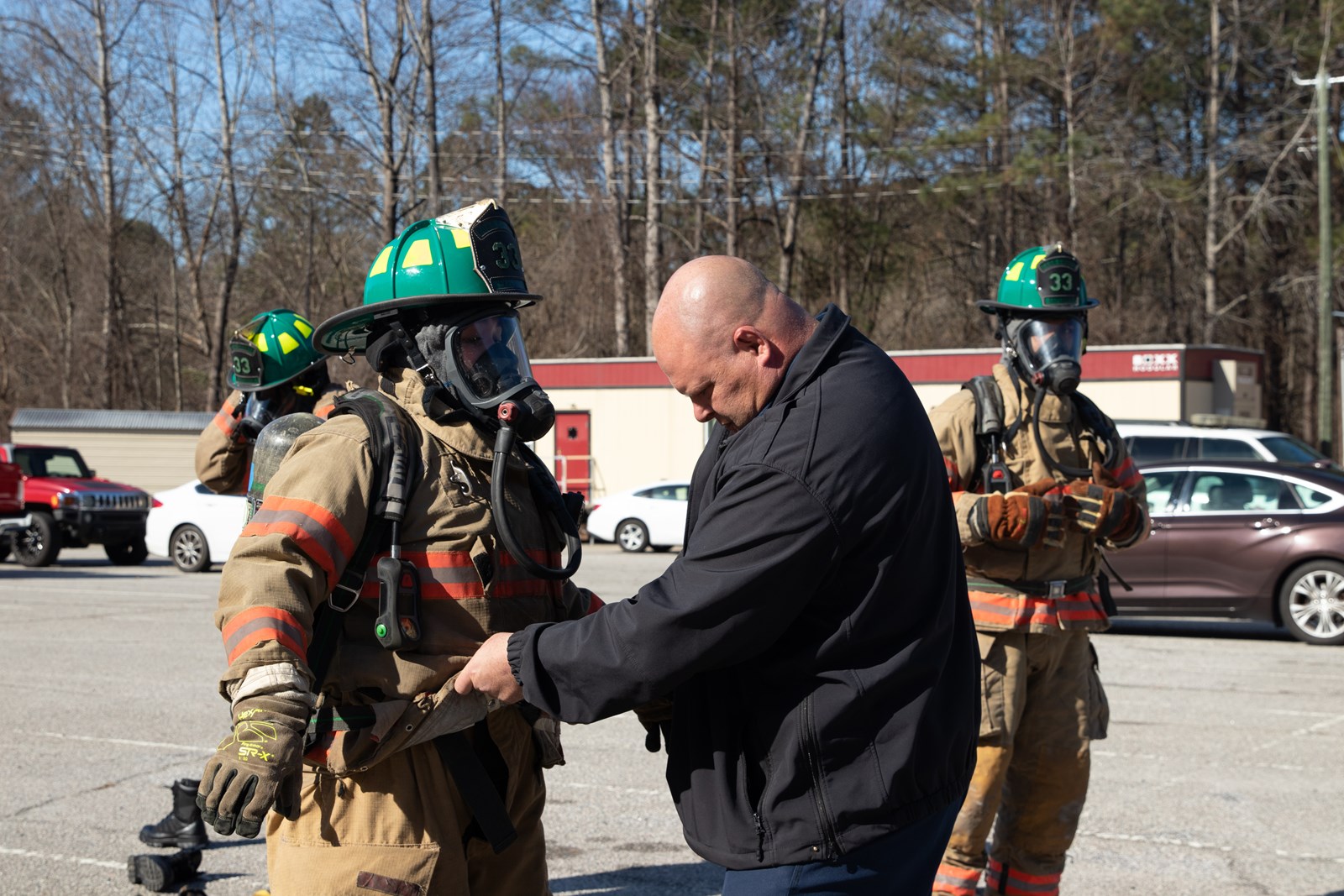 "They didn't know what they were really signing up for, but once they came and started getting with the instructors and we started teaching curriculum, they started to open up to us. We teach them soft skills. We teach them the same material that goes on at recruit school," Lt. Wilson explained.
Miranda's first day as an Osborne firefighter-in-training left her in shock. She did not know what she was doing. Could she do it? Had she made a mistake? Now, more than halfway through the school year, Miranda has a different view as she suits up for class every day.
"I think this program is just perfect. It's just perfect for me," Miranda declared.
Today, Miranda is not the same Osborne senior who did not know what she wanted to do when she graduated. She is not the same panicky recruit from the first day of class.
"Now, I truly want to be a firefighter. I want to go out in the world [and] help out people," Miranda said.
Watching their transformation has been a memorable experience for their teacher.
"You wouldn't believe how much that they have grown from day one until now. It's been incredible to be able to watch them transform. To be able to watch these kids do something bigger than themselves has been the most rewarding thing for me," praised Ms. Greene
The Osborne students credit the Cobb County firefighters who have helped them with their training.
"They have all been fantastic! They're all very respectful, honorable, genuine people who really care about everyone," Evie applauded. "They also are just very focused on making sure we understand what we're learning, [and] what we're doing. They're just really kind, genuine people who are just very excited that we're interested in the firefighting program."
Markeyla has more respect for firefighters after training alongside them. She recognizes that there are not many people who are going to walk into a fire to save someone. That could be why the Cobb County firefighters are able to motivate students, like Markeyla, who find some of the training challenging.
"Even when I'm crying, or I'm down, they always come and help me. They always make a joke. They're very funny," Markeyla said with a smile.
The Osborne firefighting pathway creates a pipeline for students to go from high school straight into a potential career working with the firefighters who have trained them.
"There is a shortage of firefighters. I've never seen it this way before in my career," said Lt. Willis. "The goal is to take young adults from our community, put them through a program just like they were taking a class in their school, teach them not only the curriculum for firefighting, but also the soft skills."
Beyond all the firefighting, EMT, leadership, and communications skills they learn, the boost to their confidence, and their increased desire to serve their community, the students are on a pathway toward starting a successful career following high school.
"When you're hired on with Cobb Fire," Lt. Wilson said, "you start at a salary of $50,377, and that's from day one. That starts during recruit school and continues until you're finished with recruit school."
Whether the students follow the pathway into the Cobb County Fire Department ranks or not, there are parts the students will carry with them long after graduation.
"To be a part of this team means a lot to me," Markeyla revealed. "I never met any of these people before, and now, I have a family. They'll always care for me. They'll always care about my emotions and everything. They'll always pick me up when I'm down."