---
Dr. Michelle Mikes
Supervisor
Email



---
Anne Palmer
Secretary
P: 770.426.3562
F: 770.429.5839
Email






Cobb Schools District Math Department
Danielle Lanigan
K-5 Math Professional Learning Specialist
Email


---
Emily Freeman
6-12 Math Professional Learning Specialist
Email


Learning Areas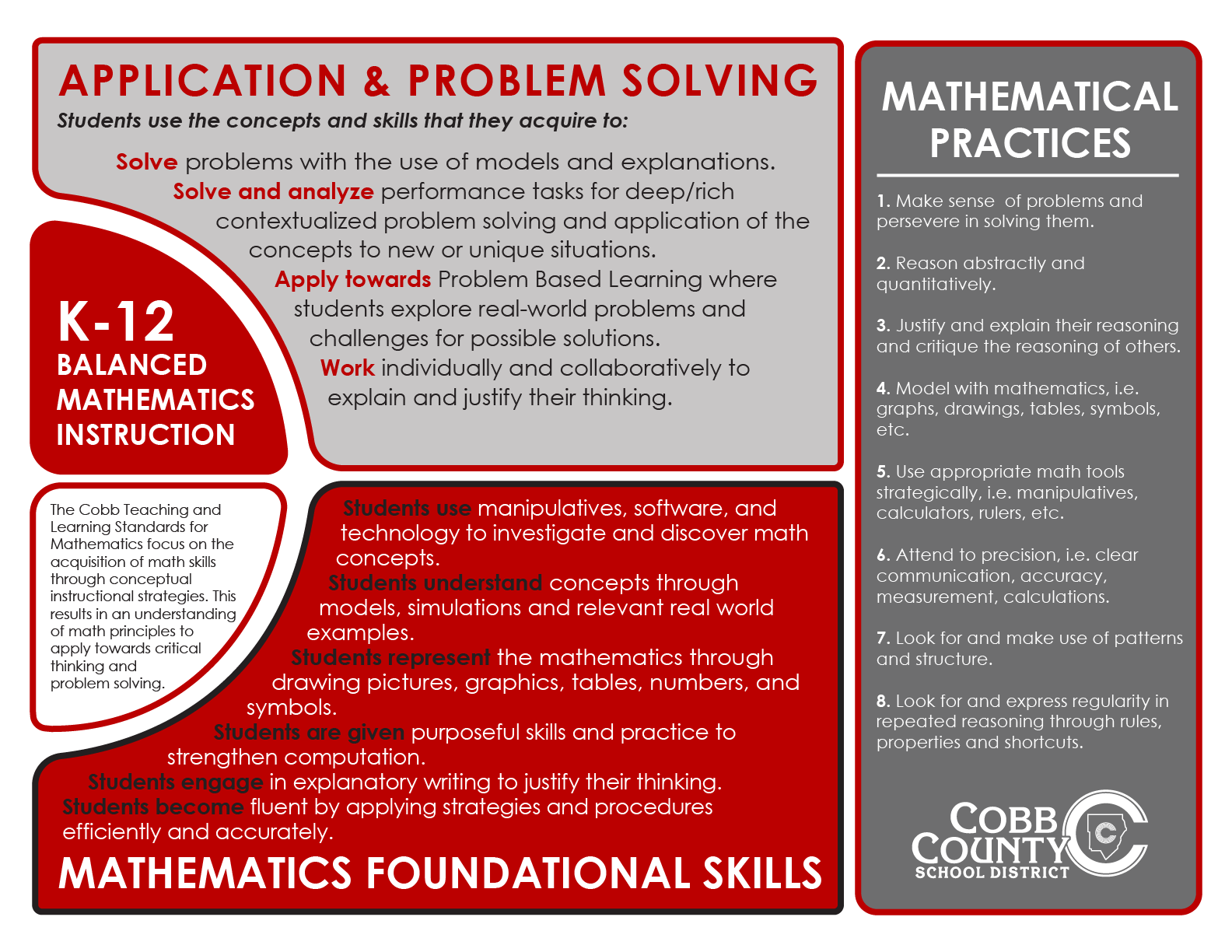 Click here to access the CCSD Balanced Math Instruction Document
Mission
The mission of the Cobb County Mathematics Program is to provide a meaningful experience-based curriculum, which is engaging, challenging, developmentally appropriate and student centered. The K-12 program provides an emphasis on problem solving strategies, using manipulatives and technology as appropriate, and supported by a variety of resources and assessments.
Vision
Our students will become problem solvers who are mathematically literate and apply mathematical concepts and skills for relevant and real life experiences.
Cobb Teaching and Learning Frameworks & Standards
Below are the SY 2023-2024 Cobb Teaching and Learning frameworks that provide the units of instruction. Included are the aligned standards for student learning.
GaDOE Parent Information
K-12 Math Core Package
This year, Georgia's K-12 Mathematics Standards will be implemented in kindergarten through 12th grade classrooms. These standards focus on strategic mathematical thinking and reasoning and are aligned to industry and workforce needs of the twenty-first century. The goal of mathematics education is to develop students' math confidence to analyze and solve problems in real-life situations, develop abstract, logical, and critical thinking abilities to model mathematics.
Starting this fall and throughout the school year, you can visit Cobb Mathematics Department website to understand what your student is learning, how to support your student, and access to CTLS resources. This school year, your students will have access to custom digital courses grades K-12 in CTLS, textbooks for senior level math courses, and custom worktexts in grades K-8. Physical and digital manipulatives will be used to support hands-on learning and conceptual understanding in K-8 grade classrooms.
Check out the resources below to learn more:
- Georgia's K-12 Mathematics Standards
- Explanation of Changes and Improvement
- K-12 Math Course Descriptions
Math Course Sequences
Below is the sample math sequence course chart for Cobb County students for the 2023-2024 school year. Please contact your local school for more information.
Online Learning Modules
Online learning modules are available for students taking courses in 6th-12th grades. No sign-in required and the material is free! Great for students to preview or review the courses that they are taking.
College Credit Programs
Cobb County School District students from any high school may apply for admission to Linear Algebra and Calculus 3 for the school year through Georgia Tech, once they complete AP Calculus. Students would experience the Calculus courses through distance learning via online. Check with your local counselor for more information.
Other options are Dual-Enrollment and Move on When Ready.