CTAE - Work Based Learning

WORK BASED LEARNING
WORK-BASED LEARNING INFORMATION
---

Where will you be in five years? Ten years?
Working in an innovate field with lots of opportunities for advancement? Will you be developing both personally and professional in a dynamic career?
In today's global job market, gaining the competitive advantage is critical. The world is a big place with many opportunities. To take full advantage of those opportunities, YOU must not only have strong academic skills but a repertoire of experiences in the real world. There's no better way to do this than through a Work-Based Learning Program.
Work-based Learning (WBL) extends the traditional classroom and traditional styles of learning to the real world. It is the perfect pairing of academics and application. Enhance your academics, professional preparation, and personal development while you match your career interest, pathway, abilities, and talents with a position with a local business. Work in a career field of your choice and earn school credit. If you are a junior or senior and 16 years or older and want to work on your future now, WBL is the place for you.

Delta Community Credit Union Student Intern
Campbell High Senior
In WBL you will:
Test-drive a career

Employ your creativity and ingenuity on the job

Apply academic knowledge

Network with business and industry

Develop business and industry mentors

Develop and refine skills

Learn the culture and etiquette of a business

Gain a "real world" perspective

Enhance soft skill and work ethic development
Be one giant step ahead, gain the competitive advantage
with the Work-Based Learning Program!
WBL STUDENTS AND PARENTS
---
Work-Based Learning (WBL) is a planned program of structured work experiences coordinated through your high school's Work-Based Learning Coordinator. All applications must be completed in its entirety before consideration/approval.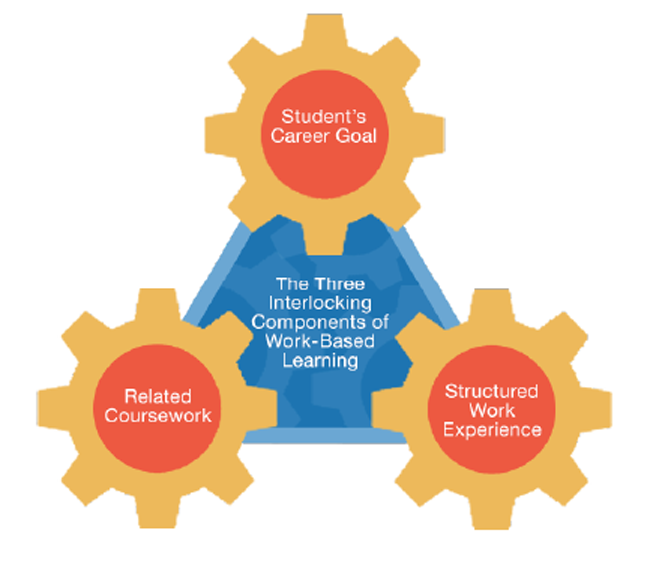 WBL job placements should meet the three interlocking components of Work-Based Learning. The WBL job placement, or internship, should be related to the student's future career goals and CTAE coursework. WBL experiences may be paid or non-paid. Students in the WBL program must work a minimum number of hours to equate the seat time for which they are released from class. For example, students who are enrolled in WBL on a 90-minute block schedule, should work a minimum of 7.5 hours each week to meet the required number of hours. Your school-based WBL will be able to provide you with specific information for your school's program.
If accepted into the WBL program, you will be dismissed from school for one, or more, class period(s) to work in a career related job while earning school credit for your work. As part of your WBL course, you will be required to complete a career portfolio that includes journal entries, submit work/wage information, and regularly submit evaluation from the employer on agreed upon competencies in the Training Agreement. You may be in WBL for both your Junior and Senior year.
WBL EMPLOYERS AND ADVISORY GROUPS
---
By working together we can develop a pool of skilled and motivated future employees. We encourage all local businesses to create a partnership with your local school and reap the benefits for years to come.
The mission of the Work-Based Learning Program is to assist in providing highly trained, technologically sophisticated and career oriented work force. This is accomplished by developing partnerships between business, industry, students, parents, school systems, coordinators, and post-secondary institutions which lead the participating student into a meaningful career.
Goals
To assist in the creation of strong support structure and partnerships between local employers, secondary schools, post-secondary schools, and certified training programs.

To provide assistance in the articulation of programs of study between high schools and post-secondary institutions.

To create a system that is industry driven where employers and their representatives help set occupational skills standards, collaborate on curriculum, provide work experiences, and work place mentors for students and certify mastery skills leading to the award of a skill certificate.

To focus on student's learning about "many aspects" of a broad industry cluster rather than mastering a narrow set of occupation skills.
Our programs allows for WBL Students to internship in both paid and non-paid positions. We look forward to working with you. For information, please contact:

Sapph Espinoza
sapph.espinoza@cobbk12.org
CTAE/WBL Coordinator
JOB MARKET
---
Short Term Employment Projections – Click Here
Georgia's Hot Careers – Click Here
Click HERE If you are a Job Seeker?
SCHOOL WORK-BASED COORDINATORS
---
| | | |
| --- | --- | --- |
| School | WBL Coordinator | Email |
| Allatoona High | Emily Varner | |
| Campbell High | Michael Chasteen | |
| Cobb Horizon | Robert White | |
| CITA | Kaisha Johnson | |
| Harrison High | Sherri Johnson | |
| Hillgrove High | Katherine Brink | |
| Kell High | Susana Lopez | |
| Kennesaw Mtn | Angela Fiechtl | |
| McEachern High | Tremayne Anchrum | |
| North Cobb High | Sheryl Cox | |
| Pebblebrook High | Janice Cooper-King | |
| Pope High | Patrick Abney | |
| South Cobb High | Lisa Gipson | |
| Sprayberry High | Shannon Shaw | |
| Walton High | Dan Campagna | |
| Corporate Classroom | Katherine Stewart / Michelle Wilson | |
---
---