New Principal Profile Q&A: Dr. Whitney Spooner, Eastvalley Elementary School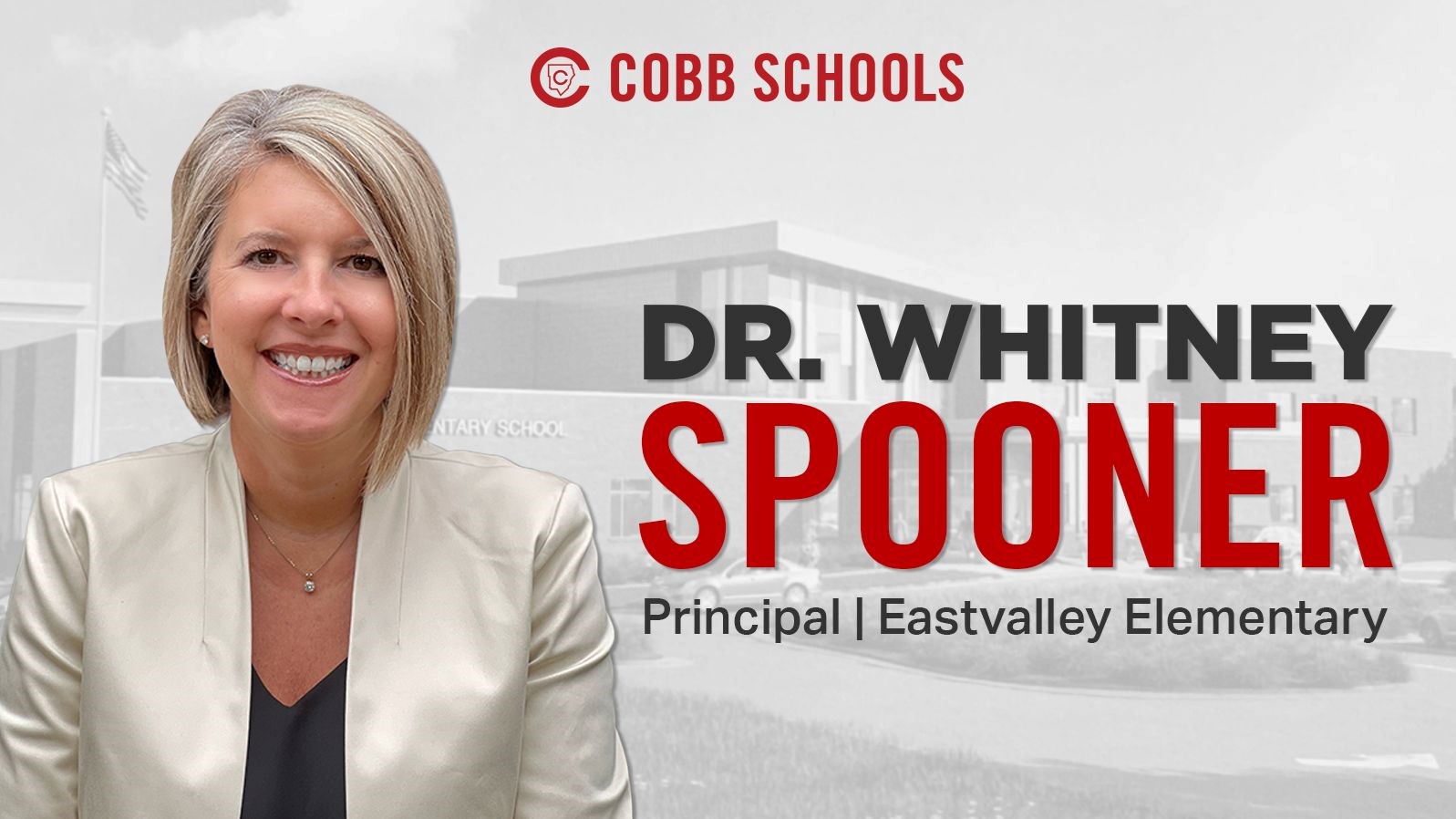 With Ed-SPLOST construction set to begin on the new home of Eastvalley Elementary School, the community will soon meet the new principal who will lead the school during the buildup. Dr. Whitney Spooner just wrapped up her 20th year in education, 18 years of which she has spent serving students in the Cobb County School District.
"I am extremely excited to get to know the students, staff, and families of Eastvalley. I look forward to building new relationships with all stakeholders. This will be an exciting year with the building of Eastvalley's replacement school," said Dr. Spooner, who starts at Eastvalley on July 1.
Prior to her most recent role as assistant principal at Sope Creek Elementary School, Dr. Spooner supported students at Riverside Elementary School and Mountain View Elementary School.
In the Question & Answer piece below, please get to know more about the veteran teacher and school leader, including why she is honored to serve at Eastvalley and what she enjoys beyond helping students succeed.
Question: Why are you excited to serve the Eastvalley Elementary School community as principal?
Answer: "Eastvalley has a reputation for great teachers, a supportive community, and remarkable students. Eastvalley is a school community with a passion for learning for a lifetime, excelling in our talents, achieving goals together, and doing what is right! I am excited about the opportunity to support such an incredible school!"
Question: What most impresses you about the students and school community at Eastvalley Elementary School?
Answer: "Eastvalley is committed to building leadership and life skills in students, creating a high-trust school culture, and laying the foundation for sustained academic achievement. I was quite impressed to learn that Eastvalley has earned its STEM certification. Earning this certification is no easy feat!
Eastvalley's partnerships with the community and the high schools in the area are also impressive. I am eager to continue collaborating with Wheeler High School's AVID Program and Walton High School's Robotics Program."
Question: What can the school community expect to see under your leadership?
Answer: "I believe that building supportive, positive relationships is the foundation of success. These relationships foster a kind, caring community of learners. I am dedicated to continuing our students' successes and will strive to strengthen the positive relationships, rigorous learning, and the outstanding Eastvalley environment that encourages our students to celebrate their unique strengths.
Eastvalley has wonderful support from the community, and I am elated to continue to grow these partnerships."
Question: What does student success look like to you?
Answer: "Success looks different for each student. Every student deserves the opportunity to learn and grow to his or her maximum potential. It is our job to create a culture where students are comfortable and confident. Student success also includes supporting students to become leaders who are dependable, trustworthy, and kind to others.
Students who are prepared for the world ahead of them and can help the community we live in is another indicator of student success."
Question: What do you like most about being an educator?
Answer: "I love having the opportunity to inspire, encourage, and empower others. Daily, I can make a positive difference in the lives of students and staff members.
One of my favorite parts of being an educator is watching children develop a love for learning. Witnessing students who are excited about learning and love coming to school is one of the best parts of being an educator.
I truly believe that one of the most important responsibilities we have as educators is to foster this love for learning and develop students into life-long learners."
Question: Where might students, parents, or staff members run into you outside of school?
Answer: "I love to read, so outside of school, you might find me in a bookstore shopping for new books or in a cozy corner somewhere reading a book! My absolute favorite place to read is sitting on the beach listening to the waves.
My husband and I like to try new restaurants around Atlanta, so you may run into us having dinner at a restaurant. We also like to travel and explore new places."