New Principal Profile Q&A: Tracy Guillory, Lindley Middle School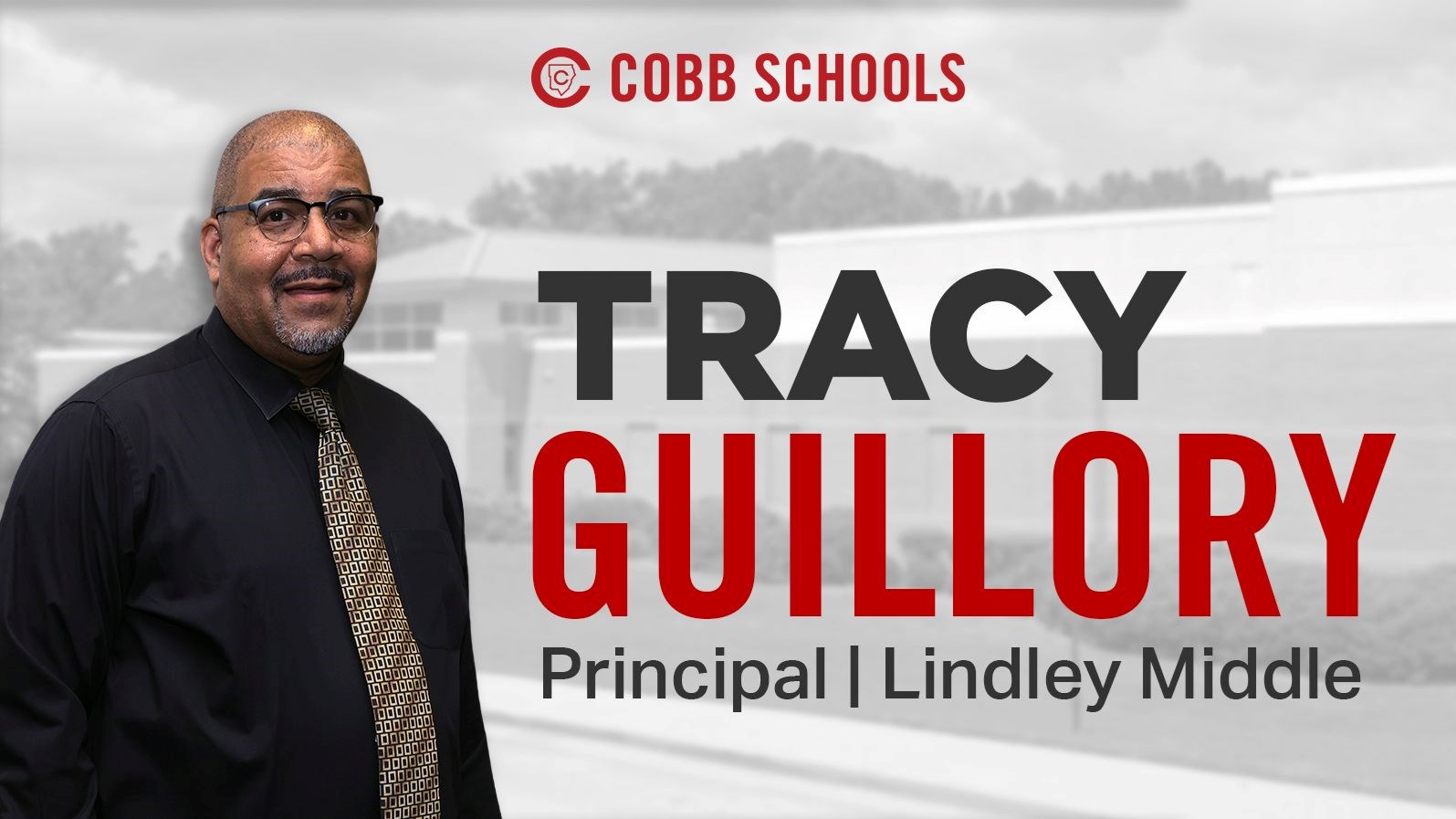 When Tracy Guillory steps into Lindley Middle School as the new principal on July 1, he brings almost three decades of experience as an educator. He has served Cobb students for nine of those 27 years.
Principal Guillory can talk to the students about individual paths for success in school and after graduation, thanks to his previous work with the Cobb Innovation and Technology Academy (CITA). In fact, watching his students graduate from high school and go on to be productive citizens has created some of his fondest memories.
"What I like most about being an educator is being able to touch the lives of students," Principal Guillory said. "Having students return after leaving your school and say simple things like, "I remember when you told me…" or "Thank you," means everything to an educator. Having them march across the stage in high school, knowing you were part of their success is an incredible feeling."
In the Question-and-Answer section below, learn more about why Principal Guillory is excited to join the Lindley Middle School family, what the community can expect under his leadership, and how he defines student success.
Question: Why are you excited to serve the Lindley Middle School community as principal?
Answer: "I am extremely excited about serving as the principal of Lindley Middle School, which has been a pillar in the community for years. I am thrilled to have the opportunity to serve Lindley's students and families. Lindley Middle School has shown improvements over the past few years, and I want to ensure those improvements continue. I love working with middle school students, and Lindley Middle School is a great place to work."
Question: What most impresses you about the students and school community at Lindley Middle School?
Answer: "What most impresses me about the students and school community at Lindley Middle School is the dedication to teaching and learning. The faculty and staff are eager to embrace new and exciting teaching and learning strategies that will enhance student achievement. The faculty and staff work hard for the betterment of each student. They truly care about the students and the community."
Question: What can the school community expect to see under your leadership?
Answer: The school community can expect to see a devotion to teaching and learning. They can expect to see me readily available to meet the needs of each student, and they can expect me to be available to address any of their concerns. It is important for everyone involved in the success of Lindley Middle School to share in the vision and mission. It is equally important for everyone to understand the expectation of the school leaders."
Question: What does student success look like to you?
Answer: "It is important that we as educators educate the whole child. Students' individual needs must be met. That means we take a student from where they are (academically) and provide learning opportunities to meet those needs. Student success is not just measured by test scores, student success must be measured by student growth."
Question: Outside school, where might students, parents, or staff members run into you?
Answer: "Outside of school, students, parents, and staff members may find me at the movies. I love relaxing at a good movie. Also, they may find me sitting in my backyard with my family and Hakeem, my American Bulldog."
Question: Is there anything else you want the school community to know?
Answer: "I want the community to know that I will give 100% to the Lindley Middle School community. I am eager to get started, and I am looking forward to working with everyone to make Lindley Middle School the very best it can be."