New Principal Profile Q&A: Dr. Timeka Cline, Nickajack Elementary School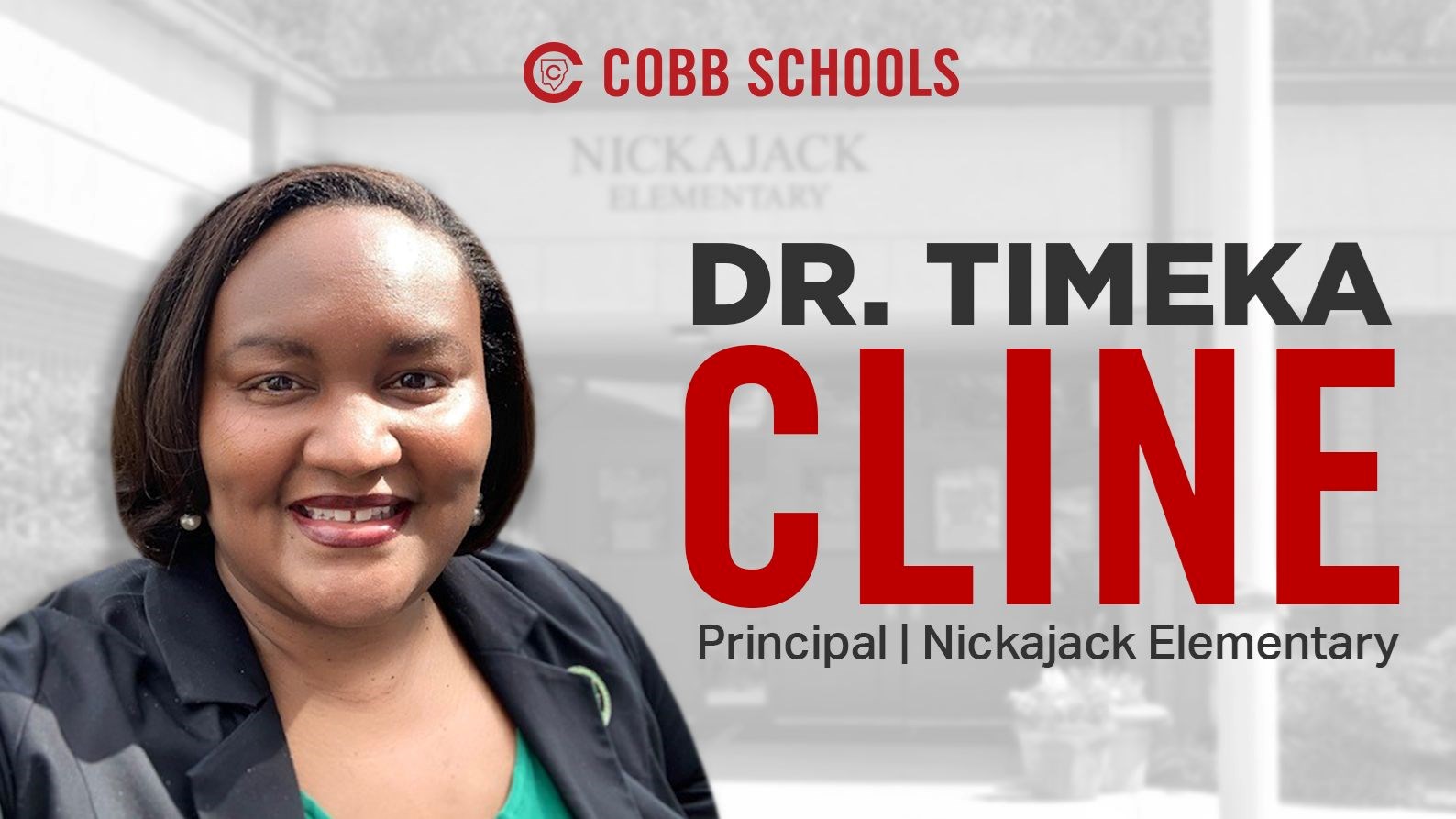 For Dr. Timeka Cline returning to Nickajack Elementary School as principal feels like she is coming home. She is already part of the school community, having served at Nickajack previously as assistant principal. Dr. Cline also understands what Nickajack's parents want and need because she has been a Nickajack parent herself. That is why she is so excited about her new role come July.
"I feel like I am coming home and able to give back to a school community that has helped my own children excel. The Nickajack community is beautifully diverse, and I believe my vast experiences in this District will contribute greatly to my leadership," Dr. Cline explained. "Nickajack is a great place for children to learn and is filled with staff who care and believe in the accomplishments of the students. The families are also very supportive. I am proud to lead and move forward with the great things happening in this school community."
In the Question-and-Answer section, Dr. Cline, who has served Cobb students for two decades, reveals how memories of first class of students still impact her today and the decisions she makes. Learn what specifically impresses her at Nickajack, how she plans to communicate with the community, and where parents and students may spot her outside of school.
Question: What most impresses you about the students and school community at Nickajack Elementary School?
Answer: "After having the opportunity to meet with a few of the students, I love their curious nature and kindness. I witnessed students modeling their B3 school-wide expectations of being Respectful, Responsible, Role models. Another endearing characteristic of this community is it feels like one big family. School events are always a huge success and are sponsored by an amazing PTA and Foundation who provide varied, engaging experiences for the students."
Question: What can the school community expect to see under your leadership?
Answer: "The school community will see a leader who puts children first and has a great deal of energy. I like to be involved and visible in my school community!
I also believe I am a great communicator. Families, staff, and students can expect weekly communication, engaging morning announcements, and a big social media presence because I believe in promoting all the great things happening in our school community and highlighting the great work from our students and staff."
Question: What does student success look like to you?
Answer: "Student success is identifiable when students are showing growth academically and emotionally. What the pandemic solidified is we must reach and teach the whole child. Happy and healthy students have a much better chance of growing academically. Social-emotional well-being and academic progress go hand in hand, and growth in both these areas equals student success."
Question: What do you like most about being an educator, or what is your favorite memory as an educator?
Answer: "What I like most about being an educator is the positive impact you can have on students. It is very hard to narrow down my favorite memory because I have so many! The memory that comes to mind is my very first year of teaching. I taught a group of students with emotional behavior disabilities. When I walked into the classroom, one student looked at me and said, 'You'll leave just like they all do.' The class then proceeded to discuss how long they thought I would last. I was shocked and saddened by this young man's statement. I knew then I would need to work at building positive relationships and took it as a challenge to never leave no matter how hard it would be.
Halfway through the school year, I got sick and had to go to the hospital by ambulance. When my students found out, they did not take it well. Several of the parents had to pick up their children from school, and they showed up at the hospital. I knew then that I had a positive impact on my students, and they cared. My first-year students are always on my mind as I lead and make decisions. I want all students to feel like they have someone who cares about them. When I got married, my initials became "TLC," so I like to think it was destined to be that way."
Question: Outside school, where might students, parents, or staff members run into you?
Answer: "Outside school, I'll either be on a soccer field for my son's practice, at his games, or with my daughter supporting one of her many activities for cheer, swimming, Science Olympiad, or Girl Scouts. You may also find me at any Atlanta United home game. If I'm at the game, and they are showing pictures, I can be seen on the halo board. I also love Marvel movies, so I'll always be in attendance opening night."
Question: Is there anything else you want the school community to know?
Answer: "I am humbled by this opportunity to serve the Nickajack community, and I don't take it lightly that I have been entrusted with this great responsibility. My interactions always come from a place of respect, and I make decisions based on how I would want my own children to be treated and experience education."