New Principal Profile Q&A: Dr. Cheri Vaniman, Rocky Mount Elementary School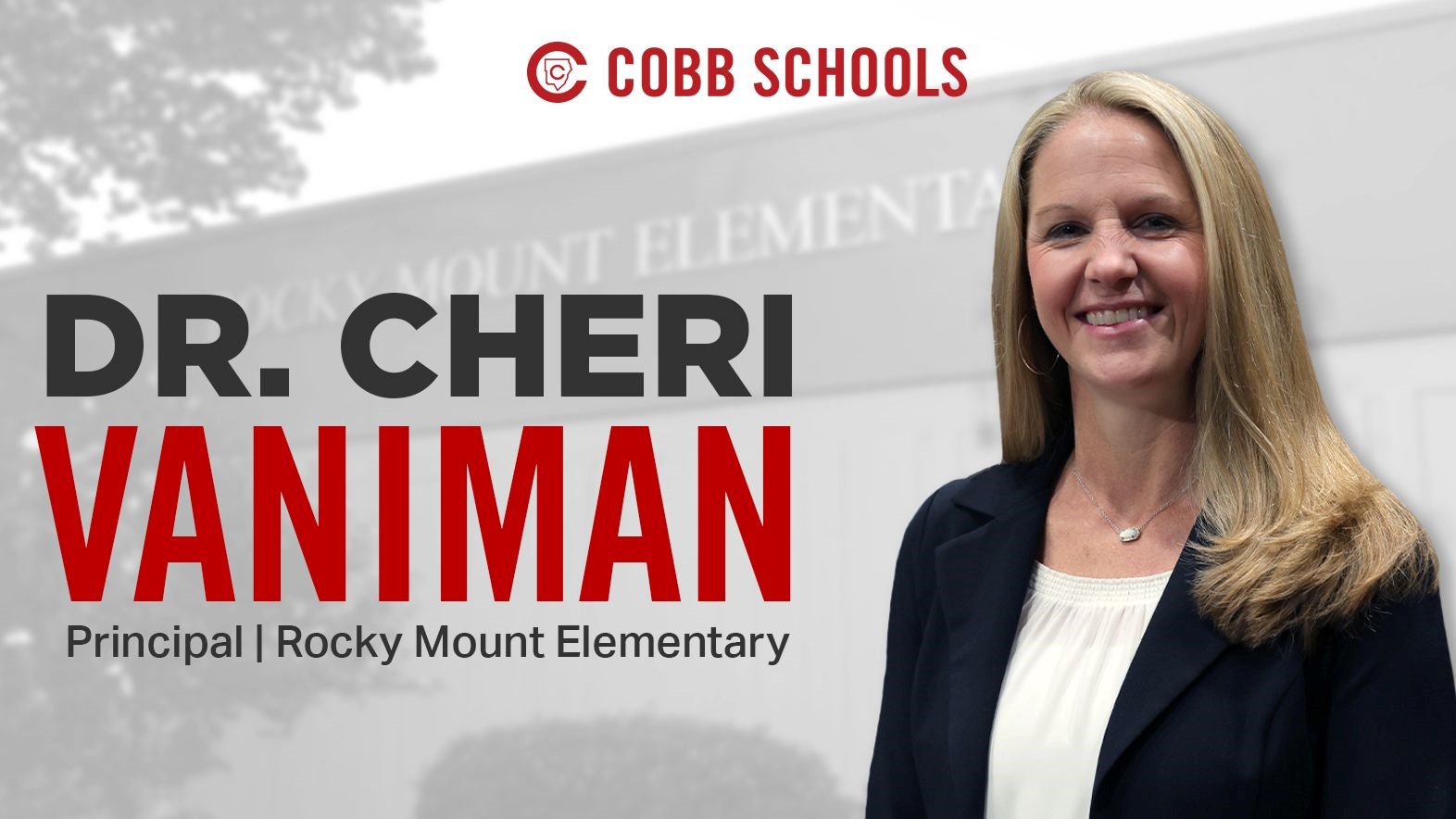 Dr. Cheri Vaniman is passionate about giving students the same love of learning someone gave her. Starting in July, Dr. Vaniman is bringing her love of learning to students at Rocky Mount Elementary School where she will serve as principal.
Rocky Mount's new principal knows Cobb County and what Cobb students need to succeed. She knows Cobb really is the best place to teach, lead, and learn because Cobb is where she has spent her entire 18 years as an educator. Cobb is also where she raised her sons. Cobb is home.
Dr. Vaniman's move to Rocky Mount is also practically around the corner from Nicholson Elementary School where she previously served as assistant principal.
"The Rocky Mount community has been so welcoming and kind. The students are happy and excited about learning. It is clear that the Rocky Mount community supports each other and wants students to be successful," Dr. Vaniman said. "The community looks for opportunities to enrich our students and provide them with the skills and resources they need to be successful. I have been impressed with the positive school culture at Rocky Mount and look forward to continuing a welcoming environment and being fully immersed in the community."
In the Question-and-Answer section, Dr. Vaniman explains what the Rocky Mount community can expect under her leadership, how she defines student success, and why she splits her free time between Athens and Knoxville.
Question: Why are you excited to serve the Rocky Mount Elementary School community as principal?
Answer: "I am beyond excited to serve the Rocky Mount community. Rocky Mount has an amazing reputation as a supportive community with a dedicated staff devoted to our students. The community and staff support are the foundation of Rocky Mount. The true consensus of the Rocky Mount community is to support the mission of One Team, One Goal, Student Success. I am thrilled to serve this exceptional community!"
Question: What can the school community expect to see under your leadership?
Answer: "My leadership style is relationship based. Developing a positive learning environment for our students includes a partnership with families and community. Schools are most successful when there is a connection between families and the school. The community can expect to see effective communication and collaboration with community and staff and a continued focus on student success. The community can also expect me to be present at Rocky Mount events and a supporter of our students."
Question: What does student success look like to you?
Answer: "Student success encompasses many aspects. Student success includes both academics as well as the emotional well-being of our students. Our goal is to prepare our students for the future. Student success looks like each individual student reaching goals and becoming respectful citizens of our community."
Question: What do you like most about being an educator?
Answer: "What I like most about being an educator goes back to my 'why'. Education has been my passion for as long as I can remember. I love problem-solving to figure out how to inspire a child and embrace the love to learn. I do this job so I can reach as many students as I can to show them how to love learning. Someone did that for me when I was younger, and it changed my life. Every student should be given the opportunity to find their passion."
Question: Outside school, where might students, parents, or staff members run into you?
Answer: "Outside of school, you will find me out in the community. While both of my boys are in college, my husband and I are still active in the community with friends and family. You may also find me at the University of Georgia cheering on the Dawgs visiting our youngest son Zach at the University of Tennessee or cheering on the Vols visiting our oldest son, Jake. We have become a house divided!"
Question: How many years have you served as an educator?
Answer: "I have been an educator for 18 years. I began my career at Baker Elementary as a special education teacher. I then stayed home for five years with my boys. I was then a special education teacher and a general education at Sope Creek Elementary for seven years. Then I began my administration path where I have been an assistant principal at Sope Creek Elementary as well as Nicholson Elementary."