New Principal Profile Q&A: Sandra Alford, Brumby Elementary School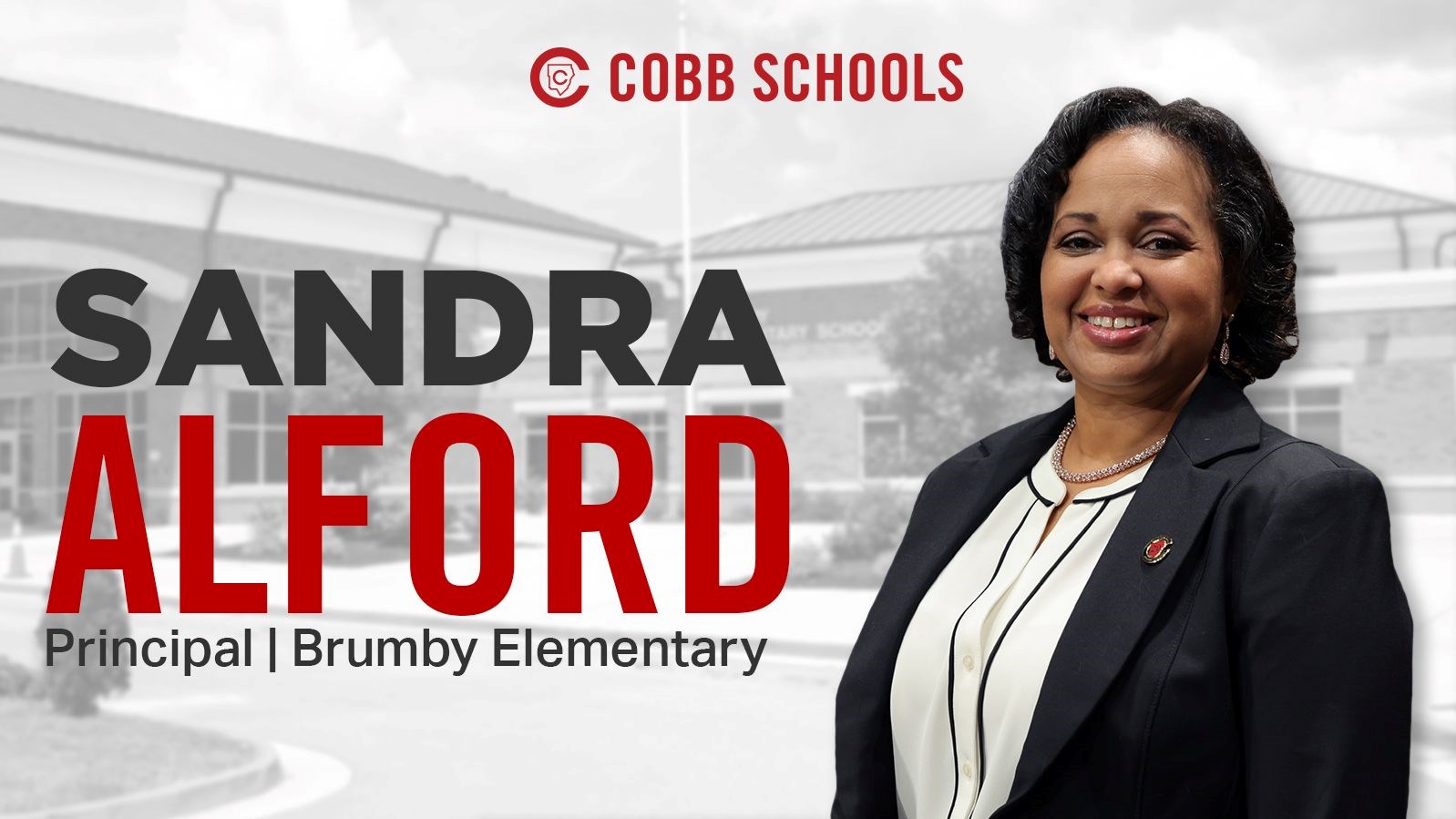 Sandra Alford comes from a family filled with educators and always knew she would one day join them. In less than a month, the 26-year veteran educator will use her love of teaching and learning to lead Brumby Elementary School as principal.
"Even though my journey to education began with a four-year detour in architecture and environmental design, I knew all along I was meant to be an educator. My experiences substituting, working in alternative settings, teaching, and then leading at the elementary and middle school level have prepared me to serve as a principal today. I look forward to getting to know and work with the students, staff, and community of Brumby and can't wait to see where this journey takes us," Principal Alford said.
Over the past 22 years, she has served students at multiple schools across Cobb. One of her favorite memories as an educator is from her time as a teacher at another Cobb elementary school.
Principal Alford recounts that memory that always makes her "beam with pride" in the Question-and-Answer section below. She also reveals how she defines student success, what the community can expect under her leadership and a little about her family and their love of sports.
Question: Why are you excited to serve the Brumby Elementary School community as principal?
Answer: "I am so excited to begin this new journey serving the Brumby community as the principal. During my years in education, I have had the opportunity to serve under many phenomenal leaders who have helped shape who I am as a leader today.
While I worked in a leadership role, I have never forgotten my love for teaching and the joy of helping students reach their personal best. I look forward to working with the Brumby staff, families, and community to make a difference in the lives of each of our students."
Question: What most impresses you about the students and school community at Brumby Elementary School?
Answer: "Even before my first visit to Brumby, I knew about the love and passion the staff has for working in the Brumby community. Some of the staff have been at Brumby throughout their career in education and even were Brumby students themselves. That truly shows the personal commitment the staff has to the school and its community.
I can't wait to be inspired by the work of the Brumby staff and students and hope to inspire them with my enthusiasm and love for teaching and learning."
Question: What can the school community expect to see under your leadership?
Answer: "The school community can expect to see from me a commitment to providing the best educational experience for the students and staff of Brumby. Student success requires hard work from all stakeholders on the team, and I am dedicated to working alongside the staff to help our students succeed.
I am a data-driven leader who believes that although students learn differently, all students can achieve when the school thoughtfully works together with the families and community. I truly believe and support our district's mission that we are One Team with One Goal of Student Success."
Question: What does student success look like to you?
Answer: "Student success requires the school and families to work cohesively to develop the whole child. Although academic achievement is critical for the overall success of students in our school, we must be intentional with how we support the social, emotional, mental, and physical health of our students.
This focus will require that all Brumby leaders, teachers, and support staff recognize how their skills and talents help shape and develop our students academically and beyond. With a commitment from our students, their families, our staff, and the community, ALL Brumby students will succeed."
Question: What do you like most about being an educator or what is your favorite memory as an educator?
Answer: "In my experience as an educator, I have so many wonderful memories from working with students and staff over the years. When I think of a favorite memory, I always beam with pride, remembering a time serving as a 5th-grade teacher leader at Sanders Elementary School.
One year we committed to strengthening our students' math proficiency and to close any learning gaps that had developed over the years. We collaborated as a team to create common lesson plans and assessments, and we worked as a professional learning community throughout the year. We developed a data team plan, stayed focused on the process, and at the end of the year, we experienced student success beyond our dreams.
To see the excitement on the students' faces and the tears from the staff, knowing their hard work paid off, is truly one of the most memorable times in my career."
Question: Outside school, where might students, parents, or staff members run into you?
Answer: "Since we are a lifelong sports family, when I'm not at school, you can always find me at a ballpark rooting on one of my children or students in a sporting event. The beauty of team sports is that children learn to work together with a group of friends to achieve a common goal and to just have fun. My husband, Travis, and I have three wonderful children. Our two sons are student-athletes in college playing football and baseball, while our daughter will be a sophomore at Walton High School playing softball. I miss seeing them walking the halls at my schools but am excited for all the new adventures to come."