Kell Inducts Third Class into Sports Hall of Fame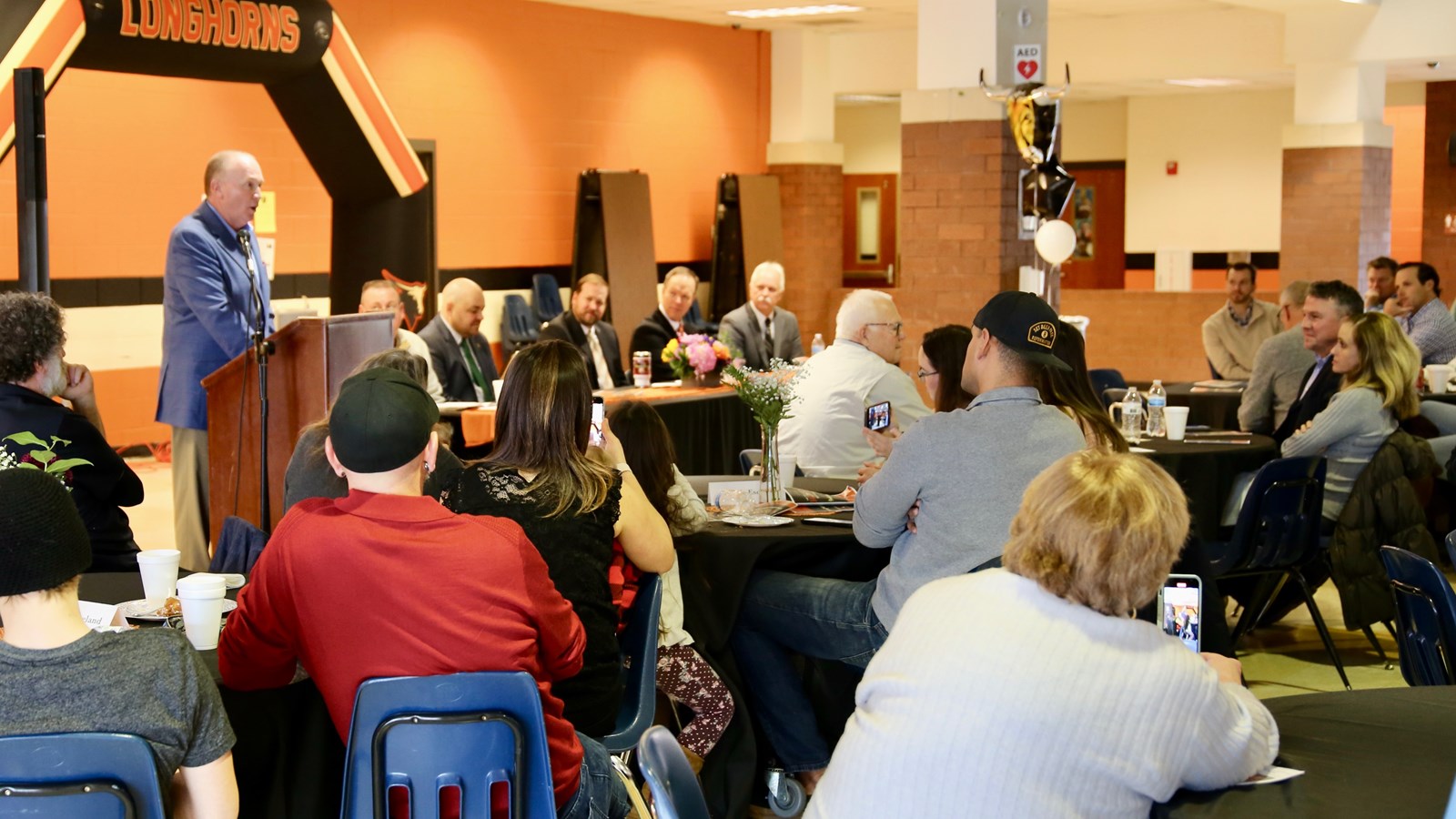 On Saturday, January 21, 2023, Kell High School made three new additions to its Sports Hall of Fame. Joining the existing eight members in the Hall were Ben Paulsen, Michael Hines, and the 2003/2004 Softball teams.
Kell opened its Hall of Fame in early 2020 with an inaugural class of five: Jonathan Dwyer, Adam Morgan, Brian Randolph, Kendell Williams, and Coach Steve Lattizori. In 2021, three more were added: Kelsey Mericka, Devon Williams, and Coach Donnie English. The 2022 class brings the total to eleven and marks history with the Hall's first team induction.
The induction ceremony began, as usual, with an extensive brunch prepared and served by Kell's chef Mark Maier and students in the culinary department. The sound of laughter and reminiscing filled the air as attendees and honored guests enjoyed themselves and the delicious food.
A few welcoming remarks from recently retired Athletic Director Richard Norman got the presentation ceremony underway, and the first inductee was Ben Paulsen. Ben was introduced by his coach and fellow Hall member, Donnie English.
"Ben is a man of few words. I don't know what he's going to say when he comes up here, but it will be much more than I heard from him on the team," Coach English said, smiling. "The real stories are being told over there by all of his teammates anyway. You can get a lot more out of what they are saying than what I can tell you."
Ben was the first baseman for the 2006 Longhorn state runner-up team. He played his college ball at Clemson and was drafted by the Colorado Rockies in the third round of the 2009 draft. After playing three seasons, Ben returned to Clemson as the team's Director of Player Development.
True to Coach English's words, Ben spoke briefly when given the mic. "Now that I'm in coaching, I want to thank all of the teachers and coaches here. I appreciate how much time you spend away from your own families and how much dedication you have. Now that I'm on the other side, I cherish it," he said emotionally.
Golfer Michael Hines was inducted next with an introduction by his father and coach, Craig. "We knew he was driven and unique as a child," Craig Hines said. He told how Michael exhibited single-mindedness in order to win tournaments, attain perfect attendance at school, and switch his focus from baseball to golf. "That determination, both athletically and academically, was evident early on in Michael's life."
Michael won the GHSA AAAA individual state championship his junior season (2011) at Kell by shooting a 67. He attended and played college golf for Georgia Tech (or, more appropriately, Georgia Institute of Technology, as Michael reminded his Dad) and joined the PGA Tour after college. He currently works as a caddie on the PGA Tour.
"It's an incredible honor to be here with Ben and the softball teams," Michael said. "Kell was like a second home to me. It set the standard for me. Coming back makes me appreciate my time at Kell and the friends and memories I made here. I'm really proud to be a Kell Longhorn."
Fast-pitch coach Todd Downes introduced his 2003-04 state championship teams for the final induction of the morning. He went through a hand-written list of memories and anecdotes from his time with the girls. "We had a whole lot of blending to do," said Coach Downes about the team that formed as the result of redistricting in 2002. "We had kids from Sprayberry, Lassiter, North Cobb Christian, Walton, Centennial, and Sequoyah. We had many challenges and may have even been described as 'dysfunctional' at times, but when it came time to play, we were all pulling in the same direction."
In the school's second year of existence, the Lady Longhorns dominated 2003 with a 39-3 record and a state tournament finals win over Starrs Mill to take their first AAAAA state title. They defended that title again in 2004 with another strong season. They kept fighting to the end, even after being sent to the consolation round of the state tournament. They made it to the finals, where they dismissed Brookwood in two games for a second state title. They were Kell's first-ever state championship teams and remain two of five for the school in its twenty-year history.
Current Athletic Director Jeff Burch closed the ceremony by congratulating all the inductees and their families and thanking all the supporters for their attendance. "This is my first year at Kell, and I have loved the community and the welcome I have received. My first introduction to Kell was in 2006 when I was a coach for another school, and we were up at halftime, and then Jon Dwyer ran for 190 yards against us in the second half," AD Burch said to knowing laughter.
"I've loved getting to know each of you, and these inductees coming back for this shows just how special this place really is. Everything we do as educators and coaches are for this very reason: to see the kids we taught and coached as successful adults. It's an absolute joy. Hook 'Em Horns!" AD Burch said to applause and cheers.
Congratulations to the 2023 Class of the Kell Sports Hall of Fame. Thank you for being leaders and pointing the way forward for all future student-athletes at Kell High School!