New Principal Profile: Maria Braswell, Green Acres ES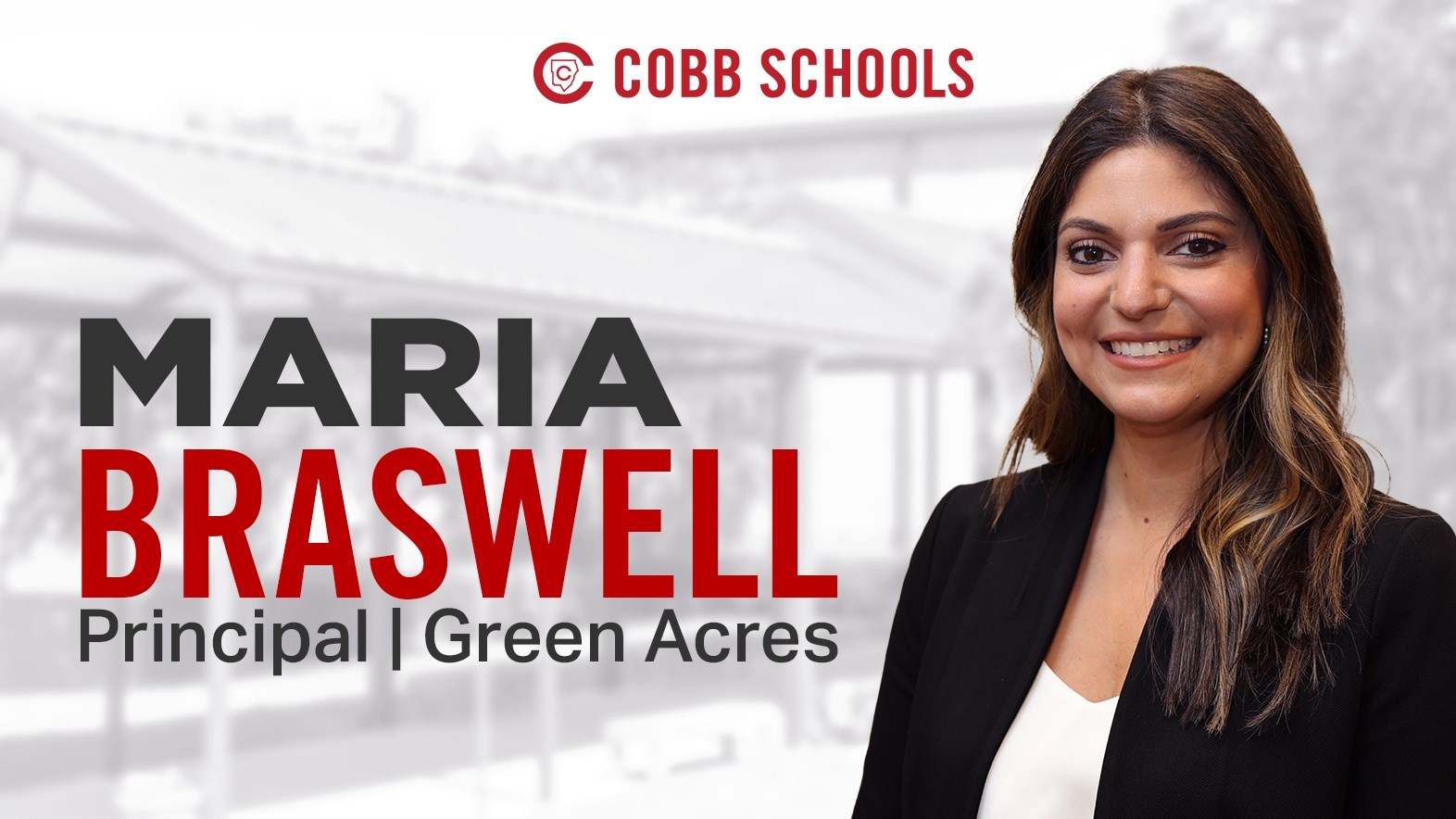 With Principal Ashley Mize's reassignment to King Springs Elementary, Green Acres Elementary needed a new principal. Maria Braswell, current Assistant Principal at Nickajack Elementary, was the District's choice and was approved by the Board at the May board meeting last week.
Principal Braswell has been with Cobb Schools for a decade and is looking forward to leading Green Acres. "I am excited to join a school community that is committed to meeting the needs of all students," Principal Braswell said. "The staff's dedication to the students was evident from the moment I walked into the building."
In the following Q&A, Principal Braswell explains her leadership philosophy and goals for Green Acres.
Question: Why are you excited about joining the Green Acres Elementary community?
Answer: It is truly an honor to have been selected to serve as principal of Green Acres Elementary. Green Acres has a great reputation within the Smyrna community. So many people have reached out to me and shared positive messages about the students and staff. I believe that together we can build upon the school's strengths and continue on the path to student success.
Q: What impresses you most about the Green Acres ES students, and what can the school community expect to see under your leadership?
A: I recently had the opportunity to spend the day at Green Acres. I was impressed by the students' positive attitude about school and eagerness to learn. I was equally impressed by the warm welcome I received from the staff. Under my leadership, the school community can expect to see a commitment to academic excellence, a positive school climate, and engagement with families and the community.
Q: What does student success look like to you?
A: In my experience, student success can take many different forms. For some, success might mean closing achievement gaps or making other academic gains. For others, success could include developing self-control or learning how to take turns. As a leader, I am committed to making decisions and supporting initiatives that improve the social, cognitive, and emotional well-being of all students. With high expectations and support that meets the needs of the individual, I believe that all students can be successful.
Q: What do you like most about being an educator/principal, and what is your favorite memory as an educator?
A: What I enjoy most about being an educator is the ability to make an impact on students and families that lasts a lifetime. We can all remember the influence of a great educator in our lives. My favorite memory is a great example of what I love most about being an educator. In my first year at Cobb, I taught 3rd grade at Sanders Elementary. Many of my students were reading far below grade level. I noticed right away that most of the students were reluctant readers. I knew that if I had any chance of helping them succeed in reading, I needed to develop a love of books in them. I thought back to my own experiences as a reader and selected several titles that had a profound impact on me as a young reader. One by one, I read these novels aloud to the students. As the year went on, I began to see a change. Before long, the students were begging to stay in during recess to read our book for just a little bit longer. I was fortunate enough to loop with this class, and by the end of 4th grade, the vast majority of them were reading on grade level. This year, those students are seniors. I received an email from one of them detailing how she recently re-read one of the novels we read together. She is now an avid reader, and that will serve her well as she heads to nursing school in the Fall. Several others have shared similar experiences with me. There is nothing more fulfilling than knowing that my influence made a difference in the life of another.
Q: Outside school, where might students, parents, or staff members run into you?
A: Outside of school, I enjoy spending time with my family, traveling, attending concerts, and cheering on the Alabama Crimson Tide and Atlanta United FC. I have two amazing children who keep me busy. Much of my free time is filled cheering them on at soccer, swimming, and flag football. I am also a board member for the Smyrna Sharks swim team.
Thanks for answering our questions, and congratulations on your new position, Principal Braswell! We look forward to what's in store for the school, the students, and the families at Green Acres...