Special Education – Transition Services

---
Sandra Murray
Supervisor
Email



---
Sandra Murray is a Special Education Program Supervisor that supports the Intellectual Disabilities, Autism, Emotional Behavioral Disorder, and Transition programs. Sandra has experience in supporting students with disabilities at the school and district level. She has served the Cobb County School District in the roles of Classroom Teacher, Intellectual Disabilities Trainer, Support Specialist and Supervisor of Special Education Compliance. Sandra is passionate about supporting teams to create positive learning environments that foster student engagement, utilizing effective instructional strategies, and supporting the social and emotional development of all students.
---
Holley Ashworth
Secretary
770-426-3328
Email





---
Kristin Pewitt
Coordinator
Email



---
Kristin Pewitt is the Transition Coordinator for the Cobb County School District. She coordinates the Transition Services Programs for students with disabilities who are 18-22 years old. Kristin also works with the Transition Services staff that support classroom teachers, students, and families. She has 10 years of classroom experience as a teacher for students with disabilities and an additional 10 years of experience working with students with disabilities who are transitioning from school to the post-secondary world. Ms. Pewitt is dedicated to helping individuals with disabilities achieve their post-secondary goals and become valued members of the community.
---
Holley Ashworth
Secretary
770-426-3328
Email





Staff
Kelly Buice
Transition Resource Specialist
Email



---
Teresa Clackum
Transition Resource Specialist
Email



---
Allison Burgamy
Transition Resource Specialist
Email



---
Diane Latessa
Transition Resource Specialist
Email



---
Lori Taylor
Community Based Skills Training Manager
Email



---
Terri Woodward
Transition Resource Specialist
Email



---
---
Transition Events
---
2022- 2023 Transition Talks


---
Virtual Transition Conference


---
Transition Information One-Pager


---
Transition Timeline


---
Community Resources Guide
What does CCSD's Transition Services Team Do?
The Transition Services Team for Cobb County School District works to make sure students with disabilities and their families are prepared to make the transition into post-high school life.
Each high school and middle school in the district has a Transition Resource Specialist (TRS) assigned to support the school.
Transition Resource Specialists
Meet with graduating seniors to help them connect with post-secondary agencies and advise them on next steps.
Advise students with disabilities and families about post-secondary options in the areas of employment, education/training, community access, and independent living.
Schedule and host a variety of events and speakers to help students with disabilities and their families learn more about post-secondary funding sources and post-secondary education, training, employment, and independent living opportunities.
Guide case managers, students with disabilities, and their families in the transition planning process.
Support Transition Services programs for students with disabilities who are 18-22 years old.
Transition Services Programs for Students with Disabilities 18-22 Years Old
Cobb County School District has several options for students with disabilities who are at least 18 years old, have completed academic and testing requirements for graduation*, but are still eligible for special education services. Decisions regarding participation in Transition Programs/Classes are made through the IEP process.
Transition Services Programs include: Transition Classes, Project Life, and Supported Work-Based Learning.
Transition Classes
Instruction in Transition classes focuses on independent living/daily living skills, community access skills, and employability or pre-employment skills.
There are several Transition classes designed to meet the various needs of students at a variety of independence levels. Determinations about which class may meet a student's needs are made through the IEP process.
Currently, Transition classes are located at Hillgrove High School, Kennesaw Mountain High School, Osborne High School, Pope High School, South Cobb High School, and Wheeler High School.
Project Life
Project Life consists of the Corporate Classroom Program and the SETS (Students Exploring Transition Services) Program.
Project Life classes are not located at CCSD high schools.

Currently the Corporate Classroom program is located at the Instructional Support Center for Cobb County School District.
The SETS Program classes are located on the Kennesaw and Marietta campuses of Kennesaw State University.

Students in Project Life programs participate in unpaid internships/volunteer opportunities in order to improve employability skills.
Students in Project Life programs are introduced to adult responsibilities through their internships/volunteer opportunities, classroom instruction, and community-based instruction.
Participation in Project Life programs requires a high level of independence.
Supported Work-Based Learning

Supported Work-Based Learning (SWBL) is an extension of Cobb County School District's Work-Based Learning Program. Students must meet similar requirements in order to participate in SWBL. *Students may participate in SWBL while completing other credit and testing requirements for graduation.
SWBL is located at CCSD's Kennesaw Warehouse.
Students in SWBL must provide their own transportation.
SWBL is a ½ day program (either morning or afternoon).
Post-Secondary Education/Training for Students with Disabilities
Please use the links below to explore post-secondary education and training options.
The first type of post-secondary education/training that many people think of is college. There are several college education/experience options for students with disabilities.
There are many factors to consider when looking at college as a post-secondary education/training option, including high school grades, test scores, activities, and slots available for incoming freshman, just to name a few.
Agencies such as Georgia Vocational Rehabilitation (VR) and the Department of Behavioral Health and Developmental Disabilities (DBHDD) can provide training programs and other services for students who do not want to attend college and those who are not able to attend college.

More information about training programs provided by VR can be found under Post-Secondary Employment for Students with Disabilities
More information about DBHDD support can be found under Waiver Services and Supports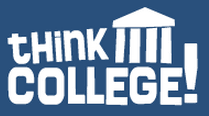 Post-Secondary Employment for Students with Disabilities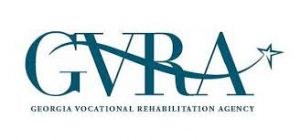 The goal of the Georgia Vocational Rehabilitation Agency (VR) is to help people with disabilities become fully productive members of society by achieving independence and meaningful employment.
VR does this by providing assessment, employment counseling, job training, and job support. Most services provided by VR are free of charge.
Students are, generally, referred to VR during their senior year of high school. The VR Transitional Counselor will work with the TRS at each school to schedule any needed evaluations and to complete a work plan for students.
Students in Cobb County School District high schools are served by the VR office located in Marietta.
VR uses a variety of service providers to help individuals with disabilities achieve their employment goals.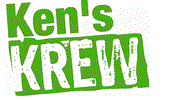 Ken's Krew
Ken's Krew enables individuals with intellectual and developmental disabilities to successfully enter the workforce by providing access to good jobs and to professional training and support to prepare for and sustain employment.
Ken's Krew's model includes one-on-one skills assessment, vocational training, job access and continuous support.
Ken's Krew in our area partners with The Home Depot.
Applications can be found on the Ken's Krew website.

From the Goodwill website:
Goodwill® is a 501(c)3) nonprofit that strives to enhance the dignity and quality of life of individuals and families by helping people reach their full potential through education, skills training and the power of work. Goodwill meet the needs of all job seekers, including programs for youth, seniors, veterans, and people with disabilities, criminal backgrounds and other specialized needs.
From the BDI website:
Bobby Dodd Institute (BDI) helps people of differing abilities maximize their potential through supportive services. BDI offers a continuum of support for all ages, stages and levels of need for people with disabilities and their families. BDI also operates several social enterprises in order to fund its programs and to place people with differing abilities in inclusive-minded work spaces. These business services include: Call Centers & Switchboard Operations, Mailroom Management, Warehouse Services and Hospitality & Food Service. BDI began as a program at All About Developmental Disabilities (AADD) in 1960. After decades apart, the two organizations merged in 2018 to reconnect their shared mission and better serve those with disabilities.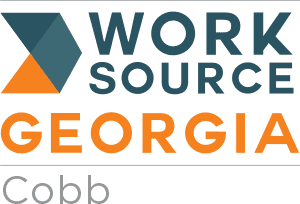 From the Work Source Cobb website:
As Cobb County's American Job Center, WorkSource Cobb provides access to a system of employment and education services for our community. In an increasingly complex workforce and economy, people sometimes need guidance and assistance in managing their career development, particularly when challenged with unexpected events. WorkSource Cobb provides workforce services that assist people in helping themselves and their families.

From the Tommy Nobis Website:
Tommy Nobis Center, founded in 1977, began with three individuals dedicated to helping the community and has since grown into an organization that provides meaningful employment for people with disabilities. Based in Metro Atlanta, Tommy Nobis Center has worked for over 40 years and across 19 states to provide education, training and support to those with barriers to employment.
Transition Planning for Students with Intellectual/Developmental Disabilities
SSI
Individuals who receive SSI automatically qualify for Medicaid
Families need to be educated about SSI work incentives and income limits in order to help young adults work without losing benefits
Shepherd Center Benefits Navigator Program is a free service and can help guide Cobb families who already receive SSI benefits.
Vocational Rehabilitation also has benefits navigators.
Right in the Community and Parent to Parent of Georgia also have periodic trainings to help families understand SSI benefits.


Age of Majority
Part of a student's transition is taking on adult responsibilities once they reach the age of majority, which in Georgia is age 18.
At age 18, parents or guardians no longer make IEP decisions, unless they obtain guardianship or Power of Attorney.
Parents are still invited to IEP meetings.


Guardianship
Guardianship allows the parent or guardian to retain control over an adult child's health and wellbeing.
Can apply when your child is 17 ½
Examine the pros and cons
If you are planning to get guardianship, plan for the expense
Guardianship takes most of an individual's rights unless specified in court
There is a cost to file for guardianship ($700+)
*Piece of advice: If wanting to use an attorney to file for guardianship, choose one that charges a flat fee not hourly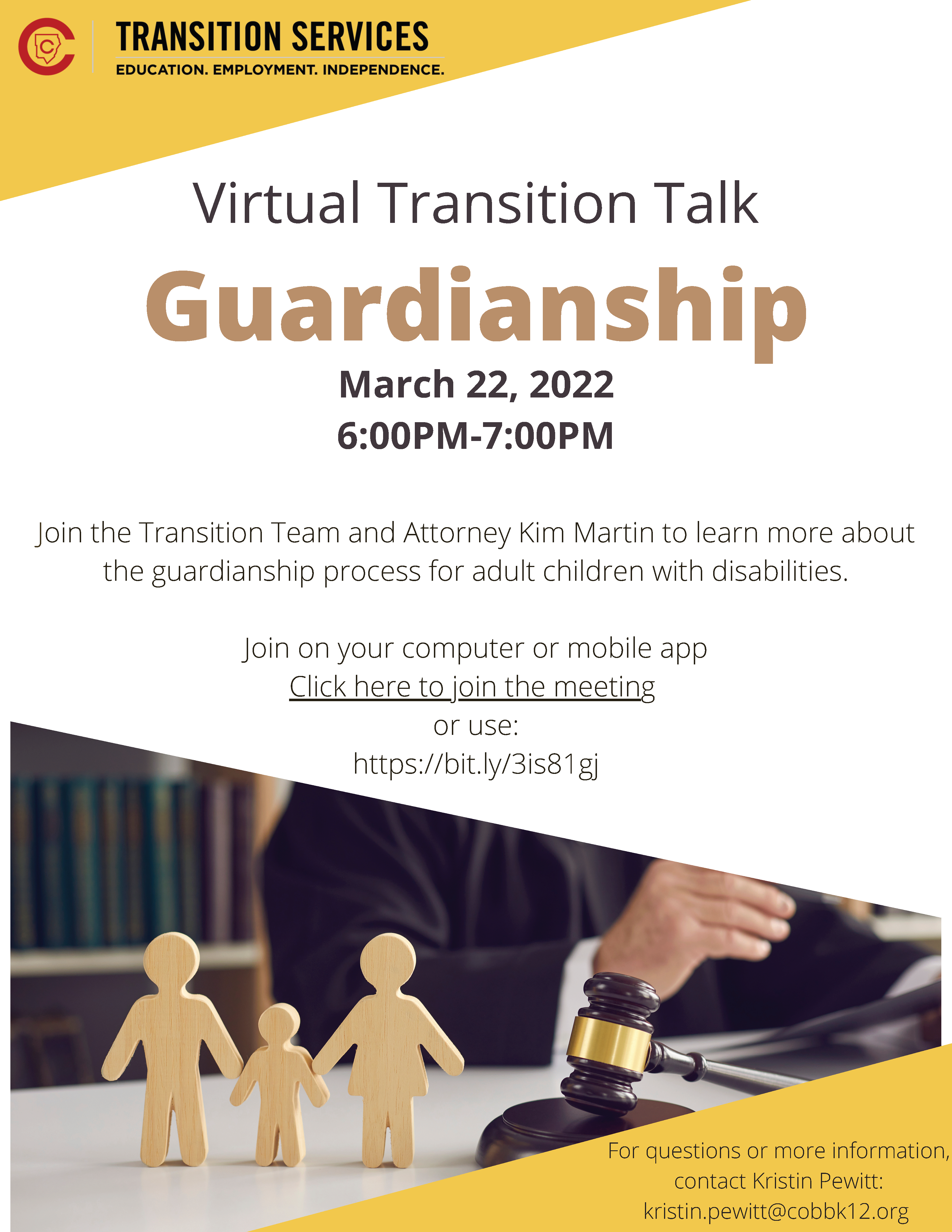 Conservatorship
Conservatorship allows the parent or guardian to retain control over an adult child's finances (money and property)
Conservators must report to the court once a year.
Conservatorship can be obtained at the same time as guardianship


Power of Attorney
An individual has to agree to Power of Attorney
Power of Attorney can be revoked by adult child
Power of Attorney gives parent or guardian broad legal authority over individual's affairs
Special Power of Attorney can be limited to certain things ex. Medical, Financial, Personal or Educational
Individuals can keep their rights (marry, sign contracts)
There is no fee unless you choose to use a service


Waiver Services and Supports
NOW/Comp Waivers
There are several types of Waiver programs in the state of Georgia. These Waiver programs help people who are elderly or have disabilities and need help to live in their home or community instead of an institutions.
The most common type of Waiver programs required to provide support for students with significant disabilities who are transitioning out of high school are the New Options Waiver (NOW) and the Comprehensive Supports Waiver (Comp).
Applications for NOW/Comp Waivers can be completed as early as three years old. Once individuals are approved for a waiver, they are usually put on a long-term waiting list. It is best to apply for NOW/Comp Waiver services as early as possible. Children who are receiving services through a Katie Beckett/Deeming Waiver are still eligible to apply for and be put on a waiting list for a NOW/Comp Waiver.
Post-secondary supports provided by NOW/Comp Waivers include, but are not limited to:
Group community access (Day progam)
Individual community access
Supported Employment
Community Residential Alternative (Group home)
Respite Services
Transportation Services
Support Coordination Services
Financial Support Services


The Deeming Waiver, also known as the Katie Beckett waiver, allows the state to waive Medicaid income restrictions for faimilies in order to provide services for children (18 or younger) with significant disabilities.


CCSP is a Medicaid waiver program that provides a range of community-based services to assist individuals who are physically disabled. Participants must meet the same medical, functional and financial eligibility criteria as for placement in a nursing facility under Medicaid and be approved by a physician.


---
---