'Thank You!' Rocky Mount Celebrates Dedicated Educator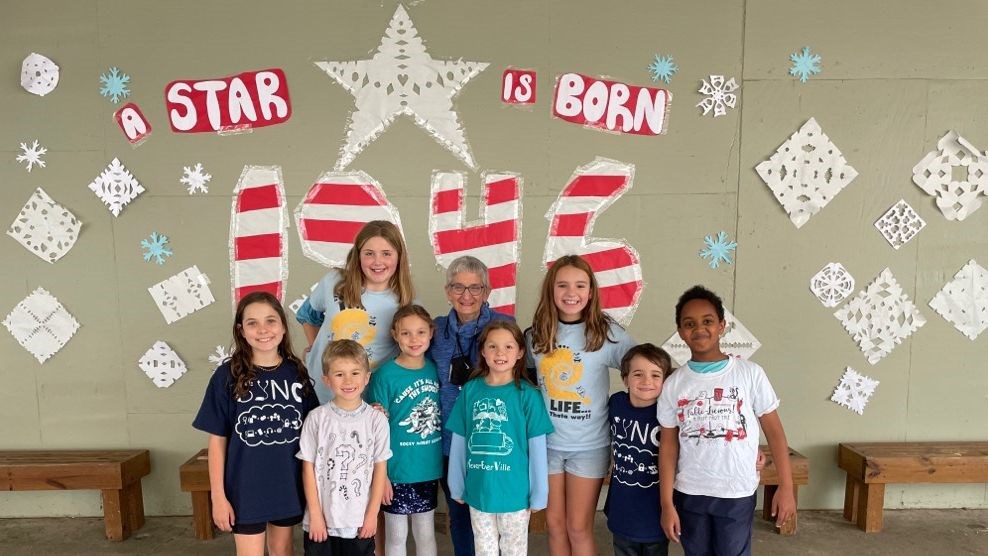 This is the season when many people focus on delivering holiday cheer. Barb Evangelista, however, serves up cheerfulness and merriment to students at Rocky Mount Elementary School ALL YEAR long. In fact, "Mrs. E.," as students and parents fondly refer to her, has brought smiles to the faces of students at Rocky Mount for more than three decades.
In tribute to the school's beloved drama coach and media center guru, Rocky Mount staff, parents, students—current and former—surprised Mrs. E. with a 75th birthday celebration.
"Mrs. E. is a ROCK Star! When her birthday happened to fall on a celebration day, we knew that we had to take the opportunity to let her know how much she is loved and appreciated by the staff and the whole Rocky Mount community," said Principal Peggy Fleming.
Mrs. E. is more than a rock star. She has been the heart of Rocky Mount since 1986.
"She has such a devotion to all the students and staff who have been part of the Rocky Mount family throughout the years! From decorating the halls to writing and directing plays, she has always given 110% of her time and talents," praised Principal Fleming.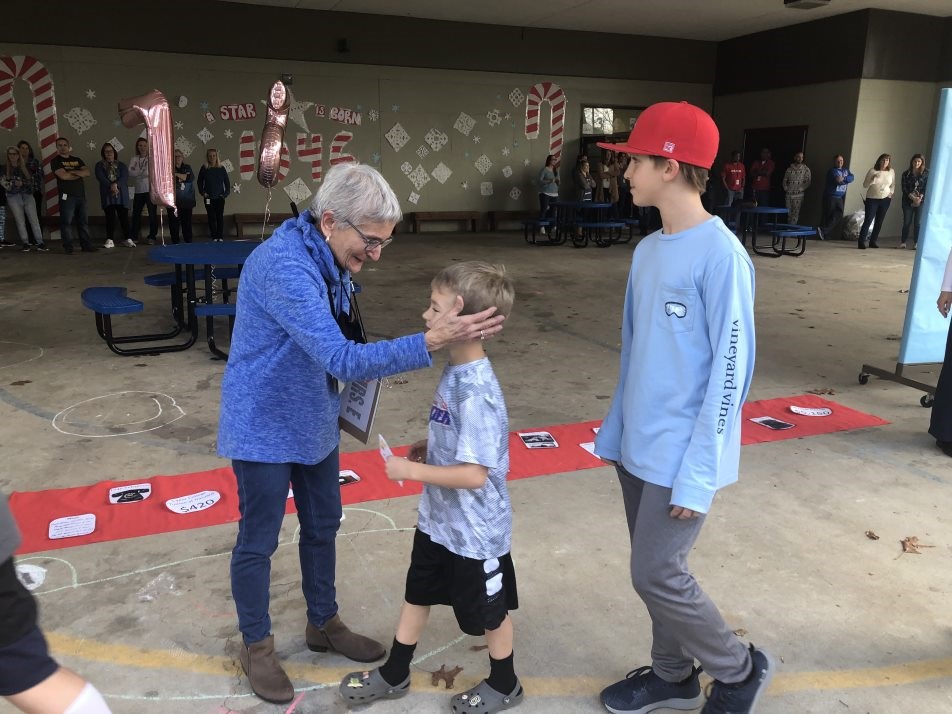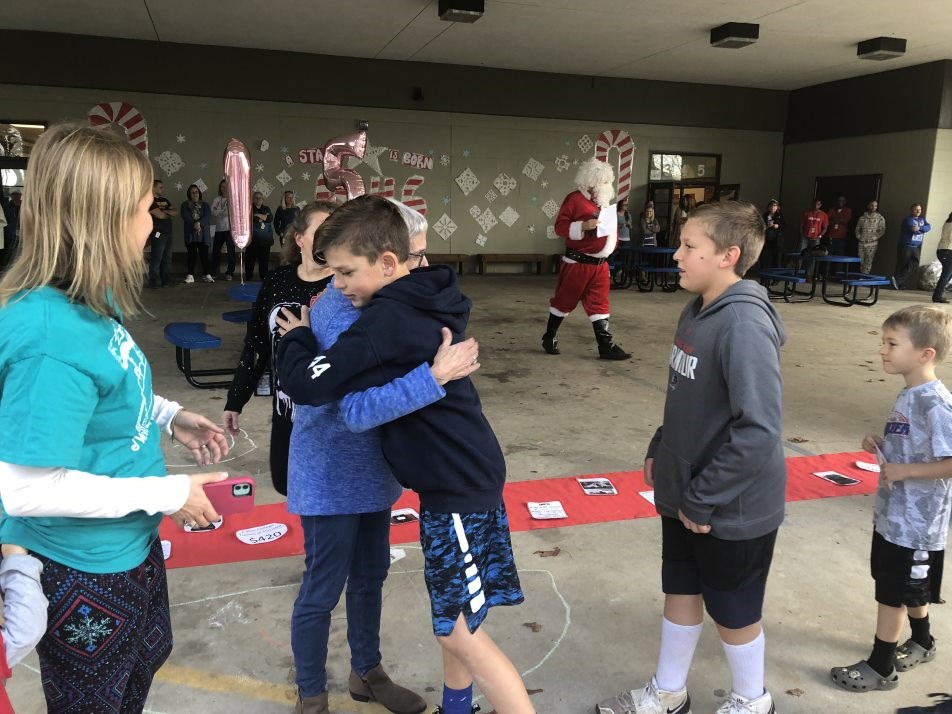 A foot parade of students and parents turned out to wish Mrs. E. a happy birthday. Some even came carrying homemade signs. Students chalked the sidewalk and gave her handcrafted birthday cards. In recognition for all she does to help students' love of reading grow, families donated more than 100 books for Mrs. E. to give to her favorite charity.
Across her decades in education, she has impacted more than just students. Kindergarten teacher Sandra August had tears in her eyes when she spoke about her work with Mrs. E.
"I have a master's degree in Literacy and Reading, but I have never learned as much from any course or any person about children or about how to teach as I have from Mrs. E. She is a marvel, an institution, and one of the most gifted and talented people I know. I feel so honored to be part of her life," the Rocky Mount teacher explained.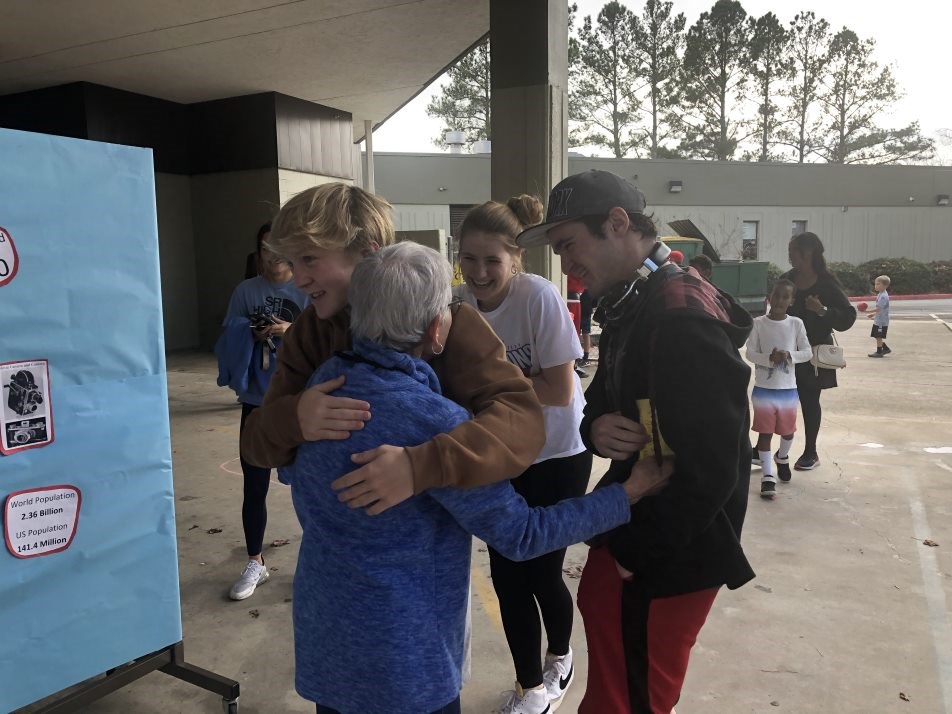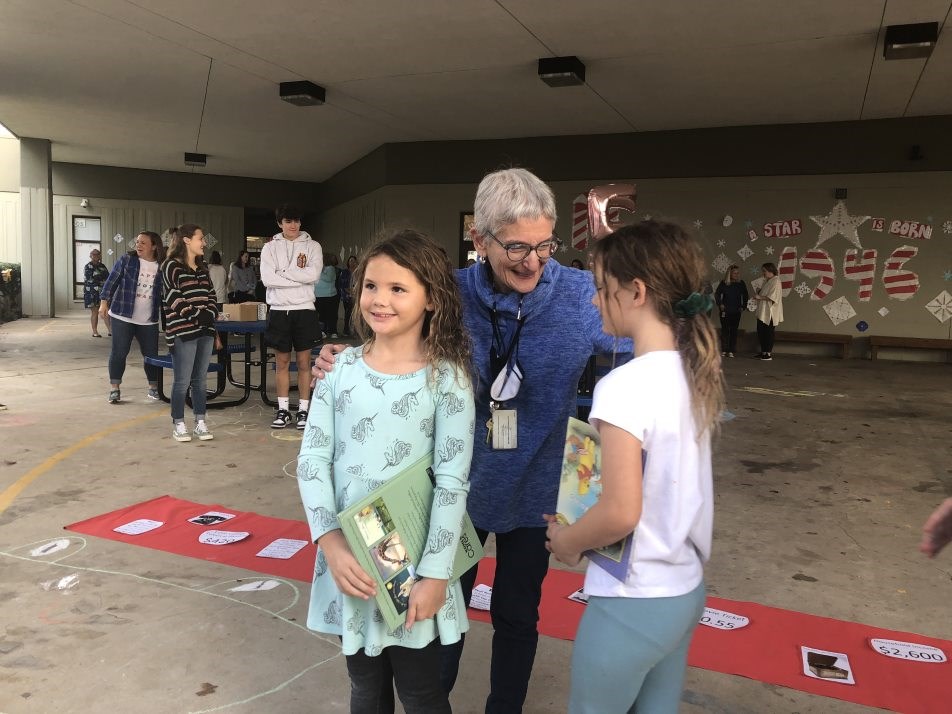 Mrs. E. wasn't expecting the community celebration in her honor, but she poured out the hugs and smiles. After all, the students are the reason she keeps returning to Rocky Mount year after year. The students are the reason she came out of retirement to help students choose their next literary adventure. They are reason she continues to write and direct creative drama productions.
Anyone who knows Mrs. E. would not be surprised by her advice to students.
"I would always tell them to always read because I am a big reader, but also to step out. Inside of you, you have so many things. If you don't try it, you won't know you have it. That is one of the gifts of drama club. They go out there, and they perform. I believe every child should have an opportunity," the beloved educator said.
One student at the celebration, who performed in Mrs. E's most recent famed drama production, praised Mrs. E. for helping her build confidence by casting her in a play several years ago.
Emily's simple message to Mrs. E echoed what all the students and families at the event wanted to say:
"Thank you."