Dickerson Earns National Recognition for Raising Student Achievement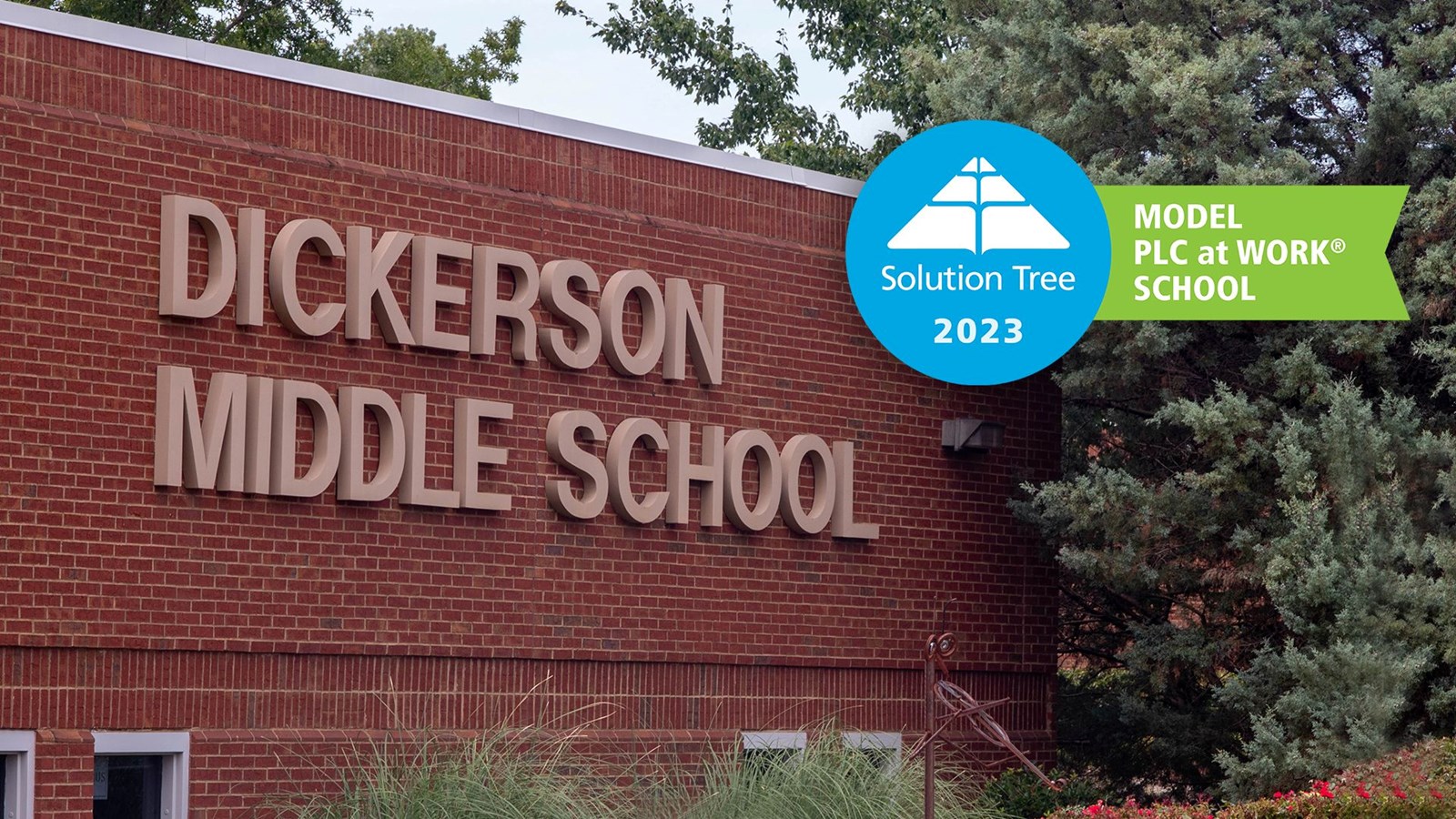 Dickerson Middle School was recently recognized by Solution Tree for its sustained success in raising student achievement. Only about 500 schools and districts in the United States and Canada earned the honor. Dickerson's successful implementation of the Professional Learning Communities (PLCs) at Work process was a major contributing factor in the improved achievement of its students.
PLCs are schools and districts in which educators recognize the key to improved learning for students is ongoing, job-embedded learning for the adults who serve those students. The three big ideas of a PLC call upon educators to:
Focus on learning.
Build a collaborative culture.
Create a results orientation.
"Being recognized as a Model PLC School truly honors and confirms the hard work and unyielding dedication of our teachers and their focus on student learning. The PLC model has provided the structure for teachers to serve on highly effective, collaborative teams to impact our students' education positively. Furthermore, the PLC framework directly aligns with our Superintendent's long-lasting priorities. We have clarity of purpose in our shared vision and mission, and we are continuously seeking improvement through collaborative efforts, common goals, and making data-driven decisions," Principal Adam Hill shared in response to Dickerson's recognition.
Schools are recognized based on strict criteria, including demonstrating a commitment to PLC concepts, implementation of these concepts for at least three years, and clear evidence of improved student learning. Once measurable results can be seen, the school must explain its practices, structures, and culture and submit its application for consideration by the PLC Review Committee.
According to the Champions of PLC at Work®, educators in the schools and districts selected for this recognition have shown "a sustained commitment to helping all of their students achieve at high levels. They have been willing to alter the structure and culture of the organization to reflect their commitment. We applaud and congratulate them for achieving this very significant milestone on the never-ending PLC journey."
Dickerson was praised for everything from identifying essential standards and writing common formative assessments to providing intervention support to struggling students.
By 8th grade, 96.8% of Dickerson students were reading at grade level, according to the 2022 release of the Georgia Milestones. The state assessment also scored 99.5% of Dickerson 8th graders as developing learners and above for math. In comparison, the Georgia average for 8th graders reading at grade level was 70.2%. Only 70% of Georgia 8th graders were classified as a developing learner or above in math.
For more than 20 years, Solution Tree resources have helped K–12 teachers and administrators, like those at Dickerson, create schools where all children succeed.