50 Years of Service and 13 Tips for Future Educators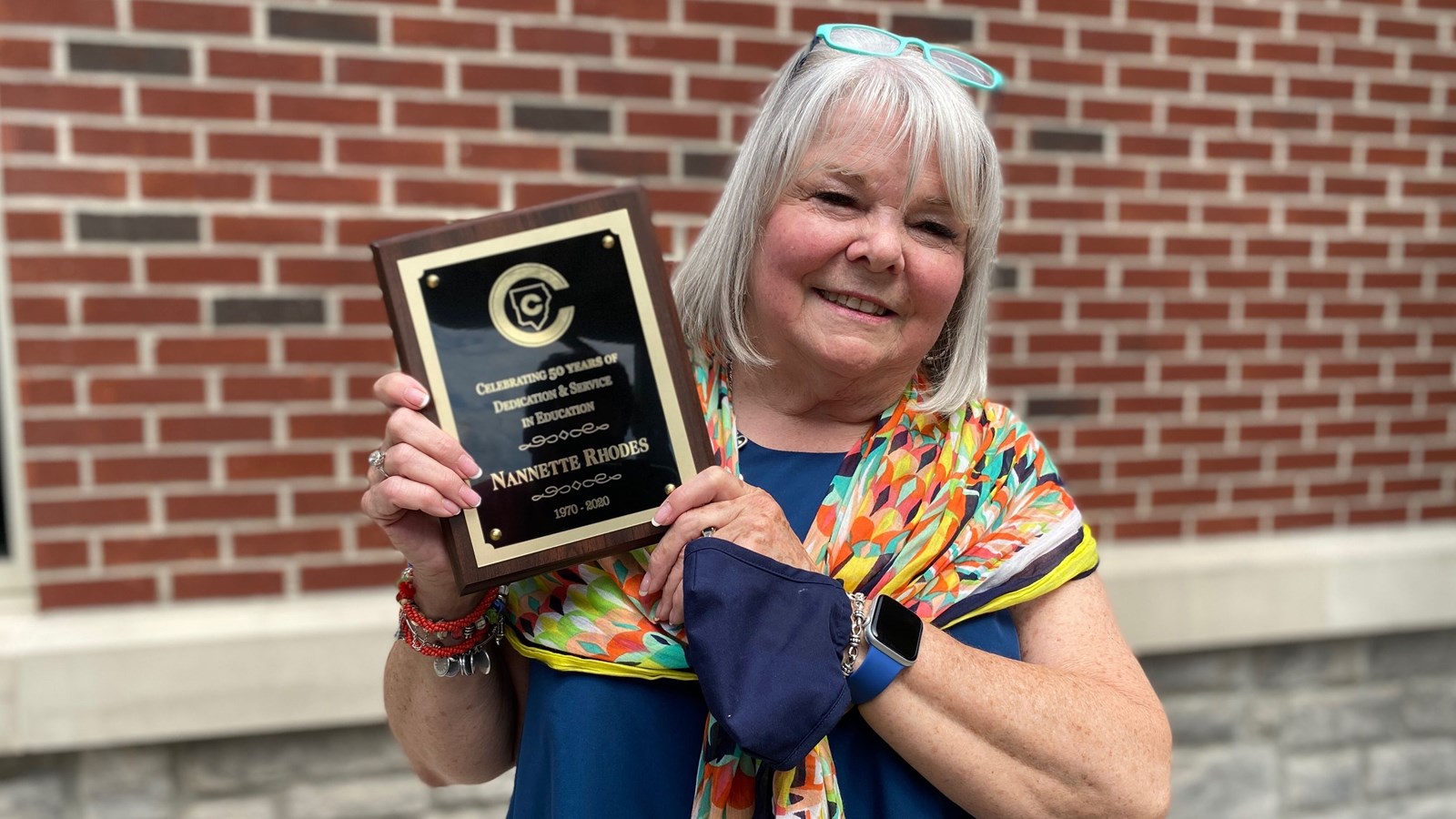 Fifty years of teaching students to read, 50 years of taking students on storytime adventures, 50 years of helping students grow and believe they could be anything they wanted, and 50 years of sparking the love of learning in the youngest learners…that is how Smyrna Elementary School teacher Nannette Rhodes has spent her last 50 years, and she does not plan to stop now.
Ms. Rhodes, who has spent most of her educational career as a kindergarten teacher, currently serves as one of Smyrna Elementary's ESOL teachers.
"Congratulations to Nannette Rhodes for her 50 years of dedication and service to the education profession. We are blessed to have her at Smyrna Elementary as she serves our ESL students in the younger grades. Nannette is a tenderhearted, caring professional who loves her work and does it with style," praised Smyrna Principal Sharon Arduino.
Before school let out for the summer, Smyrna Elementary celebrated their teacher's years of service along with other staff who were retiring or leaving for new adventures. Ms. Rhodes's two daughters, grandkids, and two sisters helped honor her accomplishment.
Following in the footsteps of her two older sisters, Ms. Rhodes first set her sights on education in 1966 when she started college. In her early teaching years, she served students from New Mexico to Coweta County before embarking on her education career in Cobb. She joined the Smyrna Elementary team the year the school opened.
There was no internet, and personal computers were far from widely used when Ms. Rhodes first started teaching. In her 50th year of teaching, Cobb students wrapped up a year that highlighted the expansion of digital learning where every student had access to a computer and was able to learn from anywhere using the revolutionary Cobb Teaching and Learning Platform.
It would be decades into Ms. Rhodes' teaching career before chalkboards came down and smartboards went up in Cobb Schools thanks in part to the community's support of Ed-SPLOST.
When Ms. Rhodes welcomed her first group of students, not all public schools had full-time kindergarten and pre-kindergarten classes. In fact, Ms. Rhodes' first year in Cobb County was the first year Cobb Schools started full-day kindergarten, which was more than three decades ago.
Forbes ranks Cobb Schools as "Best Place to Work" for Second Year in a Row!
Since joining the Cobb Schools team, she has taught students at Kincaid Elementary School, Davis Elementary School, Cheatham Hill Elementary School, Fair Oaks Elementary School, and Smyrna Elementary. She has spent almost four decades in Cobb building relationships with students and staff.
"We have a Davis book club that meets every month. I go on trips with my Davis kindergarten group. I love the friends I have made at Smyrna," Ms. Rhodes shared. "I love that I am in touch with many children and their parents that I taught over 40 years ago."
Award-winning Mountain View Teacher Says Goodbye After 39 Years
No matter how technology has changed over the years, what Ms. Rhodes loves about teaching has stayed the same.
"Literature, I love sharing books with children," the ESOL teacher said. "I also enjoy that every day is different. I love seeing a light bulb go off in a child's head when they understand. I love that every day is different. I enjoy that you are never bored."
After 50 years, it is impossible for her to pick one memory as her favorite. Her love of books and literature has continued her tradition of reading the book "Corduroy." She read it to her first kindergarten class and read it to her class this past school year too.
She could not pick a favorite memory, but she did have plenty of advice for future educators. Her advice is compiled into the 13 tips below.
13 Tips for Future Educators:
• College courses do not prepare you for the reality of teaching!
• Teaching will be the hardest job you will ever have and the most rewarding.
• Do not go into this field for the money!
• The most important thing to remember is to be flexible. Planning is important, but a teacher needs to be able to quickly modify plans when new situations arise.
• It's important to give all you can to your job, but you need to take care of yourself mentally and physically as well.
• Don't let work overshadow your personal life.
• Classroom management is crucial.
• Ask for help and learn from your mistakes.
• Find a mentor.
• Be prepared for anything!
• Build professional relationships within your school, including the secretary, custodians, and all other staff.
• Make a personal connection with your students.
• Never stop learning!