Hightower Trail, Wheeler Earn Spots at Robotics World Championships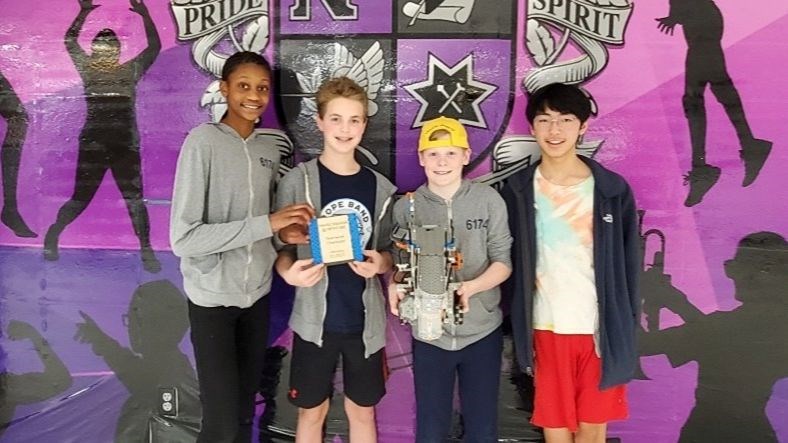 Soon Cobb students will join students from around the world at robotic championships in Texas.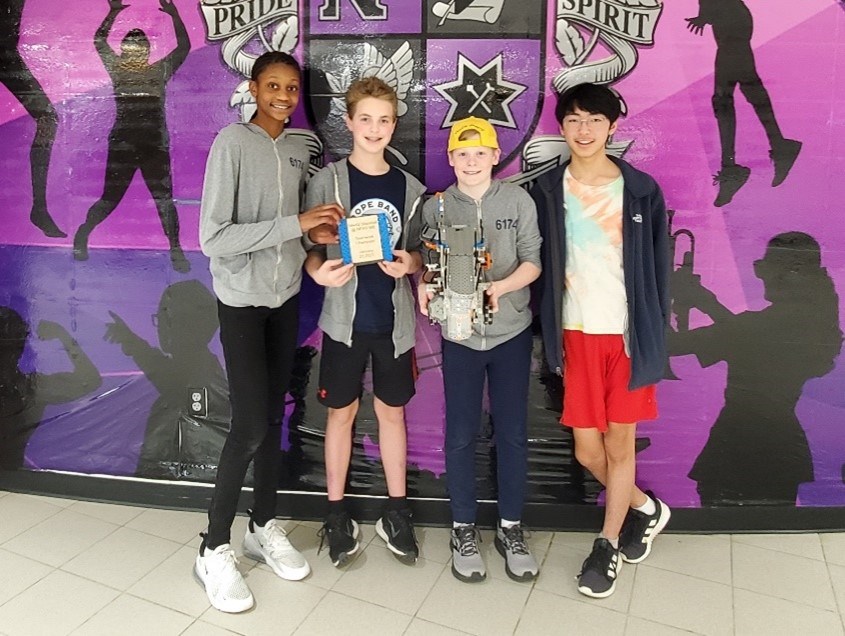 Hightower Trail Middle School students will compete at the VEX Robotics World Championship in Dallas, Texas.
Hightower Trail Middle School is making its inaugural trip to the VEX Robotics World Championship in Dallas, Texas, with its first VEX robotics team.
Two of the five-member team are new to the VEX world. The other three students on the Hightower Trail team supported the Tritt Elementary School team three years ago.
The new Hightower Trail team qualified for the state robotics tournament earlier this year when they earned the Teamwork Champion Award, essentially 1st place out of 20 teams.
Thanks to their driving and coding skills, the Hightower Trail students finished 14th in the state's skill challenge and were also ranked 14th overall in Georgia out of 129 teams.
This Skills ranking earned them a trip to the Robotics World Championship.
"I am incredibly proud of our students for earning a spot in the VEX Robotics World Championship. How impressive to have reached this milestone during their inaugural year, which speaks volumes of the hard work and dedication of each member of the team," praised Hightower Principal Dr. Hannah Polk. "This past fall, our Husky Foundation made the leap to bring VEX robotics to Hightower Trail, and clearly, Mr. Joey Giunta (Tritt ES teacher) was the perfect fit for the job. Congratulations, Huskies! You exemplify our mission at Hightower Trail of "Success for All!"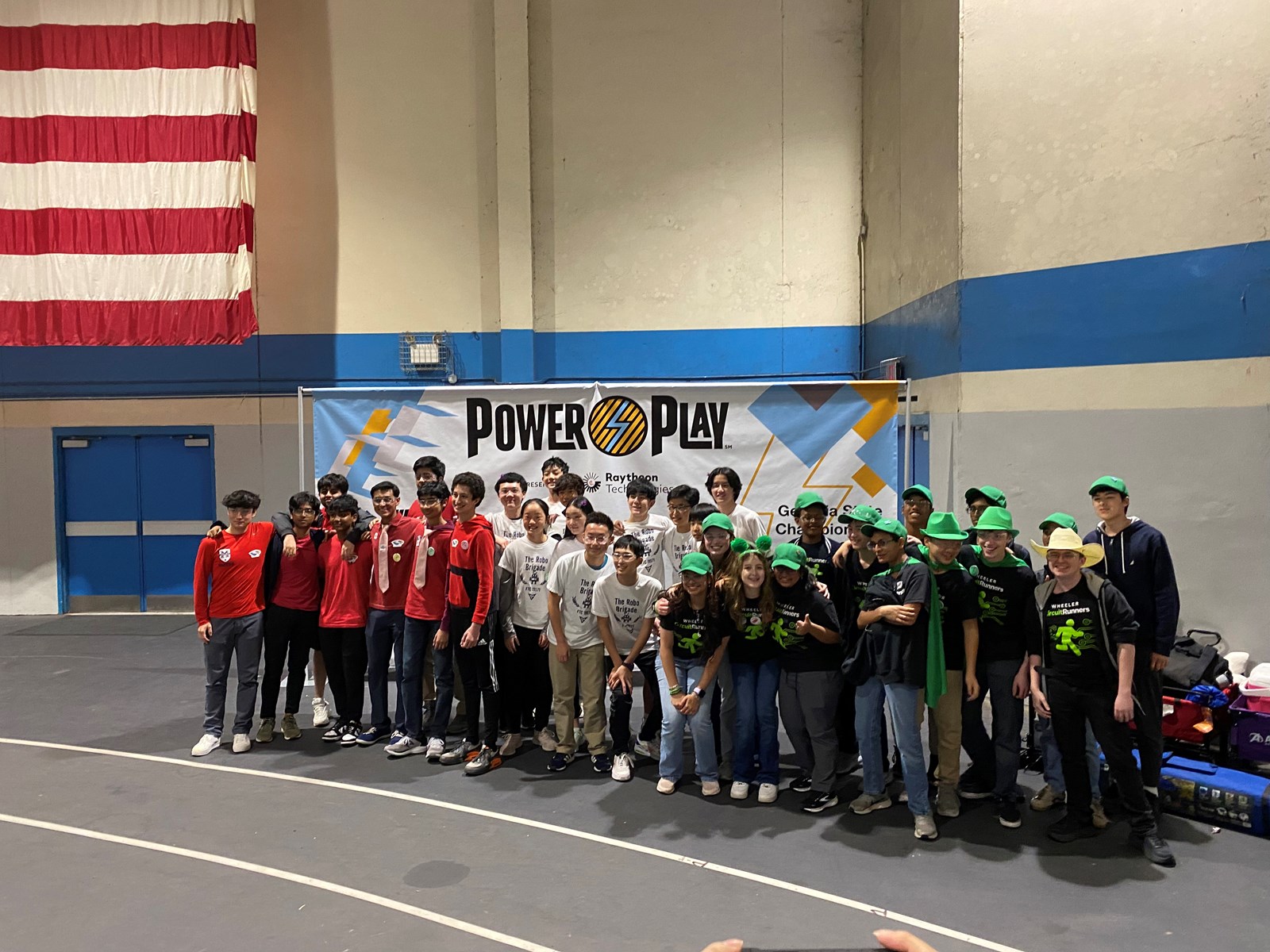 Wheeler High School's FTC 1002 team (right) is headed to the 2023 FIRST Championship in Houston, Texas.Like Hightower Trail, Wheeler High School is also headed to a world championship for robotics, except this will be Wheeler students' fifth appearance on the world stage. The 15 students on Wheeler's FTC 1002 CircuitRunners team will compete at the 2023 FIRST Championship in Houston, Texas. FIRST is a worldwide robotics competition with over 3,000 teams competing. So far this year, the Wheeler students won the Inspire Award, an award that goes to the team that best displays the FIRST principles. The Wheeler students won the Winning Alliance Captain for winning the actual robot game.
Although they are not headed to the world championship this year, Wheeler's FTC team 11347 earned a spot at the state competition and was even the number one seed after the qualifier rounds.
"Our goal is spreading STEM throughout the community. With the help of our members, teachers, mentors, and coaches, we make our dream a reality. From potential to kinetic, we are the Wheeler CircuitRunners," said Saahas, Wheeler junior and Director of Marketing for the CircuitRunners.
Another Cobb school is working toward qualifying for the international robotics championship in Houston. Walton High School is home to a 42-student robotics team. During
Walton High School students are working toward earning an opportunity to compete in an international robotics championship in April.recent a district FIRST robotics competition, the Walton students finished qualification matches with a record of 12-0, earning the first seed. Walton Robotics won all playoff matches and finished with a record of 17 wins and 0 losses. Walton Robotics also won the prestigious Excellence in Engineering Award, which recognizes teams that demonstrate outstanding engineering practices and design principles in their robot.
Walton student Zach Evans earned the semifinalist level for the Dean's List award, which honors high school students who demonstrate exceptional leadership skills, academic excellence, and a commitment to their community.
Collaborating with their sponsor, Novelis, Walton Robotics also designed and built a successful can-recycling robot called Canbot. This innovative robot was able to efficiently collect and recycle aluminum cans, reduce waste, and promote sustainability, as well as excite young children about recycling.
Since the district event, the Walton team has focused on refining the competition robot, primarily focusing on autonomous control. Tweaks to Can-Bot have focused on reliability and safety. Walton Robotics will compete next at the Carrollton district event and State Championships during spring break.